I recently saw an advertisement that lead me to Freedom Debt Management and the logo reminded me of another company with a similar name, Freedom Debt Relief. Take a look below and tell me what you think.
If I was Freedom Debt Relief I'd be upset about the similarities that could easily lead to consumer confusion.
Freedom Debt Management, which is located at 941A Clint Moore Rd, Boca Raton, FL 33487 is also related with the former CreditCare Foundation through Anthony Jurasinski, which merged into Freedom Debt Management. – Source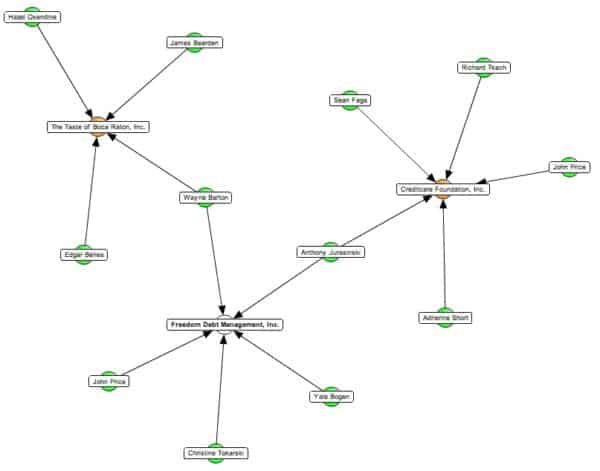 Click image for larger view.
The current cast of directors at Freedom Debt Management is Anthony Jurasinski, Christine Tokarski, John Price, Wayne Barton, and Yale Bogen. – Source
Here is the advertisement I saw that ran in West Virginia and was targeted at West Virginia Residents:
You can get out of debt, we can help.

Our certified credit counselors provide a free financial analysis and review with you:

Your debt to income ratio – monthly household budget
Your unsecured debts to consolidate for a lower monthly payment
Creditor statements
Free review and assessment of your credit report
Your long term goals with your credit score
We then take this information and help figure out a plan that can get you out of debt at a rate you can afford to pay back and how we can help you improve your credit score over time.

Our free consultations are secure and confidential. No personal information is needed to receive your free, no obligation consultation. If we cant help you we'll find someone who can.

BBB Rated A+ for non-profit budget counseling and debt consolidation- we're one of the good guys here to help. Call a certified credit counselor today at 800-905-1563 or visit our website http://freedomdm.org and complete our short form for a counselor to contact you at a more convenient time.

Unable to talk during the day? Go to our website and LIVE CHAT with a certified credit counselor to go over your situation and see how we can help.

Honest, affordable credit counseling. Freedom Debt Management.

Call us today.

Michael Brazier – Source
Michael Brazier was listed as the Operations Manager for Freedom Debt Management on their latest non-profit return, here, that was filed March, 2009.
Here is the problem, Freedom Debt Relief, a non-profit credit counseling organization, is not registered in West Virginia to business, according to the Attorney General's office there.
In my opinion, seriously guys at FDM, you'd think before you ran an advertisement in the West Virginia state capital you'd at least make sure you were registered to do business there.
One question I have is why does Freedom Debt Management operate two different web sites for the same company? See this one and that one. Seems very odd.
Latest posts by Steve Rhode
(see all)