In doing research for an article I'm working on and I kept getting emails from a debt settlement company sales person saying I needed to check them out with the Settlement Rating System of America web site. The sales guy kept saying "You will see we have a AAA rating."
So I went over to look at Settlement Rating System of America and my impression is that this is just yet another enterprise to collect money from debt settlement companies to give them a rating or some sort of public standing in order to make a potential client feel secure they are dealing with a legit company. As they say, "SRSOA is here to help consumers make an informed decision about choosing a debt settlement company."
Read On and See Why That's an Excellent Question to Ask About Them.
This is how SRSOA describe themselves:
Settlement Rating System of America (SRSOA) is a rating system, specifically developed for the debt settlement industry. As a consumer, you may ask why does the debt settlement industry need a rating system? The reason is, in recent times Americans are experiencing one of the worst economies since The Great Depression. This economic climate has created an enormous need for debt relief, and has resulted in an abundance of debt settlement companies. As in any industry, there are good honest companies who honor their commitments and there are companies who do not. SRSOA is here to help consumers make an informed decision about choosing a debt settlement company.
Want to get listed? You need to meet the following criteria. Can you do it? I'm not sure why they just didn't add "Can you fog a mirror" on to that list as well. You really mean I have to provide ALL that information?
Posting of Company Listing
SRSOA will rate and post applicant with five business days from once the following criteria have been met. Once payment has been received in full, and all of the following information is provided and verified.

1) How many years have you been in business?
2) Do you have any complaints with BBB, if so how many?
3) How many clients do you have? –
Part of the bylaws they say members must adhere to are to "Openly identify the nature, and ownership of the business." . So let's run with how well SROSA does at there own rules.
Link to privacy policy does not work.
Link to Terms of Use does not work.
Contact us page does not identify who they really are or where they are located. – Source
Even their site isn't registered to a person at this company. Instead it's registered to a web hosting company, Lunarpages.com. Settlement Rating System of America doesn't even own their own domain name.
I'm giving them a FFF rating for their basic tenant of transparency.
The only companies I found that said they were members of SRSOA, with their ratings, were: Please Reduce My Debt (AAA), SafeTrust Financial (AAA), Solve Debts (AAA), and Phillips Financial (AAA). That's it!
The story does not end there.
After some digging I found that Settlement Rating System of America appears to be a product promoted by SafeTrust Marketing, 307 NW 1st Ave. Suite 1205 Fort Lauderdale, FL 33301. SafeTrust Marketing is not a registered company in Florida so it must be a fictitious name used by another company but it's not registered in Florida even as a fictitious name.
SafeTrust Marketing domain is owned by Global Logistics Enterprise, 4 W. Las Olas Blvd, Suite 701, Ft. Lauderdale, FL 33301 with Efrain Garcia as the president. – Source. By the way, Lifeguard Financial was listed in the same street address.
It turns out the address SafeTrust Marketing gives as their business address is an address at the Eclipse Apartments. – Source
Eclipse Apartments
Here is what it says on the SafeTrust Marketing site about Settlement Rating System of America service.
Settlement Rating System is easy to use and understand. For any given debt settlement company, we take the number of satisfied clients and divide it by the number of complaints, this gives us a ratio. We take that ratio and formulate a percentage of satisfied to dissatisfied clients. For example if "ABC Company" (this is just a fictitious example) has 10,000 satisfied clients and 75 complaints, it is our position that the likelihood that a consumer will have a good experience at "ABC Company" is very high. Their complaint to satisfied client ratio is, 99.9925% satisfied – .0075% dissatisfied. Therefore this would justify and entitle them to a AAA rating. –
But still the SafeTrust Marketing site does not say specifically that they own the SRSOA product, they just market it, so back to digging.
Global Logistics Enterprises is a registered Florida company. Apparently the mystery gets deeper. See email below that was sent in relation to Global Logistics Enterprises.
So Efrain's email regarding the name change on the Global Logistics Enterprise request comes from Safetrust Financial. but at the bottom it lists his email address one coming from Lifeguard Financial. Safetrust Financial is owned by Carlos Garcia. – Source
The Lifeguard Financial lgf101.com connection is interesting because it leads us to an online complaint about Lifeguard Financial.
Alex Vilk teaches his Debt Settlement Affiliates to Flat Out LIE And To Steal SS#'s

Lifeguard Financial
United States
lgf101.com

Alex Vilk, the so called national sales manager of Lifeguard Financial Debt Settlement Company is widely known as the Devil's Life Coach – evil, cocky and ready to steal your money. I was hired to work at Lifeguard Financial in NYC and you wouldn't believe what this guy wanted us to do.

The leads lifeguard sells to all its offices for 22 cents each (real cost 11 cents), display the last 4 digits of the prospective clients social security number and to get the first 5 digits from the client, Alex Vilk states that we must say this (also see their scanned scripts below);

"Mr./Mrs. Smith, in order to verify who I'm speaking with, can you verify your social security number that ends with 5443 for instance (whatever the lead says)

As you can see, the client is being lead to believe that they already have their entire social security number.

Isn't that called FRAUD ? This guy Alex Vilk is the quintessential cold caller from hell and worse, he teaches other desperate sales people to get on the phones and do the same.

It's no wonder that Lifeguard Financial is no longer offering debt settlement in New York and many other states now that the FEDS and FTC are onto them.

Way to go Alex – Way to hurt people for a living, so you aren't broke. – Source
But what makes this particular complaint interesting are the scripts attached to it.
And the scripts seem to match the allegations made in the lawsuit against Lifeguard Financial below.
Lifeguard Financial was named in a suit filed in California in July of 2009 that claims Lifeguard Financial violated the Fair Credit Reporting Act, California Consumer Credit Reporting Act, Telephone Consumer Protection Act, California's "Do Not Call" Law, and California's Unfair Competition Law.
The complaint says:
Lifeguard is a for-profit debt settlement company which claims it can eliminate consumers' debt by negotiating settlements with creditors for a percentage of the consumers' outstanding debt. Lifeguard tells its customers to stop paying their debts and, instead, pay money into an account controlled by Lifeguard. Lifeguard, like most debt settlement companies, collects thousands of dollars in fees from its customers before it even contacts and of the consumer's creditors. Lifeguard, like most debt settlement companies, often leaves the customer in far worse shape that he or she was before contacting Lifeguard.

As detailed below, Lifeguard finds its customer and makes millions of dollars off of them by engaging in a variety of illegal practices. It violates the federal Fair Credit Reporting Act and California Consumer Credit Reporting Agencies Act by purchasing confidential consumer credit reports under false pretenses – by wrongfully representing to credit reporting agencies, including Experian, that it has a permissible purpose to obtain these reports. Lifeguard then uses the confidential information contained in these illegally obtained reports to solicit consumers in hopes of convincing them to enroll in Lifeguard's lucrative debt settlement program.

Lifeguard systematically employs a variety of fraudulent and deceptive business practices in the marketing of its debt settlement services. For example, when contacting consumers, Lifeguard representatives falsely represent that they are calling on behalf of the consumer's creditors and that they have obtained the consumer's credit file from the creditors. Lifeguard representatives attempt to use humiliate and embarrass prospective clients by quoting damaging information (including the consumer's credit score and amount of debt he supposedly owes his creditors) and they gleaned from their illicit acquisition of the consumer's credit report. The Lifeguard representatives also falsely notify potential clients that are calling to help the consumer improve his or her credit score. – Source
But we also know that Lifeguard Financial is now SafeTrust Financial because they told us so. "LifeGuard Financial Is Now SafeTrust Financial: Lifeguard …Nov 1, 2009 … At SafeTrust Financial, we offer financial solutions that spread across a wide spectrum fiduciary needs. We offer creative ways to help people regain their". This is a fragment left in Google. – Source
It also happens that Lifeguard Financial, LLC is registered to Effrain Garcia and is still an active Florida LLC registered at 4 West Las Olas Blvd, 4th Floor, Ft Lauderdale, FL 33301. – Source, Source
Settlement Rating System of America, Inc is actually a Florida corporation and registered at 4 West Las Olas, #602, Ft. Lauderdale, FL 33301. Finally, a registered company. You'll notice that's the same address as Global Logistics Enterprise. And SafeTrust Financial is located at 4 West Las Olas, 4th Floor, Fort Lauderdale, FL 33301
The President of SRSOA is listed as Salvatore Marotta and the VP is Olga Hall. The company was incorporated on October 26, 2009. – Source
Salvatore Marotta appears to have had some other business interests as well. Some of the other companies he has been a member of include: Perfect Prep, Sonic Grove Studios, Media Concepts and Advertising of South Florida, S Partners of S Fl, One Source Advertising, Citynet Financial.
So Here is Where It Gets Really Freaky
The company I started with that was hyping me to check them out with SRSOA was Phillips Financial with the site PhillipsFinancial.us. – Source. It turns out that Phillips Financial is a fictitious name for Debt Problem Solvers, Inc, 2131 Hollywood Blvd, Suite 305, Hollywood, FL 33020. – Source
Here is what the Phillips Financial site looks like.
Click on image for larger view.
Ready for it? Now, let's go look at a lgf101.com site that appears to connect all the dots. The site I found was safetrustchicago.lgf101.com. – Source. It connects both Safetrust Financial and Lifeguard Financial but the most interesting thing is the content of the site. This is an old cached copy so the graphics don't load but look at the text. The sites use the exact same settlement letters as success stories and testimonials.
Click on image for larger view.
Let Me Close the Loop For You
Phillips Financial is currently marketing debt settlement services with a site that has the same ad copy on it that Safetrust Financial and Lifeguard Financial used. Safetrust appears to have indirect control over Settlement Rating System of America that Phillips Financial wants me to trust to rate their organization. Does that all seem kosher to you?
Phillips Financial is really Debt Problem Solvers but using marketing information that appears to be developed by SafeTrust Financial. They want me to rely on the Settlement Rating System of America to feel confident that an independent group has rated them.
Settlement Rating System of America is located at 4 West Las Olas.
SRSOA is marketed by SafeTrust Marketing with an office listed in an apartment building.
SafeTrust Marketing domain is owned by Global Logistics Enterprise at 4 West Las Olas.
Efrain Garcia is Global Logistics Enterprise.
Efrain Garcia was/is the Chief Operating Officer for SafeTrust Financial.
SafeTrust Financial is located at 4 West Las Olas.
SafeTrust Financial is owned by Carlos Garcia.
SafeTrust Financial used to be Lifeguard Financial.
Efrain Garcia gave his email address as one belonging to Lifeguard Financial and he was the registered manager of Lifeguard Financial, LLC with the State of Florida.
Phillips Financial web site appears to be the same as at least one variation of a SafeTrust Financial site. Other companies use a similar site.
As far as I can tell, It's all one big circle. The funny thing is that one of the companies that brags about being an SRSOA member, Expert Settlement Group, if you go to SRSOA and search for their rating, they don't have one. Oops.
But That's Not All
Apparently the same marketing copy has been used for the following sites as well.
lgf555.com

ExpertSettlementGroup.com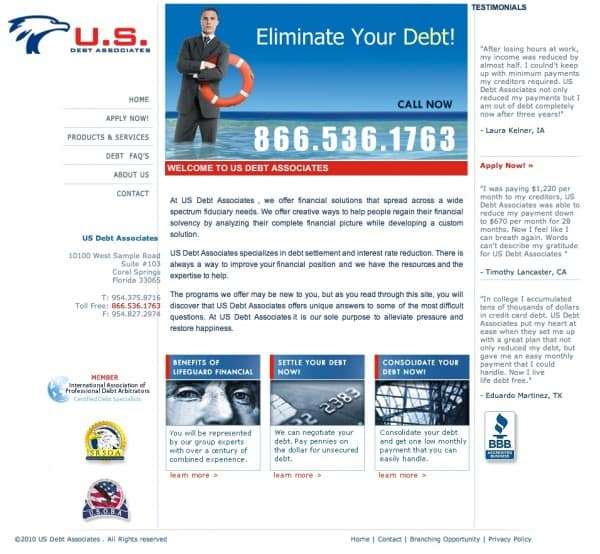 safetrustinc.com/usda/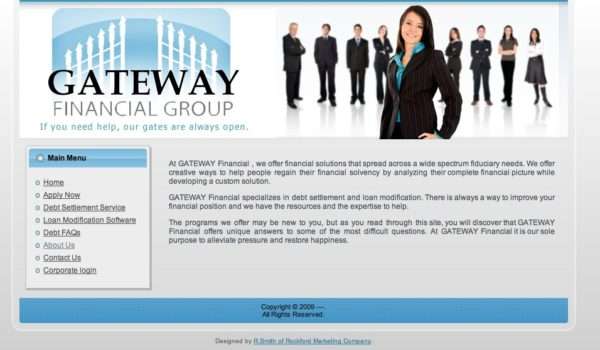 GatewaySettlement.org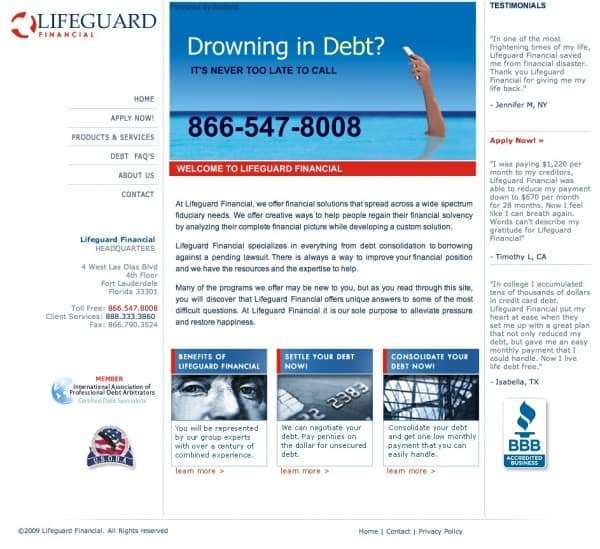 LifeguardFinancialHelp.com
Isn't in interesting that several of these different companies all use the exact same client testimonials. Is that fraudulent?
Fiduciary
What I find interesting is that these companies all advertise "we offer financial solutions that spread across a wide spectrum fiduciary needs" but are they really operating in a fiduciary capacity?
Fiduciary – A fiduciary duty is a legal or ethical relationship of confidence or trust between two or more parties, most commonly a fiduciary and a principal. One party, for example a corporate trust company or the trust department of a bank, holds a fiduciary relation or acts in a fiduciary capacity to another, such as one whose funds are entrusted to it for investment. In a fiduciary relation one person, in a position of vulnerability, justifiably reposes confidence, good faith, reliance and trust in another whose aid, advice or protection is sought in some matter. In such a relation good conscience requires one to act at all times for the sole benefit and interests of another, with loyalty to those interests. – Source
Is anyone confident these related settlement companies and the SRSOA are putting the needs of the consumer ahead of their own in a fiduciary capacity?
More Research is Needed
One little perplexing issue is that the domain name safetrustinc.com is owned by Safe Trust Financial, 8341 Coral Lake Manor, Coral Springs, FL 33065. That address is the same one used for Johnston & Jenkins Enterprises, LLC and Professional Debt Associates. – Source. Johnston & Jenkins is owned by Nicholas D Jenkins and Stephen A Johnston. And I can't remember where but I've crossed paths with that company before. SafeTrustInc.com goes to U.S. Debt Associates. When you click on the "branching opportunity" link you go to safetrustinc.com/branch.html (source) and if you click on the 'contact' link you are taken to safetrustinc.com/contact.html (source) which says they are located at 4 West Las Olas Blvd, Suite 505, Fort Lauderdale, FL 33301.
I'm going to stop at this point but as you can see there are many players in this web and some are clearly related to each other. In my opinion I'm not sure how much of what any of the players have to say I'd believe, but I'll let you make your own determination.
Bonus Material
Here is a look inside some SafeTrust Financial Events.
Interesting section at 2:20. Appears to be imitating management.
Sincerely,
You are not alone. I'm here to help. There is no need to suffer in silence. We can get through this. Tomorrow can be better than today. Don't give up.
Do you have a question you'd like to ask me for free? Go ahead and click here.
Latest posts by Steve Rhode
(see all)