Here is a comercial from an entity that advertises themselves as the Auto Loan Reduction Center. The problem is, after searching, I can't find any company really named the Auto Loan Reduction Center. – Source. And quite frankly, I'm not surprised.
[flashvideo file=/wp-content/uploads/AutoLoanReductionCenter.flv /]
Lately I've noticed more advertisements and mentions of auto loan modifications or truck loan modifications in what appears to be an effort into charging consumers for a service to help them lower their car payments and avoid repossession.
Unilateral loan adjustments or reductions are tough, if not impossible to obtain. This is especially true if you have a loan secured by a car, truck, boat, plane, RV, etc. If you don't want to pay the contractual amount due, then the lender is happy to repossess the collateral, sell it at auction and sue you for the difference between the loan and the auction sales price.
Companies promising auto loan modifications are dubious at best. And with a bit of digging I found the folks behind the Auto Loan Reduction Center ads are National Media Connection, a lead generation company.
National Media Connection runs generic ads on television to generate leads they then sell to other companies like Auto Relief Group (more about them in a bit) that sell auto loan modification service, which for the most part, is unproven.
National Media Connection does not provide any loan modification services themselves.
Complaints from consumers having used these services appear to be similar to the complaints leveled at mortgage modification, forensic audits, law firms that promise loan modifications, and debt settlement companies. For most people, the experience is unsatisfactory and people feel cheated and ripped off.
At the very heart of the issue is the fact the loan modification company has NO power over the lender or any power of law behind them. They are basically contacting the lender and saying, "We have John here as a client and he says he's having a hardship and we'd like to see if you can lower his payment." It's not uncommon for most vehicle lenders to have a policy in place to absolutely not work with car loan modification companies.
The consumer falling for these services will pay hundreds of dollars for something they could have done for themselves for free.
Auto Relief Group
[flashvideo file=/wp-content/uploads/AutoReliefGroup.flv /]
One specific company selling auto loan modification services is the Auto Relief Group out of Fort Lauderdale, Florida.
The Auto Relief Group label itself as the "nations leading auto loan modification company." – Source
They claim they have been able to reduce auto loan payments by as much as 50% but the BBB has a dim view of their operations and gives them an F.

With 113 complaints from consumers as of June 1, 2010, the BBB warns people away from the services of this company saying:
Our file contains a pattern of complaints from consumers who allege they paid a fee of $298 to this company for a modification on their auto loan. Once the fees are paid consumers report that no modifications are performed and they have difficulties contacting the company or obtaining a refund. The company responds to complaints by issuing a refund or explanation of their terms and conditions. Despite the fact that the company has acceded to customer requests for refunds, it has not addressed the reason its customers seek refunds, namely that the company did not do what it promised to do. – Source
The Auto Relief Group is part of a larger enterprise of companies owned and or operated by John J. Boyle.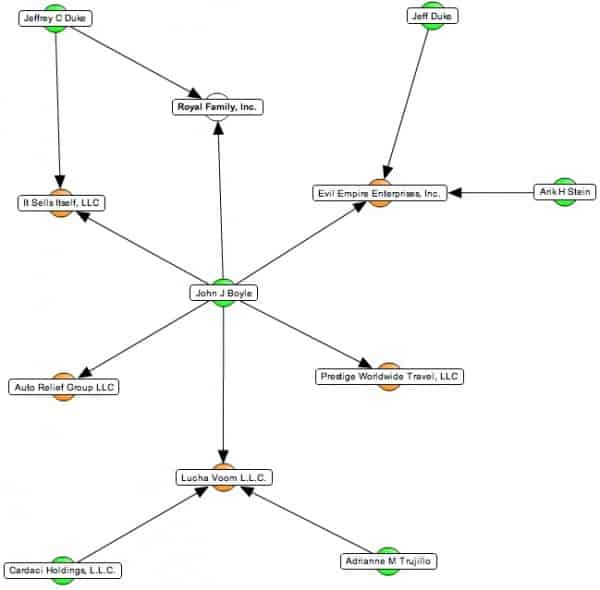 In fact a search of companies in Florida called Auto Relief Group uncovered three.
Auto Relief Group, LLC – Source Owned by John J. Boyle III
Auto Relief Group 10, LLC – Source
Auto Relief Group II, LLC – Source Owned by ARGP LLC.
Despite of claims that the Auto Relief Group has been assisting consumers for 15 years, Auto Relief Group, LLC has only been registered as a company for a little over a year. – Source
Let me show you how convoluted the the corporate structures of these groups are. In my opinion, it is to hide and layer the benefactors from liability.
Auto Relief Group is owned by John Boyle. Auto Relief Group 10 is owned by Relief Group International, LLC. – Source.
Relief Group international is owned by Cellar Door Again, LLC and John Boyle owns Cellar Door Again. – Source
in another document, a network of additional related companies was disclosed. I demonstrated how Auto Relief Group 10 links back to John Boyle and at the same time Auto Relief Group 10 was registered in Florida, so were:
Jeff & John Big Adventure, LLC
Marine Relief Group, LLC
Relief Group International, LLC
RGI & ICAN 1, LLC
RGI Finance II, LLC
RGI Insurance, LLC
Royal Telco II, LLC – Source
AGRP, LLC is owned by Reid J Boren. – Source. Reid J Boren is also the registered agent of Auto Relief Group II, LLC. – Source. I'm not sure what the relationship is between Boren and Boyle but with some more digging I'm sure it will make for an interesting future story.
Now the contract from the Auto Relief Group is interesting and ties together a bunch of different players. The contract says it is from Relief Group International ("RGI") and says:
We offer several consumer products and services including but not limited the Auto Relief Group Options Report™ and Marine Relief Group Options Report™ which provides you with personalized information about the current market value of your vehicle and or watercraft, describes various options generally available to anyone with a finance contract and provides your authorization that we contact you about our Consultation Service described below. – Source
And the primary product sold appears to be something called the Options Report. Consumers are charged $300+ for this report and in reading complaints from consumers, it appears clear the report does not contain any additional information than the consumer could get for free by calling their lender.
Unhappy Consumers
Comments from unhappy consumers that have used the services of Auto Relief Group seem to confirm my concerns originally expressed about vehicle loan modification companies and their control over lenders. They have none.
In January 2010 I paid $300 to get a loan modification done. When talking with the company they give me the run around and never return my phone calls. Now at the end of May 2010 i am out of $300 and is still getting the run around, nobody can't give me answers. – Source
I started to work with Auto Relief Group Mid-January 2010- it's now late April and I still haven't received any type of help from them.

They will not call you with any information or status on how you're loan modification is going, the only status you will get is if you call, the account executives will not return your calls if you leave any messages, so I suggest speaking to ANY representative, they will give you their extention and act as if they will help you, BUT they won't so continue calling different representatives.

The representative says it'll take about 6 weeks to complete the process, it's now months. I 've been calling every week to get status and i get the same answer, "we've already sent in your proposal, we're just waiting for an answer back from your lender, but we are negotiating with your lender. You have to understand, Wells Fargo and Americredit are the two biggest lender we work with and we send about 50 proposals a day, so they probably haven't gotten to your file yet."

My cars now repossess! I called Auto Relief Group to let them know- they haven't done anything for me and I demand a refund, the 1st representative said," Well, I'm sorry to hear that, but unfortanately we won't be able to refund any money because we've already sent you your option report." It told her, i don't care, because that option report didnt' help me at all and I wanted to speak to a supervisor or a manager. She then transfer me to a voicemail and i left a message on there (04/06), I still haven't heard back.

I called again and spoke to another representive, gave her my story all over again, this time she couldn't find me in the system and says she'll call me back within 15 minutes and if i dont hear from her I can call her back at her extention. I told her I much rather be on hold than have her call me back because every representative that said they we're going to call me back never did. She promised to call be back and after 30 minutes i called back and left her a message because i didnt hear from her.

I called back again and spoke to another representive and this time I told her I much rather speak to a supervisor or manager because she's not going to like me very much, she asked that i speak to her and maybe she can help because she would have to put in a request for a manager to call me back. I then gave her the short story to my problem and demanded for my money back. She tried to tell me she couldnt because of the stupid option report, but i cut her off and told her i've heard it all and i don't care.

She then said she would have to out in a request for a refund, but i probable wont get it back. I said then i much rather speak to a manager. She transfered me to someone else and after a long 15 minutes of giving her my frustrations i decided to have a put in a request for a manager to call me back- let's see how long it'll take for someone to call me back.!!! – Source
I heard this company advertise on sirius radio that they can get your auto loan modified to lower your payment as much as 50%, so I called them. The "service representative" explained the program then took my info to see if I "qualified". After awhile he said I did, and based on what I had told him, he said they could get around $165 per month of my payment which was about 40%. I said let's do it. I paid $298 upfront (mistake) and he told me I would get email within 24 hrs for all the info about my car, acct #, vin, ins info etc. He said then it would take about 10 days to get my proposal and if I didn't like what they got for me, they would refund my money no questions asked.

3 days later, no email, so I called the same guy back and he referred me to an "account specialist" She apologized for not getting the email and gave me a list of info to get her for the proposal. I called my loan co and ins carrier and called her back with all info. She said I would have the proposal on the 15th, (this was the 5th).

18th no proposal, called 4 times and left voicemail (no live person to talk to). 4th msg said I was unhappy and thinking of refund. 19th return call apologizing because they had been closed 4 days due to storm back east. Was told would have proposal by 23rd.

25th no proposal. Called again and aftrer 5 tries finally reached someone. She told me no proposal yet because first "account specialist" had not gotten all info required. I told her that was enough and I wanted my money back. She said she was not authorized and would have a supervisor call me back by 5 o'clock. 2 days later, still no contact.

Called my bank and filed fraud report and got credit while they filed claim against ARG. Called back and could not get live person, so left voicemail explaining my filing fraud claim and demanding a refund or I would start legal procedings. Recieved call within 20 minutes from "supervisor" saying she would process my refund and I would have money within ten days. I said "not acceptable! It took you less than an hour to take my money and you have 3 business days to refund it or I'll start legal procedings. I said I don't care if it costs me 20k to get my 298 back, you'll end up paying for all of it and some agravation $$ on top of it". She said, "her company policy was 10 days and I said 3 business days or else"! This was on Friday afternoon and I had my $$ back Tuesday. – Source
THIS COMPANY GAVE ME ONE OPTION ON MY OPTIONS PAGE. YES, THEY CUT MY INTEREST RATE, BUT THEY LENGTHEND MY TERM WHICH ONLY HAD 48 MONTHS LEFT ON IT TO 72 MONTHS. AGAIN THIS WAS ONLY AN OPTION AND HAD YET TO BE SENT TO MY LOAN COMPANY FOR REVIEW. THEY TOLD ME THEY WORK WITH MY LOAN COMPANY ALL THE TIME, BUT RECENTLY WHEN I WAS CONTACTED BY MY LOAN COMPANY THEY SAID SINCE I HAVE ONLY MADE 26 CAR PAYMENTS THE WOULD NOT GRANT ME A MODIFICATION UNTIL MY 30TH PAYMENT. THEY TOLD ME ARG IS AWARE OF THIS, AND THAT I WOULD NOT BE GRANTED A MODIFICATION. DO NOT DO BUSINESS WITH! – Source
This company is a SCAM. Please do not do business with this company. Most lien holders will not refinance your auto loan. Stay away from them! I am hoping that I get my money back. – Source
This is a company that was suppose to help reduce the interest rate on cars. They answer the phone to take you money but after that you can not get in touch with them. The total fee was $300. I gave them 100 down and I was going to pay the balance when they provided me with what they can. They never provided anything and they took the other 300 out of my account without my permission. Now I can not contact them. – Source
Informercial, called Auto Relief Group, was promised they could modify my reducce my monthly car payment and interest rate and owe less that what i currently owe. I receive a package from them in the mail 1 week laer only to find out the 350.00 I spent for them to work with my lender was for nothing, I was to do all of the work for them only to get a lower pay for 16 months longer and owing 5, 000.00 more than what I currently owe. If you see them on TV don't waste your money. – Source
There are a lot more complaints online about Auto Relief Group as well. You can read them here and here.
Best Advice if You Are looking for a Car or Truck Loan Modification
If you do have a true financial hardship and you can document it and the lender has an internal program to adjust payments, you may be eligible for some sort of assistance directly from your lender.
But, if you follow the advice of auto loan modification schemes and stop paying your lender to try to force them to deal with you, you could easily have your vehicle repossessed and owe the lender tens of thousands of dollars for a loan gone bad.
Some of the complaints from consumers highlighted a problem with reducing the monthly payments on a car or truck. A lender is not going to reduce the amount of the contract amount you promised to pay. They may extend the loan out further which might reduce your payment some, but you will wind up paying significantly more for the vehicle over time. There is no magic solution.
For the most part, vehicle loan modifications do not actually exist. Call you lender first before you waste any money paying for modification claims from a commissioned sales person.
Sincerely,
You are not alone. I'm here to help. There is no need to suffer in silence. We can get through this. Tomorrow can be better than today. Don't give up.
Do you have a question you'd like to ask me for free? Go ahead and click here.
I can always use your help. If you have a tip or information you want to share, you can get it to me confidentially if you click here.
Latest posts by Steve Rhode
(see all)