In case readers may wonder how I spend my days, while some of it is writing, most of it is researching. And that research is not glamorous stuff. It often consists of reading reams of really boring reports and publications. One such publication just released by the Federal Trade Commission, Consumer Sentinel Network Data Book, seems to indicate a much higher level of consumer complaints associated with debt management and credit counseling programs.
In the latest Consumer Sentinel Network Data Book, which is scheduled to be released in February, 2010, the complaints filed by consumers against debt management and credit counseling organizations is significant. At first I wondered if that category may have been filled with complaints regarding other debt relief categories but according to the definition of debt management and credit counseling complaints, it sure sounds like it fits.
The data book define the category of debt management and credit counseling as: "Unfulfilled promises by credit counseling organizations to provide free services, send payments to creditors in a timely manner, or reduce interest rates on credit card debt, eliminate late and over the-limit fees; etc."
The number of complaints in this category has risen dramatically over the past three reporting years.
2007 – 3,421
2008 – 6,758
2009 – 13,401
According to the data provided by the FTC, debt management and credit counseling complaints were number 19 in the top reported complaints. See chart below.
According to the FTC the data is actually skewed and is misleading. Consumers are able to file complaints themselves online through the FTC Complaint Assistant and the reporting categories don't really allow for a category that relates to other debt related services other than debt management if someone is having a debt relief problem.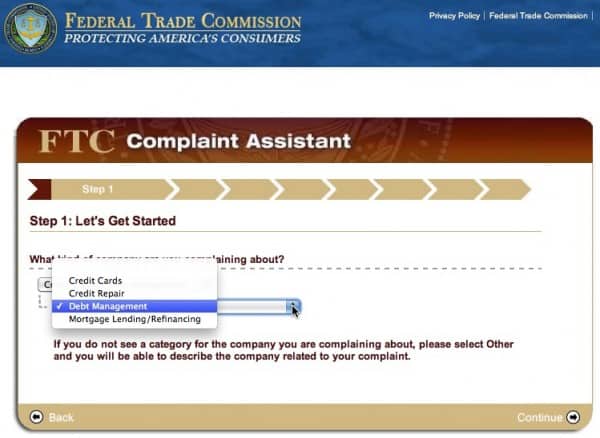 According to data sent to me by Mark Guimond from the National Policy Group the data is definitely flawed. In a previous study he conducted after a Freedom of Information Act for 2008 data and his study found:
In the data, there were several hundred complaints that were unable to be identified or classified due to a complete lack of company name or vague references that also caused the identification of the company to not be made. We found:

No designation at all 464
Unable to designate 100
"Account Services" 42
"Card Services" 62
"Credit Card Account Services" 25
"Credit Card Services" 62
"Financial Services" 20
"Unknown" 443

The data also yielded a substantial number of creditor complaints that were not against "debt relief" organizations but rather actual lenders or their servicing partners. For example, the data includes the following complaints:

America's Servicing Company 47
Capitol One 119
Citi Financial 51
HSBC 1,036
Pay Pal 683
Sears 118
Wells Fargo 16

Within the complaint universe, there were numerous complaints that clearly had no relevancy whatsoever to "debt relief". These included auto warranties, carpet cleaning services, the Disney movie club, Country Music Television, freight forwarding, gift cards and 8 complaints against government agencies. – Source
I reached out to the National Foundation for Credit Counseling but did not receive a response by the time I published this article.
I've made my own FOIA request for the most recent data and will write about it once I receive it and examine it.
Sincerely,
You are not alone. I'm here to help. There is no need to suffer in silence. We can get through this. Tomorrow can be better than today. Don't give up.
Do you have a question you'd like to ask me for free? Go ahead and click here.
I can always use your help. If you have a tip or information you want to share, you can get it to me confidentially if you click here.
Latest posts by Steve Rhode
(see all)