One of the AACC members forwarded me a deceptive mailer a consumer had received. The number on the mailer, 888-354-8913, goes to Consumer Debt Assistance.
The Consumer Debt Assistance site boldly displays the TASC logo but guess what, that appears to be deceptive as well. According to TASC membership records, Consumer Debt Assistance is not a member. – Source
The deceptive mailer looks like an official document.
I did notice the mailer uses the same code as other mailers do, CP4-5414 and the same postal permit #1297. See additional mailer below from Reliant Support Services.
As you can see the inside of the mailer has some official looking design and uses terms like the 2011 plan and benefits. It makes mention of eligibility and a plan administrator.
It also makes to claims which the FTC would love to see as they seem to clearly violate the telemarketing sales rules when it comes to debt relief. I've boxed those claims in red.
Consumer Debt Assistance says they are an incorporated company and located at 16500 Bake Pkwy, 2nd Floor, Irvine, CA 92618. – Source. There is only one problem, the State of California says they are not an active corporation in that state.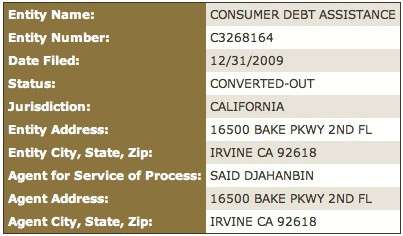 They are instead now a LLC. A small point but since that transition happened on 5-26-2010 you would think that would have been ample time to update there records and site. Said Djahanbin is the contact person for the company as listed at the BBB and also for another company called Modify Loans at ModifyLoans.com.
If the company can't get their TASC association correct and list their company name correctly, how can anyone have confidence they can handle consumer account information accurately?
And then there is this little gem.
So how much debt is that?
Similar Mailer From Reliant Support Services
Another TASC member, Reliant Support Services, sent out a similar mailer at the end of 2010. You will notice the similarities.
You will easily see the inside is very similar.
Interestingly this mailer said it could reduce harassing creditor calls and yet Consumer Debt Assistance dropped that from their version. So does that mean Consumer Debt Assistance will not stop harassing creditor calls?
Sincerely,

You are not alone. I'm here to help. There is no need to suffer in silence. We can get through this. Tomorrow can be better than today. Don't give up.
Do you have a question you'd like to ask me for free? Go ahead and click here.
ConsumerDebtAssistance.com Archive
I can always use your help. If you have a tip or information you want to share, you can get it to me confidentially if you click here.

Latest posts by Steve Rhode
(see all)