A tipster (send in your tips here) forwarded me the mailer going out below.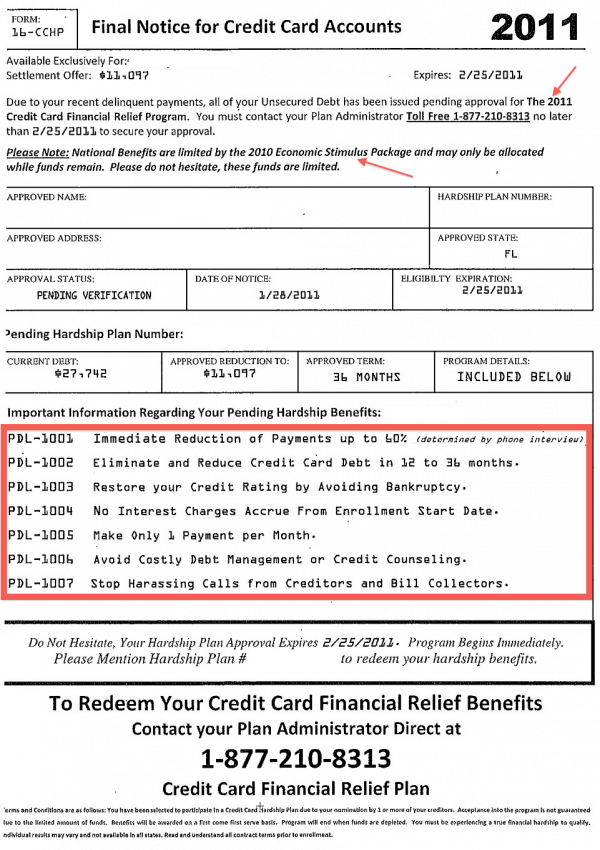 It has all the hallmarks of a mailer consumers should avoid.
First off it pretends to be an official looking mailer and references programs like "The 2011 Credit Card Financial Relief Program" and the "2010 Economic Stimulus Package." First off, there is no such thing as the "2011 Credit Card Financial Relief Program" by the government.
The number on the mailer, 877-210-8313 was answered by a company that said they were a lead generator and farmed out leads to different companies. The representative identified the company as Express Settlement Services and said their domain was sabfc.com.
Here is what the sabfc.com domain looks like.
The claims made in the mailer are also either untrue or unfounded and appear to run afoul of the FTC telemarketing sales rules as these folks so painfully learned.
The only real reference I could find to who sabfc.com is behind this mailer was this:
Interesting they claim to be a fast growing bankruptcy law firm but there is no contact information about them.
My recommendation if you get this mailer, throw it away and don't call. There is no clear idea of who you are giving personal data to, who they are and what will happen to your information. I can't even identify a legitimate company behind this mailer.
Sincerely,
You are not alone. I'm here to help. There is no need to suffer in silence. We can get through this. Tomorrow can be better than today. Don't give up.
Do you have a question you'd like to ask me for free? Go ahead and click here.
I can always use your help. If you have a tip or information you want to share, you can get it to me confidentially if you click here.
Latest posts by Steve Rhode
(see all)