Yesterday I published an article about how Lloyd Ward and Lloyd Ward & Associates sued this site. Part of the claim was an unhappiness about an article I had published here.
Here is what it says from the lawsuit.
In June of 2011, Defendant Steve Rhode/GETOUTOFDEBT.ORG, published an article entitled "Lloyd Ward and Associates – UFAN – New Player in Deceptive Form 1012-R Mailer" claiming that Plaintiffs LWA and Ward were part of the "mass joinder" "scam," with an organization called "UFAN," and stated that Plaintiffs LWA and Ward were sending mailers in "an attempt to deceive and fool recipients that it is an official or government mailer." Such allegations were untrue and without merit.

At no time have Plaintiffs LWA or Ward ever been a member or participated in organization under the acronym of UFAN. In fact, the actual mailer attached to the "scam report" article, does not contain Plaintiffs' name. At no time did Defendant Steve Rhode/GETOUTOFDEBT.ORG contact Plaintiffs to verify such accusation, nor did they Plaintiffs' even bother to check with UFAN or its website (which lists the attorneys who are a member of UFAN) to verify that Plaintiffs LWA and Ward were members.

As a result of that article, in July of 2011, Wells Fargo Bank NA filed a grievance with the Texas State Bar against Plaintiff Ward, based entirely upon the allegations contained within the June 2011 publication of Defendant Steve Rhode/GETOUTOFDEBT.ORG. Upon obtaining a letter from UFAN confirming that Plaintiff Ward was not a member and had never been a member of UFAN, Wells Fargo Bank NA withdrew its complaint and the State Bar of Texas dismissed the existing complaint.
I've already publicly responded to the assertions in the suit in this post over here but I just wanted to present the following information that I did not include in my previous post.
Here is what can still be found online today. The LloydWardLaw.com website mentions both mass tort and mass joinder lawsuits and solicits readers of the site to enroll by filing out the contact form or calling 1-888-541-1415.
The address on the contact form is:
12655 N. Central Expressway
Suite 1000
Dallas, TX 75243
That's the same address on the mailer I reported about at the heart of this issue. I'll assume that's just a freak coincidence and in no way connected.
The Lloyd Ward Law FAQ page says:
The process with PLC is very simple. Once you enroll you will receive a welcome call from our processing staff. They will go over you financials and ensure that we have all of the needed information to proceed. We will then submit a demand package to your Lender allowing them a 30 day period to settle this matter. Once the 30 day period has expired with no response from your Lender (typical), we will move forward with Litigation. In the next 15 days, we will record a Lis Pendens on your property, File your individual settlement form with the court, and motion the court to add you as party to the formal complaint.
The Mass Tort Lawsuit page says:
At this time we are retaining clients who are in agreement that the current process of requesting a loan restructuring solution is fundamentally flawed and desire to take further action to retain homeownership. We intend to diligently and aggressively pursue this action and are privileged by the opportunity to represent you in this case.
LloydWardLaw.com
You can click on the images below to see larger versions.
Observation
I did notice that the FAQ page mentions PLC.
Commenters on my original story later said:
"I just received the same mailer this week. Called today and spoke with Mark at this number 888-245-5961. He did not hear of UFAN from Dallas,. He was an assistant gathering information for the Law firm PLC – Processing Law Center Fron Orange County CA. Interesting name for a lawfirm considering everyone I ever heard, used their last names.

He sound very professional and indicated that if after a free evaluation they find that my loan may qualify for the group class action suit, they would let me know. There was not charge to evaluate the loan. Going to send me an email regarding what forms I need to fill out or fax in. Since I am in real estate, I immediately do my research and found this blog. I always recommend getting their contact info, to some research, before making additional contact and never send money! Real companies have websites, and now should have respectable facebook business pages.

Thanks for your attention to this issue."

"I live in Flagler Co., FL, and received the form you described above — same identical info. It looks legit, but I figured it might be a scam so I checked it out and found your site. I have a mortgage with Bank of America and am underwater. I read all the comments and would like to respond to the one from DMASI dated 07-07-2011. The contact phone number on the form I received is 888-245-5961 (same as DMASI) and the address is UFAN, 12655 N. Central Expy., Suite 800, Dallas, TX 75243. DAMSI said the person she spoke to said he was an assistant gathering information for the Law firm PLC – Processing Law Center Fron Orange County, CA."
Domain Records
Domain records of lloydwardlaw.com hide who the owner is, and always have. The site is hosted on a dedicated server in New York at HostForWeb, Inc.
Attorney Profiles
In addition to the attorney profile for Lloyd Ward I showed above the LloydWardLaw.com site contains the following profiles for Eugene Tagle and Cami Boyd.
Odd Coincidence
The original mailer which the lawsuit against me objects to says the potential outcomes to joining a suit from the mailer are:
Seeking Monetary damages per individual
Going after your fraudulent mortgage note
Multiple claims of fraud and misrepresentation
Interest rate reduction
Forgiveness of past due payments
Principal balance reduction
Seek to stop foreclosure
The LloydWardLaw.com site says some of the potential outcomes are:
Foreclosure protection
Lower interest rate
40 year mortgage
Principal balance reduction to 80% of current market value
Forgiveness of past payments and misc fees
The Cause For Action page of the LloydWardLaw.com site seems to say that a cause for action is to go after the mortgage note.
If Lloyd Ward is taking action against me, I sure hope he's taking action against LloydWardLaw.com as well. I wonder if he even knows someone is making such claims under his name and Lloyd Ward & Associates?
And as a final matter of irony, apparently LloydWardLaw.com is even using the logo of Lloyd Ward & Associates.
I look forward to reporting on a suit filed by Lloyd Ward against the people that are using his name, members of his firm, his office address, and his logo to market mass joinder and mass tort business.
Precision Law Center
One place to look on who might be involved is Precision Law Center (PLC). Precision Law Center maintains a site with some of the exact same language on it and it just happens to have the same initials mentioned on the LloydWardLaw.com site. One of the sites copied the other.
Even the home pages are somewhat similar.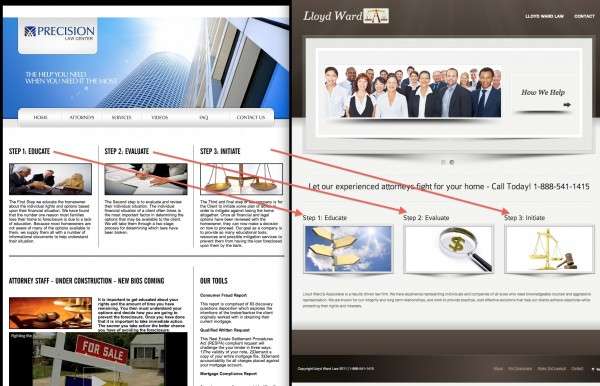 What Do You Think
Anyone have a clue who is really behind LloydWardLaw.com
I have contacted both Lloyd Ward Law through their online contact forms and asked them to comment on this article to help solve the mystery. The contact for for Precision Law Center does not appear to work.
Update 10-31-2011 Additional Documentation Added
It appears the LloydWardLaw.com website has now been taken down and redirects to google.com. Here are some of the additional pages from that site in the months before it was taken down.
LloydWardLaw.com page – 5-5-2011
LloydWardLaw.com pages – 10-20-2011
Sincerely,

You are not alone. I'm here to help. There is no need to suffer in silence. We can get through this. Tomorrow can be better than today. Don't give up.
Do you have a question you'd like to ask me for free? Go ahead and click here.

Latest posts by Steve Rhode
(see all)