In my roundup of ads on the internet I came across this one by CRS Financial Services on Craigslist.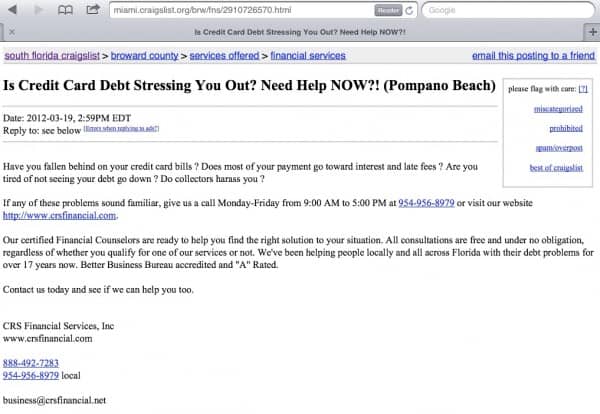 So let's take a look if the statements are supported and what their website says.
The first thing I noticed when visiting their website at crsfinancial.net was they have their physical address readily visible. That's a good thing. They list it as:
2300-301 W. SAMPLE RD.
POMPANO BEACH, FL 33073
And they show a picture of their alleged office building.

Now there might be a simple explanation for this but the fact the company looks small and shows a building that says "CRS Corporate Center" made me want to double check.
Here is what multiple sources actually report the building looks like at the address given.
That apparent discrepancy makes me want to look deeper.
And then there are all those claims they make about their services on the home page. – Source
Consolidate your debts into one low monthly payment.
Reduce monthly payments & lower interest rates.
Stop late and over limit fees.
Stop harrassing phone calls from creditors.
Get out of debt in a fraction of the time.
These days such claims are frowned upon and appear to fall outside the guilds of the FTC Telemarketing Sales Rule as claims that need substantiation and backup.
The claims made also appear to be geared towards that of a credit counseling or debt management company. It appears from State of Florida records they are not a non-profit 501(c)3 credit counseling organization.
More About CRS Financial Services
The advertisement claims they are a A rated BBB company, and it appears they are. Their BBB record says they opened in November of 1997. – Source
The State of Florida says the company is a for-profit company and filed to do business on 9-16-1996 and that the officers of the company are:
Leonard Rubino – President
Marjorie Rubino – Treasurer – Source
At the same office the State reports there is a second for-profit company called CRS Management Corp.
The officers are:
Leonard Rubino – President
Chris Rubino – Treasurer
Stephen Rubino – Secretary – Source
According to public records the domain name for CRS Financial Services at crsfinancial.com and crsfinancial.net is owned by Cyberhost-USA.
CRSFinancial.com looks like this.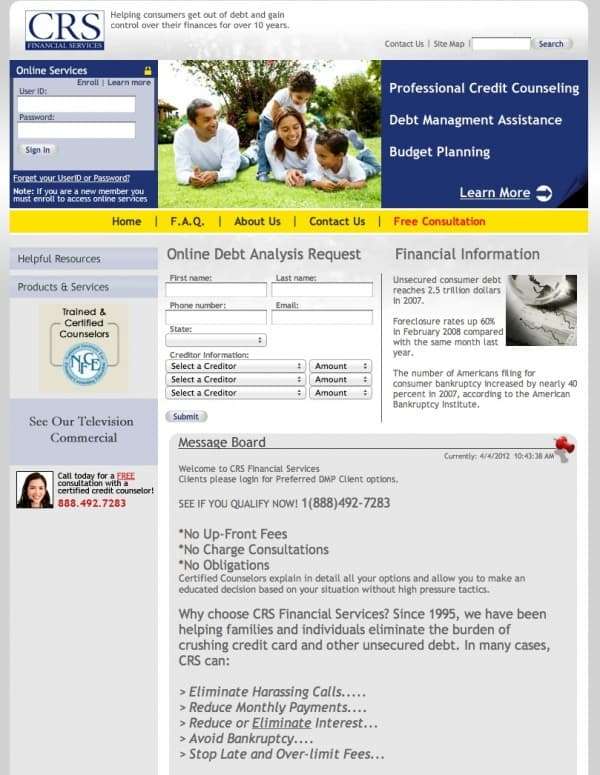 And then they have yet another site at debtbillconsolidation.com.
And then there is 85percentinterest.com.
This site even claims "We are your leading online destination for debt consolidation, credit counseling, and other financial services." – Source. I seriously doubt that's a factual statement.
Bottom Line
The multiple sites promoting this company are a mess. They appear to need to consolidate their sites to point at one site and spend some time cleaning up their marketing messages to align with the new FTC Telemarketing Sales Rules regarding debt relief sales.
If there are any debt industry consultants out there that are looking for a client, give these folks a call to help clean up their sites. Please!
Sincerly,

You are not alone. I'm here to help. There is no need to suffer in silence. We can get through this. Tomorrow can be better than today. Don't give up.
Latest posts by Steve Rhode
(see all)