Remember the hotly pitched infomercial product Wealth Without Risk with Saen Higgins? Well since the recent FTC actions and shutdowns of related operations it looks like SaenHiggins.com which was promoting the tax lien scheme is either gone or offline.
You can see a picture of the old Wealth Without Risk site here.
A recent commenter posted the following observation:
"I noticed that Saen Higgins is shown as business partners with Tony Martinez of http://www.ustaxlienassociation.com do you know if Tony Martinez US Tax Lien Association an extension of the John Beck Free and Clear infomercial systems challenged by the FTC? It appears that Saen Higgins and Tony Martinez US Tax Lien Association is also located in Sacramento California which also happens to be the location of Gary Hewitt and Doug Gravink of Family Products Wealth Without Risk and Wealth System LLC US Tax Lien Association 3301 C Street Suite 200A Sacramento, California 95816 United States (800) 882-0467"
Sure enough, while the old website for SaenHiggins.com is blank, he's popped up on the United States Tax Lien Association website.
I'm beginning to think Higgins is a one trick pony and his schtick is selling tax lien courses, coaching and/or training.
The United States Tax Lien Association website raises a number of red flags for me. First off, they don't even list where they are physically located on their contact us page. – Source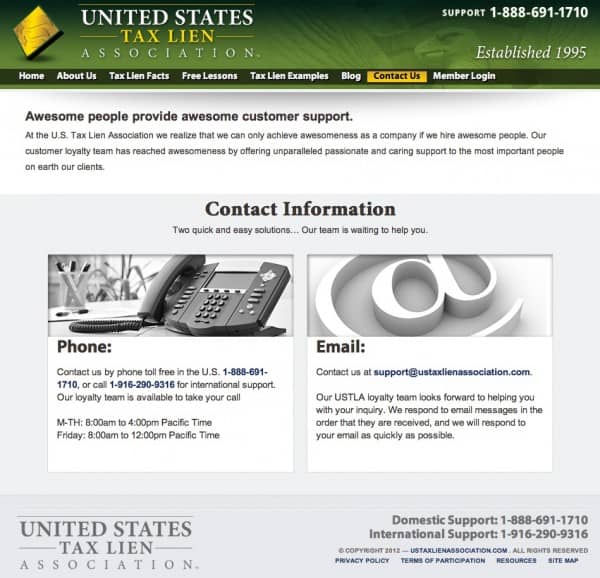 Using the tip from the commenter I took a look in California for the company. The California Secretary of State has no listing for a company called United States Tax Lien Association. There is a listing for a US Tax Lient Association, LLC which is actually a Nevada company.
A linkedin page does list the address of the company as 3301 C Street, Suite 200A, Sacramento, CA 95816 and interestingly mixes the old Wealth Without Risk pitch and the new U.S. Tax Lien Association name.
Interestingly, the U.S. Tax Association website says they were established in 1995 while their Linkedin page says 1998.

But the company, US Tax Lien Association was not registered in California till 2009 and in Nevada where they originally incorporated, they filed in 2009. – Source
The domain name ustaxlienassociation.com wasn't even registered till October 27, 2010 and the administrative contact is listed as Richard Putnam (rich@taxlienteam.com) at 3301 C Street Suite 201A, Sacramento, California 95816.
While Tony Martinez and Saen Higgins claim to be co-founders of the United States Tax Lien Association, (source) according to Nevada state records they are not the owners of the company. The company is owned by Optimum Achievement, Inc and Infinite Influence, LLC. – Source
Infinite Influence, LLC is owned by Heidi Jackson and was formed in 2007. – Source
Optimum Achievement is a bit more of a mystery. While the US Tax Lien Association claims the managing member, Optimum Achievement, is located in Minden, Nevada, the state of Nevada has no listing of a company by that name that is authorized to do business.
So let's look at a larger picture here.
It appears the company name is really most likely Association for Optimum Achievement, according to public records the registered agent is Saen Higgins and is located at 3301 C STREET, SUITE 200A, SACRAMENTO CA 95816. And coincidently it is the Association for Optimum Achievement that actually owns the domain name for ustaxlienassociation.com.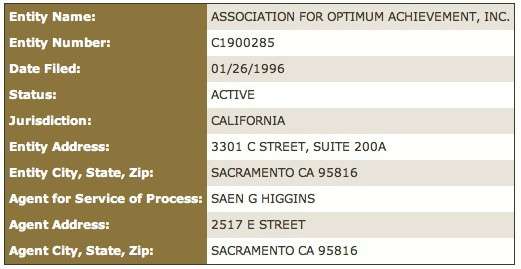 Other companies and people named in the connected matrix include Michael Hawes, Qrp & Associates, and S&M Real Properties.
The address used by some of these companies at 3301 C Street, Suite 200A, Sacramento, California 95816 is used by a number of non-related companies. In that case, it may be a mail drop and not the physical address the U.S. Tax Lien Association operates from.
Bottom Line
I'm suspicious and skeptical with so many things and claims not adding up. It's additionally odd that if the company is actually operating in California, they are not using the correct name of the company. It is registered as US Tax Lien Association and not United States Tax Lien Association.
But one more ironic point, the United States Tax Lien Association seems to have "borrowed" the site terms used by none other than Wealth Without Risk. – Source

And guess what company is not registered to conduct business in California, yep, that's right, Wealth Without Risk. And one more interesting little connection, a company called AOA, Inc. is listed as using the same telephone number, 916-290-9316, and address as the United States Tax Lien Association. But According to California public records there is no company registered to do business in the state as AOA, Inc.
I urge you to follow my two guides to evaluate your choice of any company.
You can look at the related articles section of this post to see what has been written about them in the past. The comments on any relevant post may be enlightening as well.
Sincerely,
You are not alone. I'm here to help. There is no need to suffer in silence. We can get through this. Tomorrow can be better than today. Don't give up.
Do you have a question you'd like to ask me for free? Go ahead and click here.
Latest posts by Steve Rhode
(see all)