A tipster (send in your tips here) sent me an email and asked me to look at Fulcrum360 and said it was the new mortgage modification company with Paxton Guymon as registered agent. Guymon was also the registered agent of Modify Utah which suddenly closed up doors and left people stranded. – Source
According to State of Utah Records the parties related to Fulcrum360 are:
Member: HIRED GUNS MEDIA & MARKETING, LLC, 2964 S HUDSON CR, Salt Lake City UT 84106
Registered Agent: PAXTON R GUYMON, 165 REGENT ST, Salt Lake City UT 84111 – Source
The member of Hired Guns Media & Marketing, LLC is Robyn Burkinshaw. – Source
According to State of Utah records, Fulcrum360 is located at 165 Regent Street, Salt lake City, Utah 84111 and that is the registered agent, Paxton Guymon. It is the address of Miller Guymon, P.C. – Source
As an attorney it is not unusual for an attorney to be the registered agent of a number of companies. According to State records, Guymon certainly is. – Source
But what intrigued me about this tip was not Paxton Guymon but the help wanted ad for Fulcrum360 which was formed on 8-24-2012.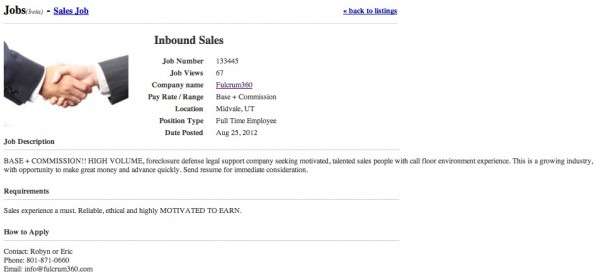 Job Description

BASE + COMMISSION!! HIGH VOLUME, foreclosure defense legal support company seeking motivated, talented sales people with call floor environment experience. This is a growing industry, with opportunity to make great money and advance quickly. Send resume for immediate consideration.

Requirements
Sales experience a must. Reliable, ethical and highly MOTIVATED TO EARN. – Source
Like Modify Utah, this new company Fulcrum360 seems to be pitching a similar foreclosure defense solution and looking for sales people who are motivated to earn. The company also says it is located in Midvale, Utah rathering than neighboring Salt Lake City.
If anyone knows more about Fulcrum360 and the services they offer, please feel free to post a comment below.
Sincerely,

You are not alone. I'm here to help. There is no need to suffer in silence. We can get through this. Tomorrow can be better than today. Don't give up.
Do you have a question you'd like to ask me for free? Go ahead and click here.

Latest posts by Steve Rhode
(see all)