A tipster (send in your tips here) asked me to look at a website for a debt relief website called Debt Savers. Their concern was the use of the BBB logo as a badge of trust by this company.
And they are correct, the Debt Savers website at DebtSavers.us or DebtSavers.info does display the BBB Accredited Member logo on the top right of the site.
What makes this an interesting case to discuss is if the BBB logo can actually be displayed by this company.
A look at the website and the site privacy policy gives us no clue where the company is actually located and where they might be incorporated or registered. – Source, Source

A search on the BBB website could not locate a company called Debt Savers. It wasn't until I chased down the domain ownership that I found a possible link.
The domain DebtSavers.us is owned by a lead generation company:
Raymond Bartreau
Best Rate Referrals, LLC
6785 W. Russell Road
Suite 210
Las Vegas, NV 89118
Best Rate Referrals (source) does have an A+ BBB rating and is an accredited member for their business category, marketing programs & services. – Source
So my question to you is at what point does a marketing company step over the line in their use of the BBB logo to promote a lead generation site?
Do you think that the company that actually holds the rating should be prominently identified or is this practice just fine with you?
It looks like this same practice is being used on other lead generations sites that are part of this companies network as well. – Source
Other sites in this network include:
ExclusiveDebtLeads.net
LoanModificationLeads.net
Car-Warranty.co
CarWarranty.ws
ShortSaleFaster.com
LoanModificationHelper.com
When Does It Become Deceptive?
Putting the BBB logo issue aside for a moment. In the case of the Debt Savers website isn't it likely that the average consumer visiting the site might actually believe that Debt Savers is a real company?
Apparently there is no such company. It is only a lead generation site.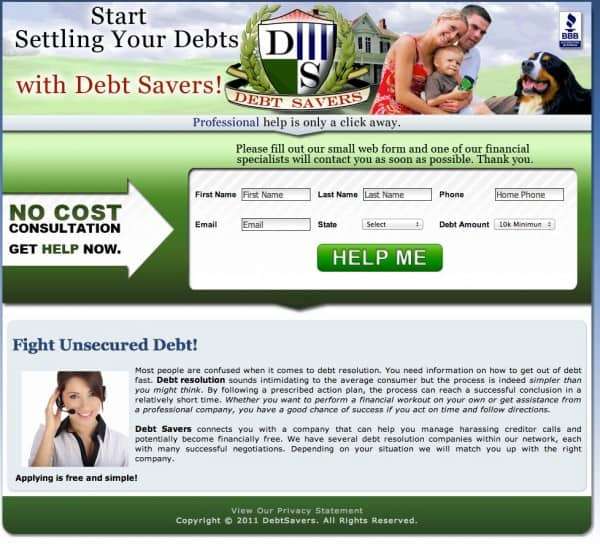 Sincerely,
You are not alone. I'm here to help. There is no need to suffer in silence. We can get through this. Tomorrow can be better than today. Don't give up.
Do you have a question you'd like to ask me for free? Go ahead and click here.
I can always use your help. If you have a tip or information you want to share, you can get it to me confidentially if you click here.
Latest posts by Steve Rhode
(see all)