Rescue One Financial has been sending out what I feel to be a problematic mailer offering consumers loans but consumers report being switched into debt settlement programs with Freedom Debt Relief instead. That has concerned me since it sure seems like a bait and switch effort to tell people they are going to get loans but sell them into debt settlement instead.
I even brought this to the attention of Andrew Houser from Freedom Debt Relief when this first came up and he didn't appear to have a problem with this bait and switch marketing. Yet he is benefiting from it.
A reader has just submitted the most recent variant on this mailer by Rescue One Financial that is being sent to consumers.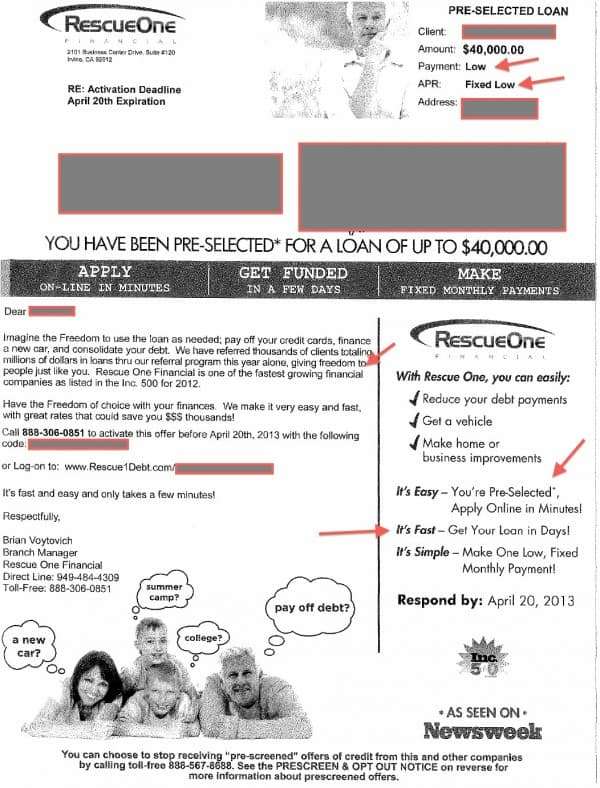 This Rescue One Mailer and the other one I covered have worried me. Rescue One Financial even went so far to most likely hire someone to try to bury a previous story of mine about them in Google. See Is Rescue One Financial Hiring People to Lie to Google?
But let's look at the current offer letter. Rescue One Financial says they are located in California. They say the person receiving this has been "Pre-Selected" to get a $40,000 loan. The loan can be applied for in minutes and funded in a few days. The interest rate will be low, along with the payments.
The fine print on the back of the offer even says that people who are not approved for the loan will be told about "other programs to help consumers in debt."
So What the Hell Does Rescue One Do Then?
And despite the front page of this mailer looking like it comes from a lender who can make the claimed loan, the fine print says, "We are not a lender and do not broker loans. We do not make loans of any type or credit decisions."
They also say "We are not an agent, representative or broker of any lender."
California says they are not a licensed lender.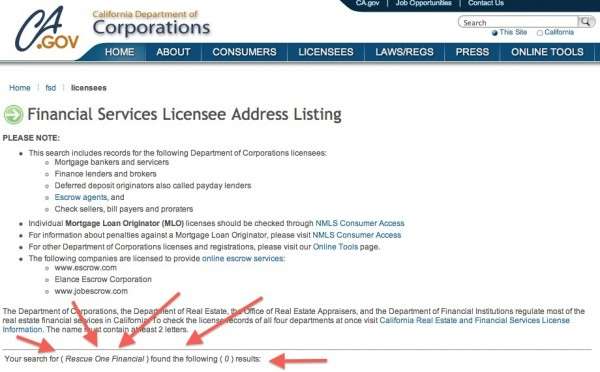 But they also say, "This offer is for an unsecured Personal Loan referred by Rescue One Financial, Inc. All loans submitted through Rescue One Financial, Inc. are done by a third party."
So they say they are not involved in loans in any way but then say they are submitting loans. Which is it? Something stinks here.
More Rescue One Financial Craziness
At the top of the fine print Rescue One Financial says people have been pre-selected to get the loan offer but, "None of these sources include data from the recipients credit score or credit report."
But at the bottom they say, "This "prescrened" offer of credit is based on information in your credit report indicating that you meet certain criteria."
So it does involve the credit report. Which is it?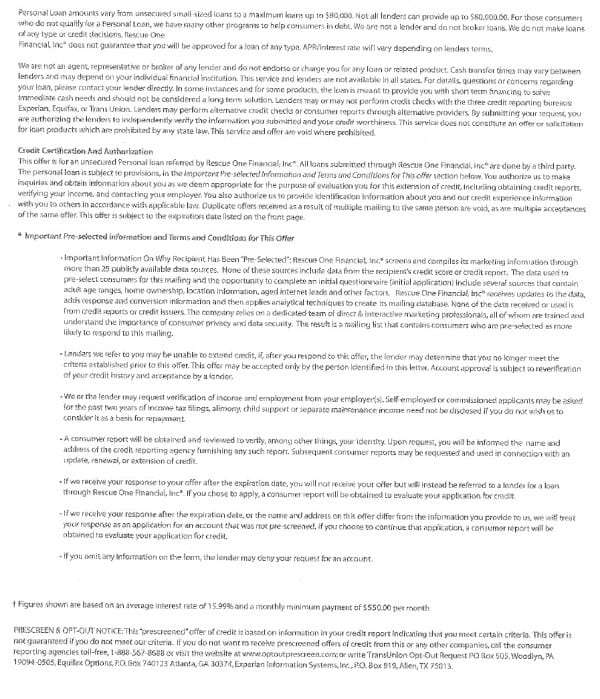 Sincerely,
You are not alone. I'm here to help. There is no need to suffer in silence. We can get through this. Tomorrow can be better than today. Don't give up.
Do you have a question you'd like to ask me for free? Go ahead and click here.
Latest posts by Steve Rhode
(see all)