Please see updates on July 15, 2013 and July 23, 2013 to this article at bottom.
Recently tips and information has been trickling in regarding an old debt relief industry name I had not heard for awhile, Andris Pukke. Pukke was nailed by the FTC for his operation of Ameridebt and even did some jail time for it. You can see past article naming Andris Pukke, here.
The tips appear to indicate Andris Pukke, who allegedly went by the name Marc Romeo at one time, was actively involved in a Belize development and possibly still is.
This development known as Sanctuary Bay and now as Sanctuary Belize, at one time was the subject of the Receiver's actions under Pukke and Peter Baker's actions with the Receiver who was to receive the property to compensate victims of Pukke's previous enterprise, Ameridebt.
In fact Andris Pukke was sentenced to 18 months in jail in 2011 and pled guilty to obstruction of justice. – Source. Pukke was released on September 20, 2012.
The big question now is if the U.S. Government is done trying to take back this property and "hidden assets" and what risk people buying into the development have now who are not aware of its past. It is a question I don't know the answer to but I certainly hope those who have purchased into Sanctuary Belize have a clear understanding of any risks.
Update July 23, 2013 – In case it was not clear to anyone reading this article, there was an update on July 15, 2013 from a reader who included a document from April 15, 2008 showing the Receiver previously settled claims against Sanctuary Belize and I included a copy of that Receiver document. My paragraph above was a question which has since been answered.
Before we get to the new information, here is a bit of background.
If anyone finds a factual error in this story or wishes to add a statement to correct anything that appears, click here.
Background
Andris Pukke has a background tied to Tim McCallan who has also been in trouble with the Federal Trade Commission. See this and this.
The Ameridebt action began with the Federal Trade Commission filing suit against Pukke and others in 2003. – Source, Source
The FTC alleged Pukke and his then wife Pamela Shuster, with others, ran "a national organization that promotes itself as a non-profit credit counseling agency is engaged in deceptive practices."
In 2005 Pukke's wife decided to throw in the towel against Andris Pukke and "Pamela Pukke, the estranged wife of AmeriDebt, Inc. founder Andris Pukke, has agreed to forfeit all rights to assets currently held in receivership and will cooperate with the Federal Trade Commission in its continuing case against her husband and his company, DebtWorks, Inc., under the terms of a court settlement filed and announced today." – Source
After admitting to a stipulated final judgment in 2006 the FTC thought the matter was over when they thought Pukke had relinquished his assets and the agreement "would require Pukke to give up virtually all of his assets for a consumer redress program for victims of the deception, a fund that ultimately could total as much as $35 million." – Source
But Pukke wasn't done fighting back just yet. Despite the 2006 agreement, the court appointed receiver was not getting the cooperation hoped for and asked the court to hold Pukke, Peter Baker and others in contempt.
The Receiver specifically seeks relief in the form of an order holding Pukke and Baker in contempt of Court for violations of the Preliminary Injunction Order and Stipulated Final Judgment for interference with at least four valuable assets constituting Receivership Property which Pukke and Baker have refused to deliver possession, custody and control to the Receiver and have substantially interfered with to the detriment of the receivership estate, including (A) Dolphin Development Company Ltd., as to which Pukke holds a 60% indirect majority, controlling ownership interest; (B) the residential real property located at 69 Emerald Bay, Laguna Beach, California, a property selected for purchase by Pukke and as to which Pukke exercised control post-receivership; (C) all stock interests held by Pukke, directly or indirectly, in Sportingbet Plc ("Sportingbet"); (D) all stock interests held by Pukke, directly or indirectly, in Internet Opportunity Entertainment Ltd., all entities with similar names to Internet Opportunity Entertainment Ltd., and all entities related to any of the foregoing including without limitation all subsidiaries and affiliates thereof (individually and collectively "Internet Opportunity"), and (E) all funds held in accounts at Hansabanka as to which Pukke held a legal and/or beneficial interest as of the inception of the receivership, including without limitation the accounts ending in 8805 ("8805 Account") and 5390 ("5390 Account"). The Receiver seeks orders for appropriate relief, including turnover orders, monetary relief to reimburse the estate for injury sustained by Pukke's and Baker's violations of the Court's Orders, and other relief such as will compel the turnover of full possession, custody and control of the foregoing Receivership Property to the Receiver for administration.

There are four principal assets which lie at the heart of this dispute and the Receiver's application for the Order to Show Cause. One of the assets is the entity Dolphin Development Company Ltd. ("Dolphin Development"), an entity organized under the laws of Belize, as to which Puck Key Investments L-8, LLC ("Puck Key 8"), an entity wholly owned by Pukke, is the 60% majority shareholder. Pukke is the sole member and owner of Puck Key 8. Dolphin Development's principal assets consist of ownership, development and related rights in real property located in Belize known as Sanctuary Bay Estates, including related rights and interests in developing and selling lots in the Sittee River Wildlife Reserve and related tangible assets such as equipment that are essential to the development. Dolphin Development also holds a 90% ownership interest in the Belize entity Triton Mariculture, Ltd., an entity which owned a shrimp farm in Belize and which has since been placed in receivership by Atlantic Bank Ltd. in connection with the Bank's collection of a debt secured by a mortgage on the shrimp farm property. – Source
The receiver pointed out a history between Peter Baker and Andris Pukke. "The Receiver has now deposed both Pukke and Baker. Pukke and Baker are close friends. Pukke has known Baker at least since they were in high school together in New York.
Baker testifies he and Pukke have been best friends since seventh or eighth grade. Baker's mother is Joan Medhurst and his stepfather is Colin Medhurst, both of whom also held ownership interests in Dolphin Development.
Pukke and Baker have mutual friends who have also had substantial business relationships with Pukke, in particular Stephen Todd Cook ("Cook") and Brian Maller ("Maller"). Cook and Pukke have been friends since high school Cook considers Pukke to be as close to him as his family. Cook has had ongoing business relationships with Pukke since 1999 through Cook's employment by Ameridebt and Infinity Resources Group, Inc. ("Infinity") his work for DebtWorks, selling leads to DebtWorks (and to Ameridebt) through various companies, such as Debt Products and NASCO, Cook's formation with Pukke of the entity Prudent Choice, LLC and his recent $700,000 "investment" in Triton Mariculture Ltd., the shrimp farming entity in Belize, among other dealings.
Maller was employed by Pukke beginning in 1998 through American Debt Counseling Association, then by Professional Equity Trust, a company operated by Pukke's mother Stella Storm, and later by Infinity, one of Pukke's wholly owned companies. Maller also worked for Cook at Debt Products, NASCO and Media Choice LLC, and as of November 2005 was employed by Prudent Choice, LLC. At his deposition in November 2005, Maller also testified that he was working under the direction of Baker and Pukke in the post-receivership period in maintaining and modifying the Sanctuary Bay Estates website, the website for the real estate development project run by Dolphin Development.
The Receiver's Position that Involves Sanctuary Bay Estates
Summary of Contemptuous Conduct
"First, Pukke and Baker have worked together to divert valuable proceeds of sales of property and rights to develop property in Belize held by Dolphin Development. Specifically, Pukke and Baker should be held in contempt of Court in connection with Dolphin Development for the following conduct: (a) Pukke and Baker have remained in possession of and exercised control over Dolphin Development and the Sanctuary Bay Estates project from the inception of the receivership until October 2005 in violation of the Receiver's right to possession, custody and control thereof; (b) in or after October 2005, Pukke and Baker have caused valuable rights and assets of Dolphin Development to be transferred to one or more newly created corporations and/or other entities to deprive the receivership estate of the property rights, contract rights, development rights and/or other rights held by Dolphin Development, to the detriment and injury of the receivership estate, by transferring those rights to the new Starfish Entities (as detailed below) and Sanctuary Bay Limited; and (c) in December 2005, Pukke and Baker caused Dolphin Development to execute and record a deed conveying Dolphin Development's real property assets to Sanctuary Bay Limited, the new company formed by Peter Baker in which Baker is the 99.99% owner. These acts not only violate the noninterference provisions of the Preliminary Injunction Order and Stipulated Final Judgment but also violate Pukke's affirmative turnover, disclosure and repatriation obligations under these orders. The Receiver estimates that the net realizable value of the Sanctuary Bay Estates project is approximately $20 million based on lot sales as of July 15, 2005 and the remaining lots to be sold.
Long after the receivership commenced and after Baker was served with the Preliminary Injunction Order and clearly had knowledge of the Order, Baker created a fictitious business name, Starfish Development Limited ("Starfish") as well as Starfish Development Limited as a separate company organized under the laws of Nevis (collectively the "Starfish Entities"). Baker later created the entity Sanctuary Bay Limited in Nevis in which Baker is the 99.99% shareholder and a director. Baker diverted proceeds of sales of the Sanctuary Bay Estates lots to a bank account opened in the name of Starfish by Baker at Citibank at the end of December 2005. Clients purchasing properties in Sanctuary Bay Estates were directed to send their deposits and payments to Starfish at a post office box in Gaithersburg, Maryland which was under the control of Maller. Maller then retrieved the payments and routed the checks to Baker at Baker's instruction by Federal Express or UPS. The Receiver believes that there have been approximately $621,000.00 in funds generated from lot sales from the Sanctuary Bay Estates project from April 20, 2005 through May 30, 2006, including both proceeds received by Dolphin Development and proceeds received by Starfish, as of the latest accounting and banking information available to the Receiver. Baker has admitted under oath that post-receivership he established these new companies that have taken over the assets of Dolphin Development, that he has sold lots owned by Dolphin Development, that Baker has rewritten sales contracts from Dolphin Development as seller into the name of his new companies, and that Baker, through his new company Starfish Development Limited, is actively controlling and managing the Sanctuary Bay Estates project.
The Receiver Wanted to Hold Pukke and Baker in Contempt
Facts regarding Dolphin Development, Sittee River and their assets are detailed in the Declarations of Colin Medhurst and Brick Kane and in the corporate and financial records of those entities included in the Appendix of Exhibits. Dolphin Development was organized under the laws of Belize in 2003. Dolphin Development is a for-profit corporation the ownership of which is held by Pukke through Puck Key 8 as to 6,000 shares (60%), Colin Medhurst as to 1,250 shares (12.5%), Joan Medhurst as to 1,250 shares (12.5%) and Baker as to 1,500 shares (15%). Copies of the registration documents from the Belize Registry of Corporations reflecting the organization and ownership accompany this Application.
Concurrently, Sittee River Wildlife Reserve ("Sittee River") was organized as a nonprofit corporation under the laws of Belize. The original Board members included certain outside directors, mostly environmentalists, and Pukke, the Medhursts and Baker.
Dolphin Development also owns equipment, boats, office equipment and other tangible personal property used in the development of the Sanctuary Bay Estates project. The equipment is identified on the Dolphin Development balance sheet dated September 30, 2005, the latest information available to the Receiver and is listed at $688,552.82 (BZ). These assets are Receivership Property.
As described in the Sanctuary Bay Estates website and the minutes of the Board meetings of Dolphin Development and Sittee River, Dolphin Development was responsible for the development of the properties. The sales contracts obtained by the Receiver from the subpoena of Baker's e-mail records for the e-mail address listed on the Dolphin Development website made after the inception of the receivership up to mid-October 2005 identify Dolphin Development as the seller of the lots. According to the sales contracts obtained, even proceeds of the lot sales for sales of lots owned by Sittee River are payable to Dolphin Development as the developer of the lots. These sales contracts, the proceeds thereof and the development rights associated therewith constitute Receivership Property. It was not until the Starfish Entities began usurping the sales of the Sanctuary Bay Estates project in October 2005 that lot sales began being made by an entity other than Dolphin Development. – Source
There is more to the Receiver's action and disclosures and you can read them here.
Not everyone agrees Pukke deserved what he got for his action with Ameridebt. It appears some Sanctuary Belize people think he was railroaded.
To be honest, in my opinion, it pretty much sums up and verifies what Mr. Usher told me about the situation. There's clearly a difference of opinion of what happened based on who you listen to. If you believe Mr. Pukke's supporters, he did nothing wrong and got "railroaded" as Mr. Usher suggested. If you believe the FTC (which frankly I have a hard time believing as I don't really trust any US Government organization), his companies were deceitful with their customers. The truth probably lies somewhere in the middle as it always does.

The one thing that you can't argue is that it's unfair to classify him in the same category as Bernie Madoff. Regardless of who you believe, according to the article, nothing Mr. Pukke did was criminal in nature as all of the accusations against him were civil. Bernie Madoff clearly committed numerous crimes. I'm not an attorney but I do know that here is a enormous difference between a civil FTC case and a criminal FBI case.

All I know is that based on what I've heard about the situation from Mr. Usher, who I certainly trust, Mr. Pukke got "railroaded" and didn't deserve anything the FTC did to him. Frankly, at this point, it doesn't even matter as it's something that happened close to 10 years ago. – Source
The New Information
I suspect what might happen once I publish these new allegations and updates is that people with knowledge about current activities will come forward and post comments with additional updates. Please do.
Tipsters have alleged Todd Cook is/was marketing for EcoFutures in Newport Beach.
One person said they knew Todd Cook as one of the sales guys on the SB team, and apparently a good friend of Peter Baker's. They said he was also the President of Debt.com at one time.
The article features Debt.com, a company that sells debtor's information to debt-relief companies, consumer credit counseling businesses and tax attorneys in the U.S. Owned by Todd Cook and his partners, the company is based in Las Vegas though the campaign is nationwide. Debt.com connects debtors with companies willing to help them with their debt problems. – Source
Tipsters also shared some concern over the Sanctuary Belize Homeowners Association since at one point they were directed to send payments to Dianne Allen in Canada.
The last update on the Santuary Belize Homeowners Association website appears to have been in 2011.
According to public records the domain name for the Sanctuary Belize Homeowners Association is owned by Eco Futures. Brandi Greenfield is listed as the administrative contact.
Sanctuary Belize
According to the Sanctuary Belize website the company is said to be located at 1401 Dove, Suite 610, Newport Beach, CA 92660. – Source, Source
But the State of California Secretary of State website shows no company registered to do business in California under the name Sanctuary Belize.
That address is also used by Global Property Alliance, Inc and public records list Peter Baker as President. – Source
The registered agent for the company is Brandi Greenfield.
The Newport Beach address is also used by Exotic Investor TV Show whose hosts are Luke Chadwick and Tara Gray. – Source
And it is also the address of Palmaya Belize. – Source
Eco Futures is said to be the developer of Palmaya Belize. – Source
The State of California could not identify any company registered to due business under the name Eco Futures in California.

According to the Google+ profile of Andris Pukke he works at Sanctuary Belize. Yet some allege they were told Pukke had no further involvement with the development. – Source
Pukke's Twitter background picture looks like picture I saw in my research on Sanctuary Belize.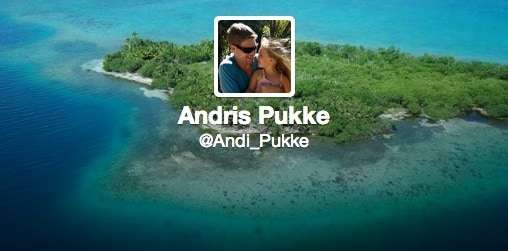 Interestingly the alleged Linkedin page for Todd Cook seems to skip his history with Pukke.
Luke Cahdwick says he is actively involved with Sanctuary Belize with Eco-Futures. – Source. Robert Schafnitz refers to Global Property Alliance – EcoFutures. – Source
Photos
Sanctuary Belize Alleged Photos of Pukke
Marc Romeo was describes in a 2010 newsletter from Sanctuary Belize. "We also did a kayak trip down the Sittee River with Marc Romeo and Brandi Greenfield, based in the Newport Beach, California office." – Source
Marc Romeo is also described as the owner of Sanctuary Belize. – Source
Luke Chadwick describing Sanctuary Belize.
In one alleged video There was a webinar from July, 2012 in which it was presented the development is holding $43 million in mortgages and the income is 2.5 million per month.
SanctuaryBelize.com
The sanctuarybelize.com website was registered in 2004 and is coincidentally managed by a company called C Resources, in Pukke's old stomping ground of Gaithersburg, Maryland. The address the company has listed (554 North Frederick Ave, Suite 136, Gaithersburg, Maryland 20877) comes back to a UPS mailbox store. – Source
The current owner is listed as Sittee River Wildlife Reserve.
When the domain was registered is was owned by Sittee River Wildlife Reserve, domain@sanctuarybay.com. And in fact the current administrative contact for the Sanctuary Belize domain name is SanctuaryBay.com. The original owner of SanctuaryBay.com was Brian Maller of NASCO Marketing.com.
There are 15 domains hosted on the same server with Sidus Group, LLC in Annapolis, Maryland. But let's take a look at the current registrants of the domains on the SanctuaryBelize.com server and see if it creates a pattern.
Reverse IP Lookup Results—15 domains hosted on IP address 64.242.234.44
belizerealestatebrokers.com
Current:
Belize Real Estate Brokers
155 roadrunner
Irvine, California 92603
Administrative Contact:
Peter Baker domain@clresourcesinc.com
Belize Real Estate Brokers
155 roadrunner
Irvine, California 92603
buybelize.com
Current:
CL Resources, Inc.
554 N Frederick Ave
Suite 136
Gaithersburg, Maryland 20877
Administrative Contact:
Manager, Domain domain@clresourcesinc.com
CL Resources, Inc.
554 N Frederick Ave
Suite 136
Gaithersburg, Maryland 20877
+1.8007194240
buybelize.net
Current:
CL Resources, Inc.
554 N Frederick Ave
Suite 136
Gaithersburg, Maryland 20877
Administrative Contact:
Brian Maller domain@clresourcesinc.com
CL Resources, Inc.
554 N Frederick Ave
Suite 136
Gaithersburg, Maryland 20877
United States
+1.8007194240 Fax — +1.2406689894
cleangreencollective.com
Current:
William Bannon
100 Scholz Plaza suite 210
Newport beach, California 92663
Administrative Contact:
William Bannon wbannon57@yahoo.com
100 Scholz Plaza suite 210
Newport beach, California 92663
9495667118
coldwellbankerbelize.com
Current: (Last public record – 11-04-2012)
Real Estate in Nicaragua Online
Claudia Gonella
Parque Central
Granada, none 00000
Nicaragua
Phone: +505.8393992
debtresourcesusa.com
Current:
CL Resources, Inc.
13017 Wisteria Drive #343
Germantown, Maryland 20876
Administrative Contact:
Gregory Werth domain@clresourcesinc.com
CL Resources, Inc.
13017 Wisteria Drive #343
Germantown, Maryland 20876
(301) 528-0027
edebt.com
Current:
Michael Repolusk ()
BridgeCorp House
36 Kitchener St
Auckland, Auckland 1000
NZ
Administrative Contact:
eDebt
Michael Repolusk (domain@clresourcesinc.com)
+64.3456765
BridgeCorp House
36 Kitchener St
Auckland, Auckland 1000
garnetgreens.com
Current:
CL Resources, Inc.
gendermdonline.com
Current:
CL Resources, Inc.
mareasresort.com
Current:
Tucano Group LLC. S.A. (Todd Cook listed Tuscano Group as a company he was a partner in.)
mareasvilla.com
Current:
Tucano Group LLC. S.A.
mareasvillas.com
Current:
Tucano Group LLC. S.A.
planbinvestments.com
Current:
Hidden
sanctuarybelize.com
Current:
Sittee River Wildlife Reserve
suresourcestaffing.com
Current:
Sure Source Staffing and Screening
CL Resources, Inc.
CL Resources was identified as a corporation with an address in Maryland. The company was formed on April 27, 2007 and the risident agent was Brian Maller. The company was forfeited on October 1, 2012 and is no longer a company in good standing with the State of Maryland.
Submit a Tip
This is an ongoing investigative report. If you know anything about the current relationship of Marc Romeo, Andris Pukke, Todd Cook, Peter Baker or Brian Maller with the Belize deveolpment, please let me know. You can upload information to me here.
Update July 15, 2013
Jon Bemdsen sent in this update:
Hi Steve. Read your post on the history of Andy Pukke and Sanctuary Belize. I had looked into that history when I was researching Sanctuary several years ago.

What I found is that Pukke's interest in the development was bought out by Sittee River Wildlife Preserve (the Belize corporation that owns the real estate) and those funds were give to the Receiver for the plaintiff in the Ameridebt suit.

As a result, the Receiver in 2008 officially dropped any further efforts to go after the Sanctuary property. I've attached a copy of the recorded letter the Receiver sent the Sanctuary owners of such. To this day, Pukke and Baker have no ownership in the Sanctuary Belize property/development, nor Eco Futures (the corporation developing the project).

Pukke and Baker are however owners of a separate corporation Global Properties Alliance, which is a marketing and advertising company providing marketing services to various real estate dev elopments around the world, of which Sanctuary Belize is one.

Since he is actively providing marketing services for Sanctuary, he occasionally visits the development in Belize. Evidently, Pukke is a very effective and successful online marketing expert and developments around the world are soliciting his services to do for them what he has successfully been doing for Sanctuary. Hope that helps.
Update July 23, 2013
I have received the following letter from the attorney representing Sanctuary Belize.

Although the matter had been previously addressed on this article about the past Receiver release, as noted above, I have added an additional statement to the story next to the original question I raised in the article.

To address the points Mauricio Rauld raises, see my answers below.

"Sanctuary Belize is an award-winning development in Belize and has spent several years fostering that excellent reputation in the community and with its peers. It has won, among other awards, 'Best Mixed-Use Development' and 'Best Development, multiple Units' in Belize, by the prestigious International Property Awards. You, of course, are aware of this since these awards are prominently displayed on the Sanctuary Belize website." [Okay but the Sanctuary Belize promotional video was included in the original article and mentioned awards.]
"Your comments that you are concerned if the government was still trying to recover assets from Mr. Pukke and that the Sanctuary Belize development could be at risk is not only false, but incredibly inflammatory. My client, Sanctuary Belize settled with the US Government over 5 years ago and have no further claims with the development. Thus this issue has been behind the project for quite some time, as was quite aptly articulated by one of the responders in your post who even took the time to attach documentary proof. We are attaching a copy of the settlement and release that was entered into." [The article was previously updated with the Receiver statement. And a second update was added right next to the original question raised.]
"Mr. Pukke is not an owner of Sanctuary Belize although he does maintain a close friendship with one of its owners, John Usher, and visits him quite frequently in Belize. Your innuendos regarding Mr. Pukke's involvement with the project is misleading, at best, and needs to be clarified. He has no direct involvement with the development project, although he does consult for the project and provide valuable marketing expertise as Mr. Pukke is widely considered one of the best marketers in the world, thus adding a tremendous value to the project and the current lot owners." [Actually, at the time of the article Mr. Pukke said he worked at Sanctuary Belize as evidenced by his Google+ profile sourced above. Apparently Mr. Rauld feels, "Mr. Pukke is widely considered one of the best marketers in the world, thus adding a tremendous value to the project and the current lot owners." To which I respond, okay.]

I believe the updates and answers to the questions raised address the concerns about information that was in the article that might have been perceived as incorrect or erroneous.

I welcome all error corrections from readers and attorneys who feel there is something in the article that might be considered "defamatory statements that affect Sanctuary Belize" and/or might be erroneous and I will promptly publish any submitted statement to clarify a point someone feels is not clear. Use this form. Almost everything stated in the article is already sourced in the article.

In regards to the "erroneous information" it appears the only matter considered erroneous in the letter was my question about continued Receiver involvement was had been previously clarified and an additional update was posted today right next to the original question raised.

Rauld says, "We represent the Sanctuary Belize project in Southern Belize and its United States agent, Global Property Alliance, Inc." and "We understand that you may have had some issues in the past with Andris Pukke, Peter Baker, and Todd Cook, none of whom are my clients and for which we have little interest."

That is an interesting statement since the State of California ia apparently reporting Peter Baker is the President of Global Property Alliance, Inc. registered in California. Maybe Mr. Raul is talking about a different Global Property Alliance, Inc. that is registered in a different place.

I am a bit perplexed that Sanctuary Belize could not address any inquires from potential buyers by providing them with the document a reader sent in and we published on July 15, 2013. Certainly they had a copy of that same document readily accessible and emailing it to them would not take precious resources.
Sincerely,

You are not alone. I'm here to help. There is no need to suffer in silence. We can get through this. Tomorrow can be better than today. Don't give up.
Do you have a question you'd like to ask me for free? Go ahead and click here.

Latest posts by Steve Rhode
(see all)