Just in, a mailer sent out to consumers for The National Distressed Asset Relief Program with it's live not a reach check attachment.
An amazing reader pplschmp send in a new debt relief mailer through my I Buy Junk Mail program.
The Guts
Sometimes these mailers make me laugh out loud. They are so ridiculous. But this one had me rolling. As you can see below it contains the fake check that says it is not a live check but it also says it is void after 30 days. Wouldn't a dead check be automatically void?
And how about the National Distressed Asset Relief Program or as they say, National DARP. Who made that up? But it's not a new tactic. In 2012 I covered the DARP that used a very similar mailer. See this article. As I said back then, in my opinion DARP should stand for "Don't Actually Respond to Program."
So let's run through the claims.
The program is for a debt reduction program but claims there are "Limited Funds Available." How in the world are there limited funds available from the NDARP when the program does not exist as an official government program and the consumer pays the company.
The unidentified company claims debt can be reduced up to 60% but does not support that claim.
It offers an immediate reduction of payments but does not disclose the payment is completely arbitrary anyway without creditor approval.
It says the consumer can avoid costly debt management programs but isn't this a debt management program and has a cost to it?
Negative public records can be avoided but a consumer with a defaulted debt can be sued and that will appear on the public record. So what is being avoided?
You can become debt free in 12-36 months. Again, another unsupported claim.
"Failure to Respond to this Notice Will Affect Your Eligibility." For what? Your eligibility to be sold debt relief services?
The mailer claims the debt will be reduced by 60% and the calculated example shows this as well. But the fees for the program are not factored into this. Show what is the true reduction in overall cost, program performance, and likely outcome for consumers?
The Outside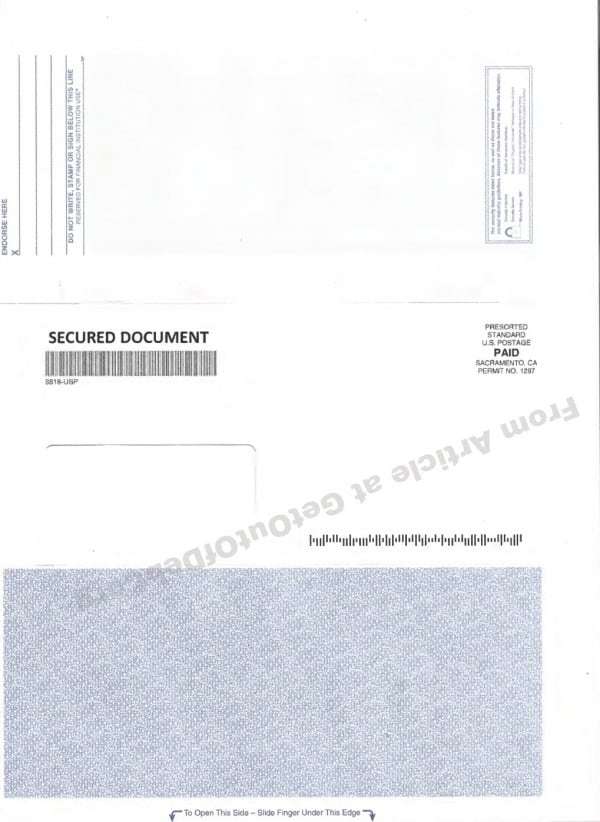 This one comes from a mailer that has sent other debt relief offers as well, Sacramento, California postal permit 1297.
The outside of the envelope does not identify who the company behind this is.
And yes, when it was all folded up I believe it was a secured document.
Sincerly,

You are not alone. I'm here to help. There is no need to suffer in silence. We can get through this. Tomorrow can be better than today. Don't give up.
Update June 30, 2013
Another reader submitted a similar offer they received.
This offer was able to be reviewed because a kind reader sent it in via my I Buy Junk Mail program.

If you receive a credit or debt relief offer in the mail, do some good and let me pay you for it. Click here.
Want to See More Mailers?
Want to see more mailers I've reviewed as part of this program? Click Here.
Latest posts by Steve Rhode
(see all)