Advantage Credit Counseling Service has a "white paper" out that purports to reveal what a certified credit counseling agency can do for you.
Credit counselors have good programs that are best suited to people who are behind on their bills but can afford at least the regular monthly payment plus continue to save both for retirement and emergencies.
What struck me as odd was the statement they made that their services can "Protect Your Retirement Funds."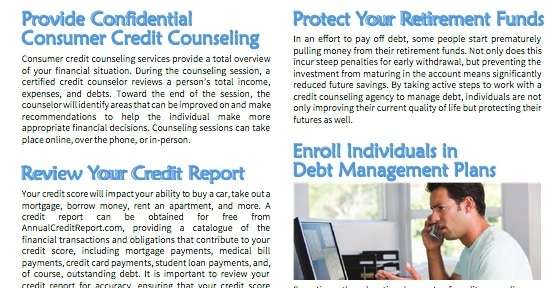 Here is where consumers need to be best educated about the pros and cons of a credit counseling program.
You should not assume that a credit counseling program alone will protect or improve your retirement situation unless you can continue to afford to invest while paying off your debt.
If you enroll in a credit counseling program and divert your available monthly funds towards repayment instead of investing it can cost you hundreds of thousands of dollars in lost retirement income. That does not seem like a protection of retirement.
Don't believe me? You can use the debt repayment calculator below to see how making repayments instead of getting back to investing for retirement can cost you dearly in lost retirement revenue.
As far as protecting retirement funds the one option that legally does that, they appear to fail to mention.
They also say they can also "end collection calls." But the only option I'm aware of that both legally protects retirement funds and requires collectors to stop calling is a consumer bankruptcy. Why don't they mention that as one of the positive options available?
It's just my opinion but for a "white paper" that helps to explain to people what a certified credit counselor can do it sure omits some important options, including debt settlement for those that have the resources to settle now.
If you have a credit or debt question you'd like to ask just use the online form. I'm happy to help you totally for free.
Latest posts by Steve Rhode
(see all)