I recently answered a question for Susan regarding Court Mediation Services (CMS) and she was kind enough to send in a copy of the agreement she signed. Original question is here I Signed Up With Court Mediation Services and Now I'm Being Sued by Citibank. – Susan. See below.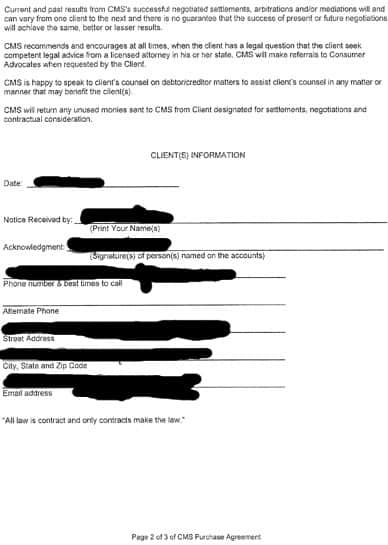 I think others will find page one and two of the agreement, let's say, interesting. I'll do my best to transcribe it. The type is a bit small. Please forgive any typos.
Court Mediation Services
PO Box 1609
Phenix City, AL 368868

cmsaccess@gmail.com

CMS Purchase Agreement

This information is written to provide accurate and authoritative information by Court Mediation Services only. The term CMS thereafter will refer to both Authorized Agents of Court Mediation Services and Court Mediation Service Office Personnel.

CMS agrees to work on the client's behalf for the agreed upon services.

CMS makes no claims, warranties, guarantees or representations of any kind because no one can pre-determine how a court will rule and/or how a judge will respond.

CMS is not engaged in providing or rendering any legal advice or professional services. If legal or other professional assistance is desired the services of a qualified licensed professional should be retained.

CMS specifically disclaims and liability, loss or risk incurred directly or indirectly by the use and application of any information assistance or documentation presented to the client's use or application.

CMS shall have no liability or responsibility to anyone with respect to contact and settlement negotiations or agreement(s) that may result from any negotiations and/or settlements, or for any loss or damages caused or alleged to have been caused directly or indirectly by such efforts and/or negotiations.

For legal reasons CMS does not guarantee, promise or claim and specific outcome from utilizing its negotiating settlement services or programs, and such guarantees, warrenties, representations, or claims are not expressed or implied.

Client(s) shall hold CMS harmless for any loss resulting from the services contemplated herein, it being understood that the results of the information, assistance or documentation provided herein may vary and cannot be predicted with certainty.

Information and results presented in this information or by Certified Agents, CMS office personnel, are only offered as examples and limited in their scope and application and are done so without prejudice or giving up any rights.

Current and past results from CMS's successful negotiated settlements, arbitration's and/or mediations will and can vary from one client to the next and there is no guarantee that the success of present or future negotiations will achieve the same, better or lesser results.

CMS recommends and encourages at all times when the client has a legal question that the client seek competent legal advice from a licensed attorney in his or her state. CMS will make referrals to Consumer Advocates when requested by the client(s).

CMS will return any unused monies sent to CMS from client designated for settlements, negotiations and contractual consideration.
Susan says that the fees for the service are as follows:
To Offset up to 10 accounts or $100,000 of debt through CMS the cost is $2,500

To Offset up to 15 accounts or $200,000 of debt through CMS the cost is $3,500

To Offset up to 20 accounts or OVER $200,000 of debt through CMS the cost is $5,000

Thereafter an additional $350.00 per account.

The cost can be paid with a credit card if you have available credit. If you want to pay via credit card, let me know and I send you an email invoice. If credit card payment is not available, you will need to send a cashier's check/money order along with the documents from Step # 2.
Sincerely,
You are not alone. I'm here to help. There is no need to suffer in silence. We can get through this. Tomorrow can be better than today. Don't give up.
Do you have a question you'd like to ask me for free? Go ahead and click here.
Get Out of Debt Guy –
Twitter
,
G+
,
Facebook
Latest posts by Steve Rhode
(see all)