I'm not quite sure how this little article first began. What I can tell you is that it didn't begin with me looking for any of these companies. But in my research I noticed something very odd, three debt settlement companies were advertising themselves as the "leader in debt resolution" but they were all using the same site layout and content.
Take a look for yourself.
Topaz Financial Services
Swiftrock Financial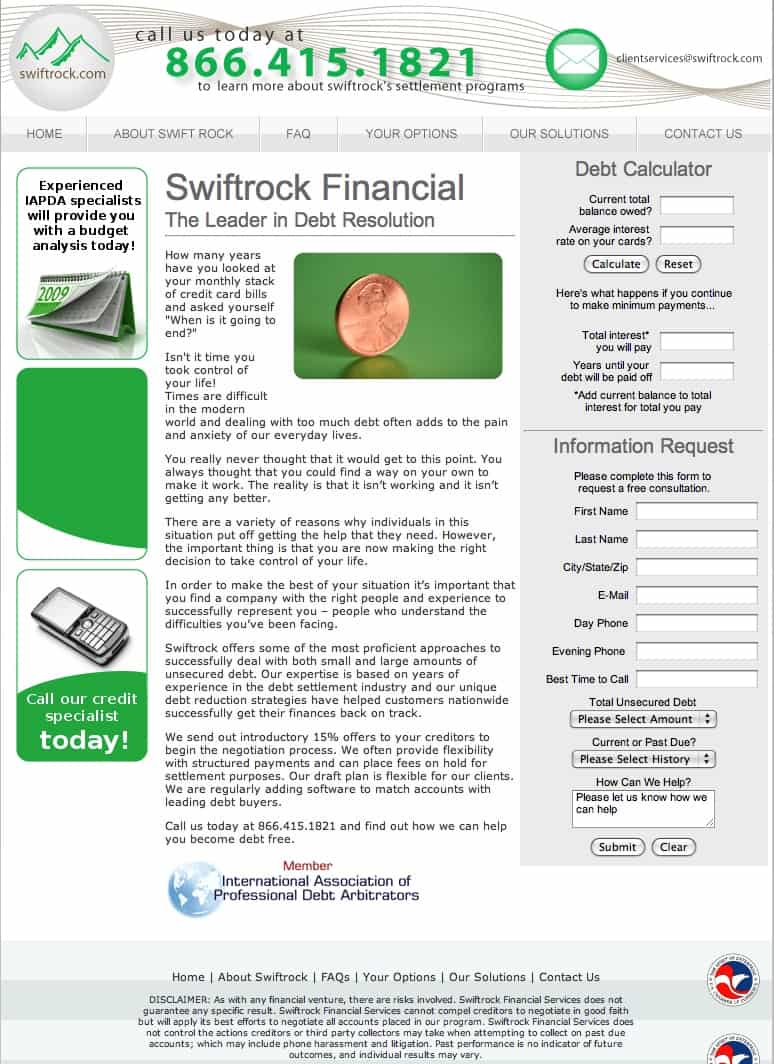 Mesa Rock Financial

What made me laugh really, really hard was that each of the companies claims to have the same guiding principles of honesty and integrity.
At [fill in the bank], we take great care in formulating our company's guiding principles. We want our clients to have confidence that our company operates with integrity and fairness; that we hold honesty and accountability as essential foundations; that we believe we are here for the service of our clients first and foremost; and that we will strive for excellence in all we do. To that end, we wish to define those principles, as they pertain to our company, in such a definitive way that they will be a constant reminder to our clients and our staff and that we will adhere to these core values with the strictest standard.

1. Integrity-"the quality or state of being of sound moral principle; uprightness and sincerity." (Webster) That means we will conduct our business with a high moral standard. We will never do anything that might diminish our reliability with respect to the principles governing our conduct.

2. Fairness – "adherence to a standard of rightness or lawfulness without reference to ones own inclinations" (Webster) We aim for this standard. In guiding our staff we strive for absolute rightness in all things.

3. Honesty – "a being truthful, trustworthy or upright." (Webster) Our word as a company can be trusted because honesty is what we build our foundation on.
On top of that, each of the three companies says that they provide community outreach to three Christian groups. I'm afraid I'd have to chalk that up more to sales than sincerity.
What do you think? Can you trust a company that either apparently hides behind multiple identities or totally copies other sites?
Sincerely,

You are not alone. I'm here to help. There is no need to suffer in silence. We can get through this. Tomorrow can be better than today. Don't give up.
Do you have a question you'd like to ask me for free? Go ahead and click here.
Get Out of Debt Guy –
Twitter
,
G+
,
Facebook

Latest posts by Steve Rhode
(see all)