Previously I wrote a post "What Do You Think of Everest Debt Solutions? – Margo". In that post, a reader sent in a question about a company I had never heard of before, Everest Debt Solutions, a debt settlement company.
If you look at the comments section of that question you will see that someone that claims to be from the legal part of the Everest Debt Solutions company contacted me. Why do I say the legal department, well the email address was legal@ and Steve Sanders who wrote the email said he was the general counsel of EDS.
Thanks to Steve, the more I looked into Everest Debt Solutions, the more irritated I became. And then when I looked up Steve Sanders, the general counsel of EDS, with the Florida Bar Association, there is no lawyer licensed in Florida by that name. There is a Stephanie Sanders.
Okay, so maybe he isn't a Florida based lawyer. If he comes back and gives me an update which state he is licensed in and I can verify that I'll post it in the comments section below. But for now, I'm going to put that in the questionable category.
Thanks to John who commented on the previous post I was lead to the BBB listing of Everest Debt Solutions and discovered it is another name for a Florida company called FDN Solutions.
Quite frankly I'm surprised they don't have an F rating if the BBB has called them out on claiming to be BBB members and using the BBB logo, but they are not members.
Mis-use of BBB Name by FDN Solutions, LLC

The business's website has various pages that display the BBB logo. The business is not BBB Accredited and our policies prohibit such a reference.

On March 10, 2009, BBB brought to the business's attention its unauthorized use of the BBB logo on its website, found at the link: www.everestdebtsolutions.com/floridadebtrelief.php

The business currently does not display the BBB logo on that link. However, it has been brought to BBB's attention that the business is displaying the BBB logo on other website pages, including:

www.everestdebtsolutions.com/illinoisdebtrelief.php
www.everestdebtsolutions.com/minnesotadebtrelief.php
www.everestdebtsolutions.com/pennsylvaniadebtrelief.php
www.everestdebtsolutions.com/kentuckydebtrelief.php
www.everestdebtsolutions.com/tennesseedebtrelief.php

On June 24, 2009, BBB contacted the business regarding this. The company has failed to remove the BBB Logo from their websites. This company is not a BBB accredited business and they do not have permission to use the BBB Logo.
FDN Solutions lists their business address as 12157 W Linebaugh Ave Pmb 380, Tampa, FL 33626-1732. That happens to actually be a UPS store that has private mail boxes. I called the store and verified that it was the UPS store and that Everest Debt Solutions was box holder 380.
FDN and subsequently EDS appear to be operated by the Daniels'. Timothy Daniels is listed as the senior partner while Debra Daniels and Patrick J Daniels are part of the management team.
Both FDN Solutions and Everest Debt Solutiions list the same toll-free number so I think we can safely assume they are closely related as the BBB says.
Here is where I start to get really concerned. On the FDN website they say they are:
FDN Solutions LLC is one of the largest, most trusted debt settlement companies in America, managing over $800 million in consumer debt. More than 30,000 people continue to trust us to help them achieve financial freedom with the help of our debt settlement program. We work with you to negotiate a reduction in your unsecured debt through our exclusive debt settlement program.

Our size, experience and proven track record can help you accomplish your goals no matter how big or small. When working with us you will have access to unlimited resources and tactics that have helped to settle millions of dollars of consumer debt. Our leverage within the banking community gives our clients the ability to feel confident and secure while working side by side with our settlement teams.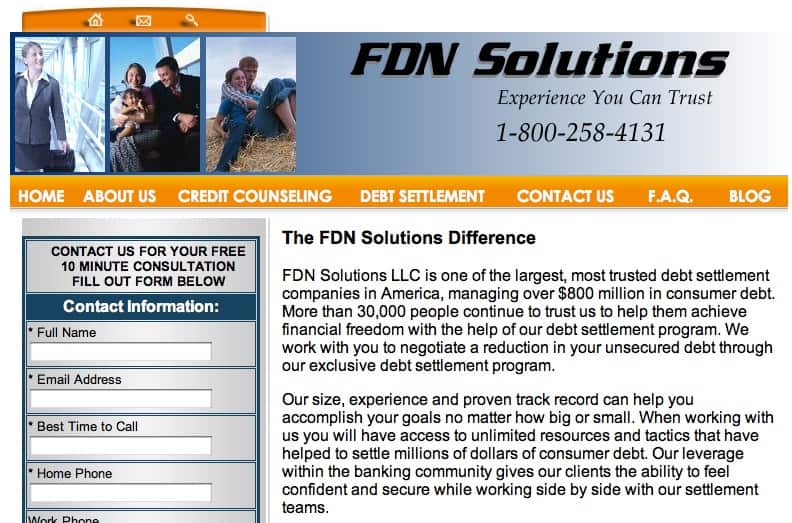 What I am left wondering is how many people can actually work at the UPS store mailbox center or in that small house listed as an additional business address. Either we are not getting the entire story about these companies or the statements being made on their site are not earnest. On face value it goes way beyond general advertising hyperbole to make such bold statements about size and experience but can't seem to produce anything to back those statements up.
So if "FDN Solutions LLC is one of the largest, most trusted debt settlement companies in America" and "More than 30,000 people" trust them, where are these Everest Debt Solutions and FDN Solutions people really located?
In light of all the other debt settlement company troubles and issues I've written about, there is something really odd going on here. I'm left with two avenues to explore. Either FDN and EDS just really, really suck at presenting information about their company or they are hiding something.
By the way, I called the Attorney General office in Florida to do a bit more research on these companies. I'm still waiting to hear back from that inquiry.
And by the way, I went to The Association of Debt Settlement Companies site and searched for FDN and EDS as members, neither were found.
This all certainly makes you wonder about these companies.
Get Out of Debt Guy –
Twitter
Facebook
Latest posts by Steve Rhode
(see all)