A court filing by Howard Law and Vincent Howard in the Morgan Drexen v. Consumer Financial Protection Bureau case piqued my curiosity. The filing said,
"The range of legal services that Howard Law provides to its clients includes, but is not limited to legal representation in business litigation matters, personal injury matters, consumer protection and class action legal matters, social security disability matters, labor and employment matters, and insolvency and bankruptcy matters.

The range of legal services that W & H provides to its clients includes, but is not limited to legal representation in business litigation matters, tax, TCPA and FDCPA matters, estate and insolvency and bankruptcy law matters.

Within the context of their insolvency and bankruptcy law practices, the Howard Firms provide debt workout or 'debt settlement' services for both business and consumer clients.
In a typical consumer debt settlement case, an insolvent consumer laboring under the burden of debt obligations that the consumer can no longer pay will approach the Howard Firms seeking partial or complete relief from this debt burden, through a consensual workout or 'debt settlement,' or failing such a settlement, through a bankruptcy filing under Chapter 7 or Chapter 13 of the Bankruptcy Code." – Source
Granted, the results below do not include filings from "the Howard firms," whoever they may be, but I wanted to see how many cases Vincent Howard or Howard Law has filed.
According to federal court records the answer looks like 1, in Oregon and that was after requesting the court to be co-counsel. – Source

Just to be sure some other listed attorney with the firm wasn't filing them in California, where the law firm is located, I searched the other listed names associated with the Howard Law Firm:
Gregory H.D. Alumit: 0
Luis M. Avilla: 0
Jennifer R. Johnson: 0
Terry K. Davis: 0
I have asked Vincent Howard to provide a response for this article to make sure his side of this issue can be heard. Here is what he had to say, "[Placeholder for Howard quote.]"
According to the same federal court records, a Vincent D. Howard has filed a number of civil cases in California.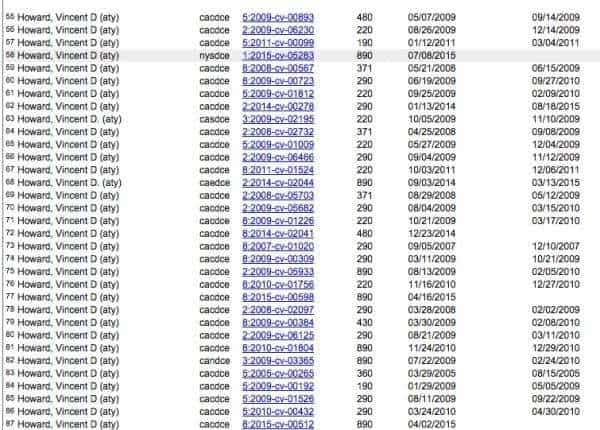 A look at the most recent cases looks like the cases are suits or class action suits against companies like Kohls, Tomy Hilfiger, American Eagle, Rescue 1 Financial, Macys, etc. for "damages pursuant to the Telephone Consumer Protection Act." See this, this, this, this, and this.
Just to Be Clear
I wrote this article last week and sent an email to Vincent Howard asking for information and clarification. Here is the email I sent.
"Dear Mr. Howard,
Yesterday I published an article in which your court filing in the Morgan Drexen case raised a number of good questions. I'm looking forward to the CFPB response to see how they address your points raised and concerns. See https://getoutofdebt.org//93341/is-howard-law-a-victim-in-the-morgan-drexen-case
But one question your filing raised for me was the number of bankruptcy cases you or Howard Law has filed. I want to make sure I have the statistics correct for the article and I'm more than happy to insert a quote from you regarding your bankruptcy filing experience. Anything you say I'll include.
Pacer seems to show one bankruptcy case where you were admitted pro hac in Oregon but no other bankruptcy filings under your name. I also could not locate any filings under Alumit, Avilla, Johnson, or Davis.
However I did locate the recent TCPA class actions filed and have included that information in the article I'm working on.
I absolutely want to make sure your experience and the experience of your firm with filing bankruptcy in conjunction with your insolvency work for consumers is represented correctly.
If bankruptcy filings at your firm were under the name of a different attorney or another firm, please let me know or provide me with a quote to clearly state the facts so readers reach the correct conclusion when reading the article.
Since there appeared to be a concern by you in the past regarding my articles I'm just copying the attorneys who were involved with that matter so everyone is on the same page to avoid any confusion with this request.
Steve"
In response I received an email from a law firm representing Mr. Howard. It said, "Please do not contact my client. If you have questions, you may direct them to our office. Please be advised that if you violate our cease and desist demand in anyway, we will pursue all available legal remedies against you. Govern yourself accordingly."
I am assuming they are talking about this demand.

Latest posts by Steve Rhode
(see all)