An amazing reader, BillKal, sent in a new debt relief mailer through my I Buy Junk Mail program.
The offer says it is from a 501(c)(3) nonprofit company, Life Financial Planning, a non-profit corporation, at 575 Menlo Drive, #1, Rocklin, CA 95765. That happens to be the same address used by another company that appeared in one of my stories in the past, Lord Heal Our Land. This is not the first mailer from Life Financial Planning I've written about, click here to see more.
While the mailer claims Life Financial Planning is a corporation located in California, the State of California has no registered corporation under that name.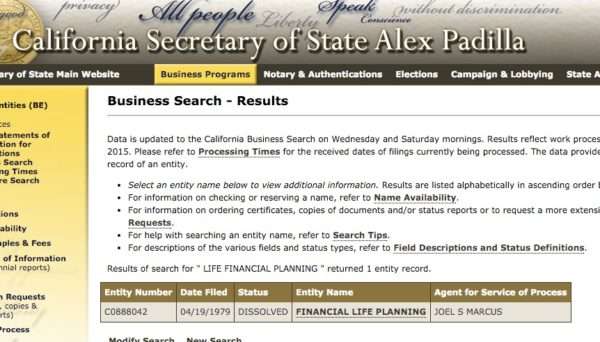 The mailer, in my opinion, is problematic on a number of levels.
The mailer makes it appear this is an official government notice. Which it is not. It goes on to say this is for a "Nationally Sanctioned Debt Reduction Initiative." Sanctioned by whom? My bullshit detector is going off big time at this point.
The claim is U.S. banks "are allowing a limited number of individuals to participate in this Non-Profit 501c-3 creditor sponsored program." Which certainly makes this sound like a nonprofit credit counseling program.
Next the mailer claims to protect excellent credit standing through this unknown program that is claimed to be "backed by every major credit card provider in the country."
The fine print at the bottom of the mailer heaps on more bullshit marketing in my opinion. It says, "With the implementation of the Credit Card Accountability, Responsibility, and Disclosure Act of 2009, the following creditors have adjusted their lending practices." It goes on to say, "Consumer may be referred to a non-profit or for-profit Debt Relief Agency." So if this is a nonprofit program from a nonprofit company then how do people get sent to a for-profit company?
The fine print then says, "Annual percentage rates as low as zero to nine percent" but adds on this is not for a debt consolidation loan. So what is it for then? And while the program is claimed to not be bankruptcy, debt consolidation loan, or debt settlement, it then says it is for financial education, consumer benefits, and reducing interest rates.
Here is what the envelope looked like when it arrived in the mail.

Get Out of Debt Guy – Twitter, G+, Facebook
This offer was able to be reviewed because a kind reader sent it in via my I Buy Junk Mail program.

If you receive a credit or debt relief offer in the mail, do some good and let me pay you for it. Click here.
Want to See More Mailers?
Want to see more mailers I've reviewed as part of this program? Click Here.

Latest posts by Steve Rhode
(see all)