Question:
Dear Steve,
I was enrolled in a program Success Link Processing through a company I saw in the Filipino Channel.
The company I saw was Financial Rescue LLC owned by Rod Mercado. He promised us that our problems will go away if we enroll in his program, the said company Success Link Processing LLC.
We did not know he is also the owner of this company which had their negotiators in the Philippines. Without hesitation we entered into this program but after half a year of paying the monthly program found that most of the money we were paying is going into his fees. It seemed that we are headed nowhere so I cancelled the program and asked for our money back.
As I read different articles about his program, we found that it was illegal for him to collect such fees in advance without having provided any settlement service.
When I wrote to him about this, I received a letter from an attorney Robby Birnbaum who told me that my understanding is wrong and that he was entitled to those fees and did not have to refund them. With this, my husband and I ended up going into bankruptcy so that we can eliminate the debts due to our hardship.
It is so unfair that this companies target clients who are in severe hardship and take advantage of them to enrich themselves. Please help us get our money back.
Cermina
Answer:
Dear Cermina,
Thank you for reaching out to me. About three or so weeks ago I wrote to Robby Birnbaum and asked if he could contact his clients and turn this into a good news story. He stated he would have to check with his client, as he would need to. Apparently Success Link Processing elected to not take any further action to remedy the problem as I did not hear back.
According to the response and documentation you sent me, the position of Mr. Birnbaum and/or Success Link Processing seems to hinge on the following excerpt from the letter you received:
"To clarify, the FTC rule that regulates debt relief providers is included inside the FTC's "Telephone Sales Rule." [Ed: I think he meant to say Telemarketing Sales Rule.] There is an express exemption in the rule for sales that are conducted on a face-to-face, or in-person basis. I understand that you met with a company representative prior to engaging my client, and as such, the no-advance fee portion of the rule does not apply. My client was permitted, pursuant to the rule, to receive the fees it did from you.

While it is unfortunate that you cancelled your program, I don't think you read the materials that were provided to you. These types of creditor negotiation programs are, many times, successful for consumers but require consumers to stay in the programs through completion. Our client never offered to pay your bills for you, and as such, you had to save up funds to pay your own bills and receive negotiated, lower settlement offers. Many times these offers are in the range of 20-70% of amount owed. But since you prematurely cancelled, you didn't get these results.

That doesn't discount that our client was permitted and did earn fees for the marketing expenses and other work it did in servicing your account."
So it appears the company used an approach to make the advanced fees permissible even though the overall intent of the Telemarking Sales Rule. The FTC publishes this guide for debt relief service providers and the Telemarketing Sales Rule.
I'm sorry the response from the company, through Mr. Birnbaum was not more favorable. It seems as if issuing a refund to make this a good news story is such a logical thing to do. But that's not what happened here.
If you wish to pursue this further I would encourage you to follow my guide How to Try to Get a Refund From a Debt Relief Company. The guide provides a number of additional steps you can take to further your claim.
I think readers of this question might find the following items of interest.
It appears you were charged fees in advance, according to the fee schedule.
The budget analysis that was completed for you to sign, looks questionable. Was that actually what you told them your budget was? If not, is it fraudulent?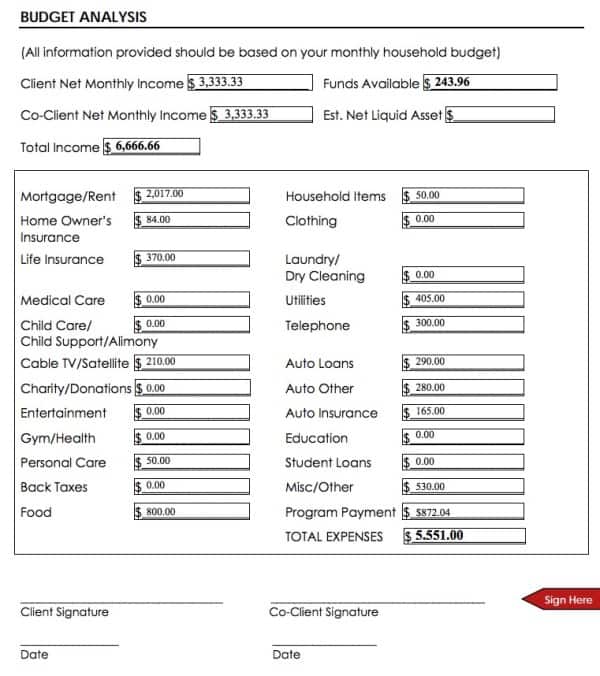 The company also makes some claims that it seems it would be good to explore further if you escalate this matter. I'm not confident these are accurate statements For example, the company says:
"Most creditors and collectors negotiate with Debt Settlement Service Providers, Success Link Processing, LLC cannot force the negotiations and cannot force creditors to accept a settlement."
"You understand that during the term of the program, you may not use any credit cards, except a debit card or an employer sponsored credit card for employee expenses."
"Company at its sole discretion may attempt to negotiate Client's enrolled debts by lump sum settlements, preauthorization payments, periodic payment and/or special arrangements."
"The Client agrees to put ALL UNSECURED debt into the Program."
It does appear the company did disclose their fee policy, your legal exposure to being sued, and how the program can damage your credit report.
It also seems clear from the response you received previously that the company is hanging their no refund policy on the fact they sent a representative to meet with you personally to apparently claim an exception from the Telemarketing Sales Rule.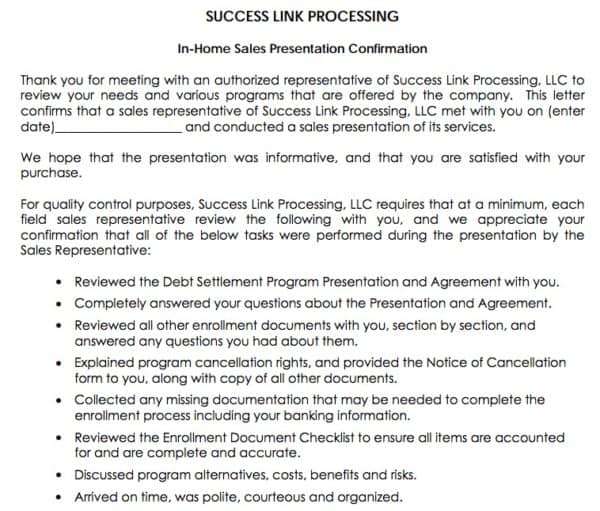 So while the company may claim and exception from the Federal Trade Commission Telemarketing Sales Rule, that does not mean their are not additional state or federal agencies you can turn to for assistance if you wish to pursue your claim.
Sincerely,

You are not alone. I'm here to help. There is no need to suffer in silence. We can get through this. Tomorrow can be better than today. Don't give up.
Do you have a question you'd like to ask me for free? Go ahead and click here.

Latest posts by Steve Rhode
(see all)