Question:
Dear Steve,
I have been meaning to write you for the past several years about my on going student loan debt, private and consolidated. On the consolidated student loans I owe almost $200,000 dollars and on my private student loans I owe $59,721.00 dollars. I envy those who complain to you about an 80,000 dollar loan or less. I would love to owe that little.
Quick history: I graduated from an FMS (Foreign Medical School) but didn't get accepted to a U.S. Residency so I went right into a PA (Physician Assistant) program. Which are the private loans.
I turned 65 years old last December. I am healthy and employed as a PA. and I live pay check to paycheck. Owning a home will never be a reality for me. I have no savings due to the loans and someday in the not so distant future I will be forced to retire. Then the government and AES will take a percentage out of my SS which will leave me on the streets (literally). Some people have been successful getting their loans dismissed but they usually had serious health problems. Do I have any options aside from what looks like a hopeless situation for me in the future?
Do I have any options aside from what looks like a hopeless situation for me in the future?
Thanks,
Erin
Answer:
Dear Erin,
Well thank you for finally writing me. I won't bite.
How very brave of you to go back and train as a physician, later in life. Now that's following your passion.
The issue with the foreign medical schools and reduced number of residency slots is something I've written about before. It's a real problem and I'm not sure people understand the risks before they enter a foreign medical school. Everyone should read this article on foreign medical schools.
Well the good news is on the federal student loan debt, which appears to be the biggest bucket of your debt, you have some options.
Without a doubt the most likely option would be an income driven repayment program that would give you the lowest payment. That is, unless you are not raking in the bucks right now, which it sounds like you are not.
I had to make some big assumptions in giving you an example of the differences in payments.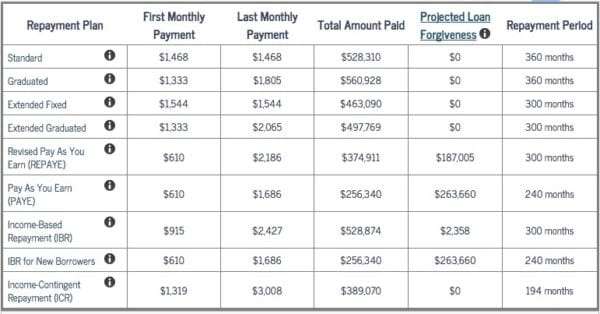 But you can use the online federal student loan repayment estimator for yourself.
The most important point to remember is that once you have consolidated your federal student loans into a Direct Consolidation Loan you can move back and forth between income driven repayment plans to get into the lowest payment you qualify for and update your payment as your income changes.
For example, when the day comes that you retire and your income declines, then your monthly payment will drop as well if you contact your servicer to refresh your payment.
This approach to repayment will never fully repay your loans in your lifetime, probably, but it will give you two benefits. First, this will keep you out of default and Social Security garnishment. If you default on the federal loans your tax refund can be intercepted, your wages garnished, or Social Security can be garnished. While there are ways to request an appeal, being in default also explodes your balance with additional fees and penalties. So there is no upside to letting yourself get into default. Second, it will give you the lowest possible payment based on your income. So for example, let's say you are now retired and your income is drastically cut. Your monthly payment can now drop as low as zero dollars a month and still keep you out of default.
While there are all sorts of issues to pursue regarding private student loans, like how the loans were used, was the school accredited, etc., I would think in your case the PA school you attended was compliant because you went on to become licensed. I think the future might bring more options for private student loans but a lot depends on politics.
Getting your federal student loan payments on a lower monthly payment will give you some additional room to make your private student loan payments. No such income driven repayment plan exist for private student loans.
But lets say you found yourself in a situation in the future where you could not afford the private student loan payments. Defaulting is not a wonderful outcome but it isn't the end of the world either. Even if you default you still have options to lower the payment or settle the debt. Read Top 10 Reasons You Should Stop Paying Your Unaffordable Private Student Loan.
I don't think the future looks hopeless. You've got some options that can soften the blow and that's better than no options at all.
Sincerly,

You are not alone. I'm here to help. There is no need to suffer in silence. We can get through this. Tomorrow can be better than today. Don't give up.
Latest posts by Steve Rhode
(see all)