Question:
Dear Steve,
I have about 12 credit cards, which have just been piling up since college. I owe a total of around $26,000. I am looking to consolidate, or something similar.
Have you heard of a company called Rockwell Legal Group, based in New York? (https://www.bbb.org/phoenix/business-reviews/bankruptcy-attorney/rockwell-legal-group-in-phoenix-az-1000046777).
Their offer is to work with my creditors, close my current credit card accounts, and offer an interest-free 42-month loan. This just sounds too good to be true.
They initially sent me information in the mail and I went to their website to request loan information. I have been dealing with one of their representatives for a few days now. I am concerned because he told me I had 3 days to consider their offer, and they need a decision by tomorrow.
I also thought it was strange that his email signature lists his company as Finance Solutions, but the BBB listing is for a Bankruptcy Attorney.
I have attached the email.
Anthony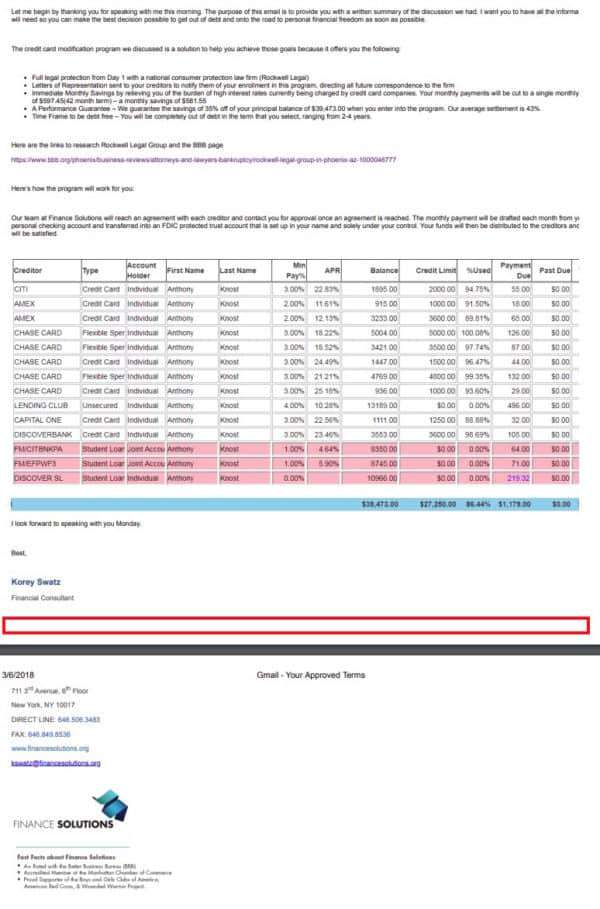 Answer:
Dear Anthony,
I think you may be located in Georgia. According to the State of Georgia, there is no company named Finance Solutions or Rockwell Legal Group that is registered to do business in Georgia. That fact alone may create a desire to search for more information about who you are dealing with here. Here are some free guides to help you research the companies.
Even the State of New York says there is no company registered to do business there under the name Finance Solutions.
The email you said you received from Finance Solutions looks more like a debt settlement solution than a loan.
But you are correct in thinking Finance Solutions may have said they would offer you a loan. Their website certainly could give you that impression. – Source
The link you gave me for Rockwell Legal Group in Arizona seems to be for a lawyer named Brant Hodyno. He is licensed and active to practice law in Arizona.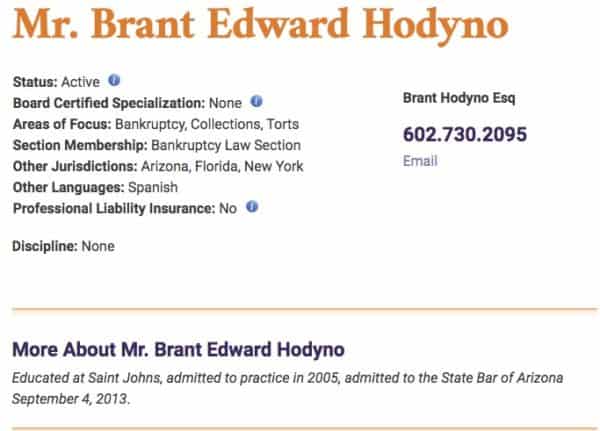 However, the State Bar of Georgia does not have a Brant Hodyno licensed as a lawyer. So if Rockwell Legal Group is trying to sell you legal services, make sure you find out who the Georgia licensed attorney is who would represent you and make sure you enter an agreement with that attorney and not an unregistered out of state outfit. The past few years have surfaced a number of issues with such legal groups when no contractual relationship is established between the client and a state licensed attorney.
The bottom line here is you need to go back and ask more questions to make sure you are clear on what it is they are selling you. Also, keep in mind what they say to you in the sales presentation is meaningless because what is in the client agreement they will ask you to sign is really what you are buying. Make sure you read it carefully before signing.
Sincerely,

You are not alone. I'm here to help. There is no need to suffer in silence. We can get through this. Tomorrow can be better than today. Don't give up.
Do you have a question you'd like to ask me for free? Go ahead and click here.

Latest posts by Steve Rhode
(see all)