Question:
Dear Steve,
Can I be sued if the car in my name was being driven by my and he goes thru the E-ZPass and I get the tickets because the car is in my name I had it repoed?
Deb
Answer:
Dear Deb,
Your question presents me with a good opportunity to help you move forward in your life in a better financial way.
Ultimately the issues you are facing come down to an awareness of how things work.
It seems your brother was driving through the E-ZPass lanes without a transponder registered to the car. He was committing toll evasion and different states have a different process but in general toll evasion works like this.
When a vehicle passes through a picture is captured of the vehicle license plate. As New York State says, "Non-E-ZPass customers that use these lanes have images of their license plates captured by a video enforcement system. A notice of violation is generated and sent to the registered owner of the vehicle. Notices generally take about 4-6 weeks to receive."
If the vehicle owner does not pay the violation then debt will be passed to a debt collector.
Here is a sample collection notice from New York.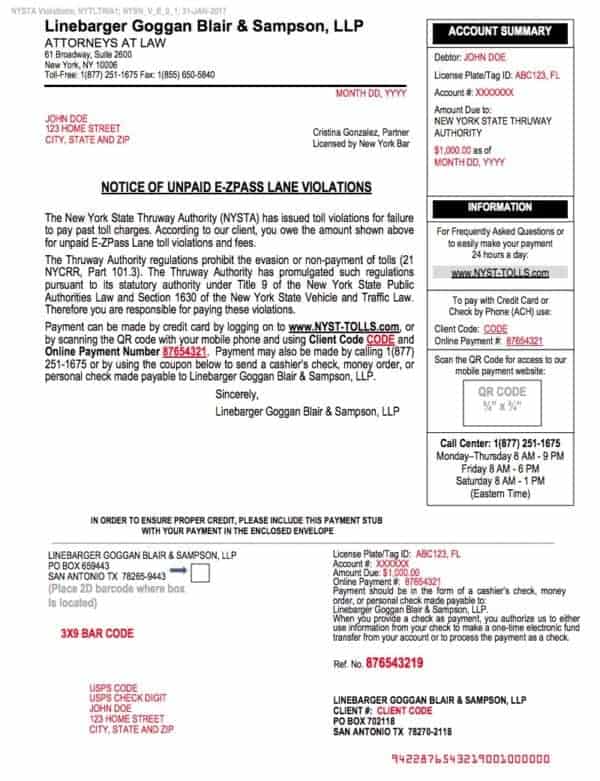 Other states have different policies. For example, Rhode Island will add up to $75 in additional fees if the violation is not paid within 46 days.
Additionally, "A hold will be placed on the vehicle registration and driver's license associated with the toll violations until violations are resolved." The State Police will be notified about repeated violators and "will issue a summons to appear for toll violators and toll evaders at the Rhode Island Traffic Tribunal."
Failure to appear will "result in immediate suspension of your driver's license and vehicle registration and a $500.00 fine is assessed per toll violation."
If you had your car repossessed you will owe the balance due on the car loan after the vehicle is sold at auction and you will still owe all the fines and penalties associated with the E-ZPass violations. Your driver's license may be suspended as well.
Get your brother to pay up the massive debt he has placed you in.
And most importantly, try not to repeat this series of events again and remember, not paying toll violations can quickly explode what you owe.
Sincerely,

You are not alone. I'm here to help. There is no need to suffer in silence. We can get through this. Tomorrow can be better than today. Don't give up.
Do you have a question you'd like to ask me for free? Go ahead and click here.

Latest posts by Steve Rhode
(see all)