Lexington Law has been a recognizable name in the credit repair business for some time. But it appears debt collectors are ramping up pressure on the company in a number of suits.
On May 21, 2018, Ad Astra Recovery Services filed suit against a host of Lexington Law related entities including John C. Heath Attorney at Law, and Progrexion.
The suit claims "From in or about January 2014 to the present, Defendants engaged in a fraudulent credit repair scheme designed to bombard debt collectors with false credit dispute letters with the intention of deceiving debtor collectors, like Plaintiff, and frustrating their efforts to collect legitimate debts."
"Using aggressive marketing techniques, Defendants solicit unsuspecting, financially troubled consumers and persuade them to sign up for their "credit repair" services. What Defendants do not tell the consumers is that the service they are pushing—to flood the consumers' creditors with generic (likely frivolous) credit report dispute letters—is something that Defendants cannot do in the manner in which they do it (that the consumers can do themselves, for free), and which is illegal and fraudulent.
To carry out this fraudulent scheme, Defendants require that the consumer sign a "power of attorney" form permitting Defendants to draft and sign letters in their name. But, Utah law requires that letters sent by an attorney indicate that they are from the attorney. Defendants intentionally disregard Utah and other laws and generate and transmit mass credit dispute letters to creditors and collection agencies, like Plaintiff, by forging the consumer's signatures, without any indication that they are actually prepared and transmitted by Defendants."
The Plaintiff, Ad Astra raises an interesting point in the complaint. They say, "Defendants' conduct is all the more egregious because they intentionally circumvent the confines of the Fair Credit Reporting Act, 15 U.S.C. § 1681 (hereinafter "FCRA") by the manner in which they prepare and send the disputes.
In other words, a credit furnisher, like Ad Astra, is required to comply with certain onerous investigative requirements (as described below) when it receives a dispute directly from a consumer. It is not, however, required to investigate a disputed item of information it receives from a credit repair organization (like Defendants).2 Here, Defendants intentionally manufactured and delivered fraudulent letters to Plaintiff with the goal of circumventing the restrictions of the FCRA.
Many consumers had no idea that fraudulent credit repair letters were being sent with their signatures.
Defendants were acting in concert with affiliated, mass-mailing companies to inundate Ad Astra with letters that the consumers on their own would not otherwise be able to effectuate in like volume. Ad Astra received at least 75,000 dispute letters from the Defendants over the past four years (not including the 200,000 electronic disputes it receives from them each year).
Lexington Law and its affiliates brag on its website that it secured the removal of 9,000,000 tradelines, but they do not disclose that they would have been unable to achieve such results had it not been for this illegal conduct.
Defendant's fraudulent credit repair letters bare striking resemblance to each other—they contain similar language, recycled signatures, and unique stamps. In some cases, the signatures for the same consumer varied by letter, and in others, dispute correspondence was received from consumers that passed away."
You can read the suit by clicking here.
The CEO of Ad Astra allegedly went and met with John Heath of Lexington Law. The complaint says, "Armed with information regarding the source of the fraudulent letters, Ad Astra's then-CEO, Dave Newman ("Newman") arranged a meeting with Heath in an attempt to address the crippling influx of correspondence.
In September 2017, Newman called Heath and requested a meeting. Heath agreed to a meeting, which took place at Lexington Law's Utah office on September 6, 2017. Newman advised him of the logistical problems Ad Astra was having with their robo-disputes, and advised Heath of the number of disputes Ad Astra believed it was receiving from the Defendants and associated individuals/entities. Heath acted clueless about the volume (but did not deny the possibility that Newman's numbers were accurate), and agreed to provide Newman with an exact breakdown.
Heath also admitted that Defendants' clients were not signing the dispute letters— that they were in fact being generated and signed by a computer. Apparently, the "computer" had several signature options, which randomly varied as the letters were generated, which explained the similar signatures that Ad Astra had already observed.
Newman explained the damage to Ad Astra in terms of wasted time, postage, and other costs associated with processing and responding to each and every dispute, and suggested that the parties consider some mechanism to offset the influx. At one point, Heath contacted Lexington Law's CFO (name unknown) to weigh in (which seemed strange to Newman since the principal was deferring to the company's CFO on such a topic), but nothing came of it. Newman was invited to follow-up.
Newman followed-up with Heath several times thereafter, by phone and email, but he never received a response."
But Others Are Challenging as Well
Apparently, other collectors/creditors are taking issue with the practices of Lexington Law as well.
On January 18, 2018, a suit by Saber Acceptance was filed in federal court. – Source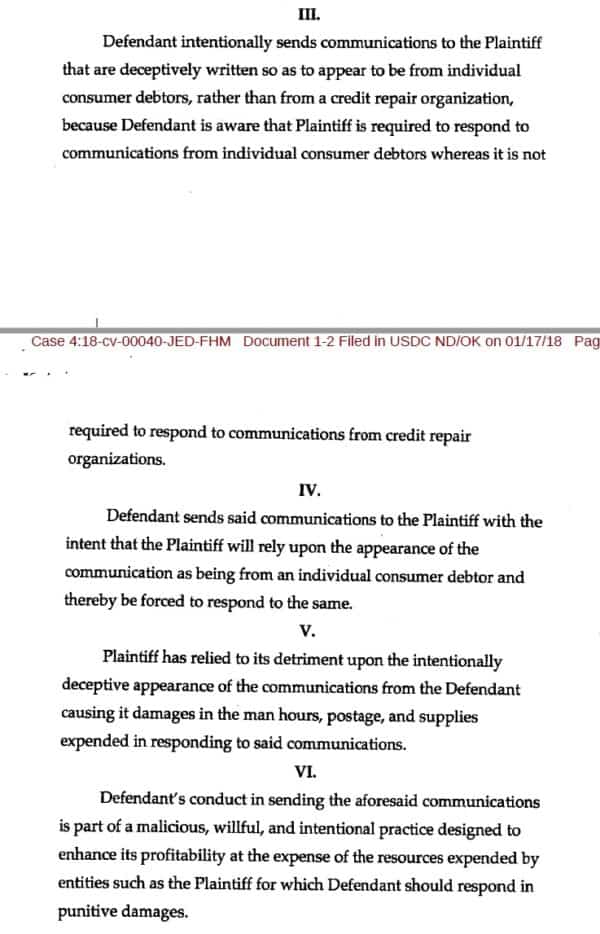 On May 18, 2018, a copy of a complaint by Automated Accounts and Bonded Adjustment Company was filed in federal court.
This complaint says:
Latest posts by Steve Rhode
(see all)