Question:
Dear Steve,
Every once in a while, I get a weird voice mail threatening legal action through county court services claiming the caller's client has attempted to contact me several times. The callback number given is 833-259-6457, which a search links to Bellman & Sterns, https://www.bellmanandsterns.com/.
I'm not hard to find; having just purchased a home, I have not gotten any communication about overdue bills going to collection. On the other hand, the fact that I just bought a house means I have no outstanding collections on my report. Is this agency legit?
I'm concerned that others may get this message and callback only to be tricked into providing their private identifying information.
Mo
Answer:
Dear Mo,
I did a Google search of 833-259-6457, and it does return many results from people that appear to be getting similar calls.
Bellman & Sterns does have a website at bellmanandsterns.com.
According to DomainTools.com the domain name bellmanadsterns was created on August 1, 2021.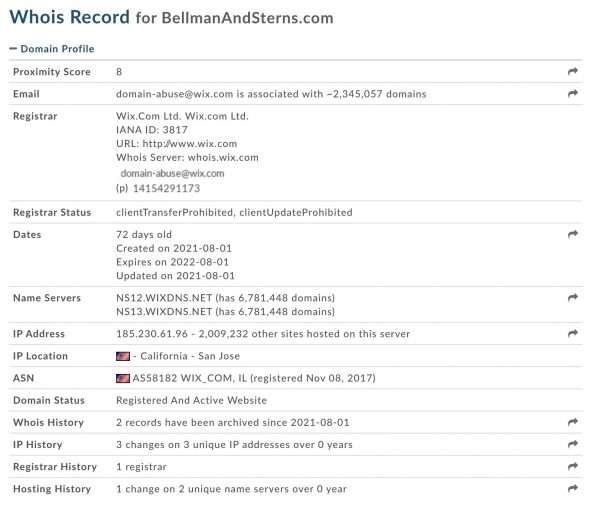 Bellman and Sterns say they are at 1120 E Kennedy Blvd Tampa, FL 33602. The State of Florida has no company registered to do business under that name. There is no fictitious registered name either under Bellman and Sterns that I could find.
Reeks
It sure looks like a ploy at face value, given the lack of a company registration in Florida where they say they are located. Debt collection is a highly regulated field and being registered to do business is the first thing I look for, especially in the state they say they are located.
It is always a smart idea to keep tabs on your credit reports and not make any assumptions. You can get copies of your credit reports for free at AnnualCreditReport.com or by using a service like Credit Karma.
My very strong suspicion is the request is bogus but a quick review of your credit reports will help confirm the suspicions.
Personally, I'm exhausted by the scam calls and texts I get for an extended warranty I've never had that has expired, a cell carrier I don't have that wants to give me a refund, a store I don't shop at that says I'm due a refund, or the latest gift card scam.
Sincerely,

You are not alone. I'm here to help. There is no need to suffer in silence. We can get through this. Tomorrow can be better than today. Don't give up.
Do you have a question you'd like to ask me for free? Go ahead and click here.

Latest posts by Steve Rhode
(see all)