Recently people have been leaving comments that the national debt collection company Mann Bracken is not cashing their checks. Well it appears clear now that Mann Bracken has been put out of business and they have lost their debt collection license from the State of Maryland.
On January 1, 2010 Scott Kramer, Esq. of Mann Bracken sent a letter to the Clerk of the Court that said the following:
To Whom It May Concern:

This letter is to advise the court that the Law Offices of Mann Bracken, LLP will be closing at the end of this month. We are working with our clients to transfer all of our cases to new counsel as quickly as possible. However, we also anticipate that complete resolution of every single case may be a practical improbability.

We bring this to your attention because it is likely that dismissals, judgments, and substitutions of attorney may not be filed in every case before the next hearing. Therefore, we respectfully request a stay of proceedings for a period of sixty (60) to ninety (90) days or that the court dismiss the matter without prejudice. We further respectfully request that if any contested case comes up for hearing and no one appears, that the court set an order to show cause, with 60 to 90 days notice, why the case should not be dismissed, to allow time for substitution of counsel or dismissal to be filed; and that if no open appears at the order to show cause hearing, that the case be dismissed without prejudice and without sanctions.
The response from the State was basically, "too bad." The court really has no way to deal with the tens of thousands of open cases Mann Bracken wants to dump on it to track and manage while they fold up shop.
As of January 11, 2010 Mann Bracken was ordered by the State of Maryland to cease all collection activity and they had their debt collection license suspended. – Source
I asked a friend of mine to go by their office in Rockville, Maryland and see if there was someone to talk to. The report back, there is no a soul to be found anywhere in the Mann Bracken corporate offices. I got the following picture from the visit. This was all that was to be found.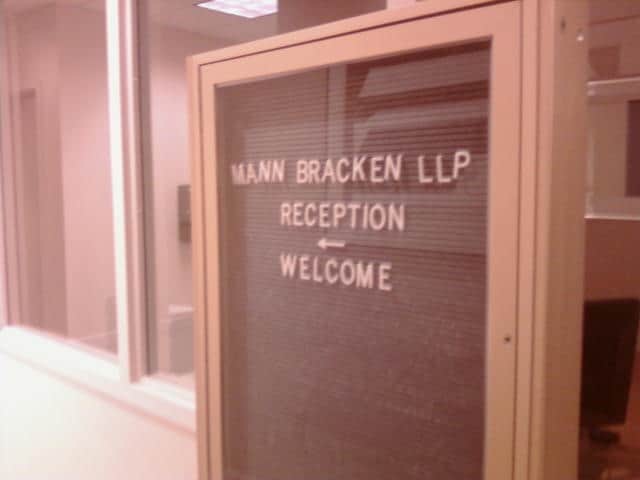 Sincerely,
You are not alone. I'm here to help. There is no need to suffer in silence. We can get through this. Tomorrow can be better than today. Don't give up.
Do you have a question you'd like to ask me for free? Go ahead and click here.
Latest posts by Steve Rhode
(see all)