This review is the result of additional visitors looking for information on an article I posted a long time ago, "I'm Working With Franklin Debt Relief on a Debt Settlement Program. – Rob."
Address:
180 N Wabash
Suite 320
Chicago, IL 60601
(312) 445-4700 – Source
Website:
FranklinDebtRelief.com. Web site is owned by Robert Zangrilli – bobbyz@alum.dartmouth.org and was registered on August 17, 2006.
Description:
Franklin Debt Relief specializes in debt settlement, also known as debt negotiation, a service where we negotiate with creditors to get them to agree to accept a lump sum pay off of less than the full balance to completely satisfy what our clients owe. – Source
Management
Franklin Debt Relief, LLC was registered in Illinois on October 23, 2006. The listed member of the LLC is Robert Zangrilli, AKA Bobby Zangrilli. – Source. Robert Zangrilli is also listed as the owner of Franklin Debt Relief. – Source
Relationships
None found.
Interesting Points
It appears that Franklin Debt Relief was hiring staff in the Philippines to handle client information and provide customer service. Here is part of a help wanted sign for a Franklin Debt Relief job in Ortigas, Philippines. This may be a concern for you if you are uncomfortable with unknown people outside of the United States having access to your personal information.
We are seeking customer service representatives. A customer service representative will work directly with clients to resolve problems such as creditor calls, handle complaints, and do outbound follow ups. There will also be data entry and basic record-keeping of each client's files.

We are seeking highly qualified applicants to serve in our customer service and debt negotiation departments. A qualified applicant should be a college graduate who is completely fluent in English. A background in financial services or credit and collections is preferred, but not mandatory. Qualified applicants should be extremely motivated, professional, ready to learn, and hard-working. A basic proficiency in math and good organizational skills is essential. – Source
Kudos to Franklin Debt Relief for being honest in their FAQs and being one of the very few debt settlement companies to honestly portray the following information. – Source
Q: How will your credit card debt settlement program affect my credit?

A: Debt settlement will likely have a negative effect on your credit. Your credit would benefit more by making on time payments for the full balance than enrolling in a debt settlement program. The marks left on your credit from a debt settlement program will remain your credit for up to seven years and include past due payments, charge offs, accounts being sent to collections, and in some cases, judgments. Unfortunately, this is one of the compromises one must accept in order to settle their balances and realize the savings potential of our program, although the credit impact is generally less than filing bankruptcy.

Q: Can I be sued in a credit card debt settlement program?

A: Yes, a credit card company is reserved the right to pursue a client in court to collect the full debt amount if you are past due on your payments, which will be the case during our program. Having your account handled by a law firm in itself may not result in a lawsuit, however, as we usually set up a payment plan or settle those accounts, albeit at a higher percentage (60-80%) once we learn they are being handled by a law firm.

Q: What happens if I am sued while working with your debt settlement company?

In some cases, an impending lawsuit results in a settlement that is higher than the amount originally estimated. In other instances, a lawsuit results in what is called a stipulated agreement with the creditor, where they enter a judgment against the client in court, but they agree to a payment plan to resolve the debt. After the debt is paid, any legal right to the debt is dropped. In these situations, the client usually pays the debt off in full at 0% on the very low end or at statutory interest, which typically ranges from 6% to 12%, over a 24 to 60 month period. In other instances, the creditor pursues legal action, gets a judgment and then does nothing else to collect the debt. In the worst case scenario, it is possible a creditor will attempt a wage garnishment, freeze a bank account, or put a lien on a clients' property to collect the debt after a judgment is entered. Since Franklin Debt Relief is not a law firm, we cannot represent you in court or give you legal advice.

Q: Can you elaborate on what happens to interest and late fees during the program?

A: Late fees and interest charges continue as usual until an account is settled.
The site does a poor job of explaining the many advantages to bankruptcy over a debt settlement approach, namely, the bankruptcy fees will be significantly lower, it will stop all collection activity immediately, debts will be discharged, no tax will be due on forgiven debt, and credit can be easily restored. The mention of bankruptcy on their site seems designed more to scare the reader away from bankruptcy than educate.
For example, as disadvantages of bankruptcy they state it "Impacts your credit for up to 10 years, stays on court records for 20 years." – Source. But what they fail to mention is that settled and delinquent debts will be reported for 7.5 years and life in certain situations where a comprehensive credit report can be pulled.
They say, "In October of 2005, Congress changed the bankruptcy laws, making fewer consumers eligible for Chapter 7" – Source. but in fact bankruptcy rates are higher now than they were in 2005.
They say, "Private employers have the right to refuse employment to anyone who has ever filed bankruptcy." – Source. But they fail to mention that an employer has a right to refuse employment to anyone for any reason. There has been no correlation between job performance and a previous bankruptcy.
They say bankruptcy is "Emotionally depressing, sense of guilt and failure associated with bankruptcy." But they fail to mention that engaging in debt settlement with a significantly lower record of successfully resolving debt, and leaving the consumer in the midst of collections and lawsuits, while paying significantly higher fees for debt settlement can easily lead to depression, anxiety, guilt and feelings of failure.
The site also does not make the tax implications of settling debts very apparent, except in their disclosure statement which can only be viewed through a link. – Source
When your creditor settles your debt, a savings of $600 or more off what you owed may be reported by your creditor to the IRS as Discharge of Indebtedness income. You may wish to consult your tax advisor to determine whether your individual circumstances may permit you to exclude any such Discharge of Indebtedness Income from your reportable income due to insolvency. For more information on tax ramifications to you personally you may also wish to consult a CPA or Tax Attorney and to refer to the IRS website www.irs.gov IRS Publication 908- "Bankruptcy Tax Guide" and IRS Form 982, Reduction of Tax Attributes Due to Discharge of Indebtedness available on the IRS website.
Money Back Guarantee
Franklin Debt Relief offers a "money back guarantee" but it is a conditional guarantee and does not allow for the refund of "retainer fees" or if the client fails to make payments. For example, if a client was unable to continue to make payments due to economic reasons a client would then not be eligible for a refund of fees paid. Failure to remain current on payment voids the guarantee.
While results are expected to vary, FDR guarantees that it will return part or all of a client's "Service Fees" in the event that the total amount Client pays Creditors to settle Debts exceeds 70% of their total balances at the time of settlement. Part or all of the "Service Fees" will be returned within 28 business days, and it will equal an amount such that 30% savings on balances at the time of settlement is realized. However, the amount of Service Fees returned will never exceed the amount of "Service Fees" actually paid by the Client to FDR. The aforementioned guarantee is contingent upon Client being current on payments to the program and Client following their responsibilities detailed in the contract. The money-back guarantee does not apply to "Retainer Fees" or accounts that are not settled because FDR set up a payment plan with Client's consent. See contract for details. – Source
So if a client was subject to aggressive collections or a lawsuit from a creditor included in the program and was unable to continue to make payments they would be ineligible for a refund at all. I have not seen a client contract but if the contract specified the client needed to save a certain amount of money towards settlements and the client failed to do that it could then be considered that the client was not in compliance with the contract and no refund would be available.
BBB Reviews & Ratings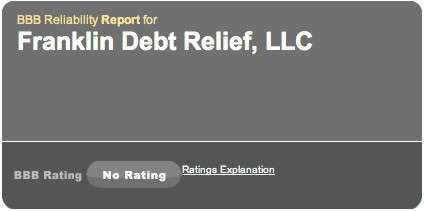 Franklin Debt Relief BBB review at the time I wrote this review.
Complaints
None found.
Picture of Web Site
Click on image for a larger view.
Is This Your Company?
If this is a review is about your company and you would like to respond to the information I've presented here to possibly put it into a broader context or make a correction, please feel free to post your response in the comments section below. I invite you to read my Debt Relief Company and Site Review Policy first.
Latest posts by Steve Rhode
(see all)