If you've ever lost a job, you know how devastating it can be. It doesn't really matter how you lost it — a company reorganization, merger, forced retirement or simply being fired — the results are the same. It probably feels like everything you've worked for is gone, including your income. And because losing a job is often unexpected, you're probably still reeling from the emotional rollercoaster you've been riding.
While holding onto your job may have been out of your control, your future is within your control. It's up to you to start taking action to make sure your next job is an even better one! While you're doing that, you'll have to take control of your financial life, regardless of what kind of income your family now has. That's where this guide comes in. It is designed to help you navigate some of the financial choices you'll have to make while you're looking for work.
Surviving the Financial Crunch
Obviously you have been experiencing financial difficulties since you lost your job. You shouldn't make any major financial moves during this period and you should try to find as many ways as possible to cut expenses.
Let's review some things you need to do if you are without a job, and how you can prepare so that you don't find yourself in the same situation again.
1. Go to Your Local Unemployment Office
Find out if you qualify for public benefits that will help tide you over until you find work again. It may seem humiliating, but it's a necessary step — especially if you don't have any other means of support. Don't forget, you've been paying your taxes, so you're entitled to help.
Check with your local unemployment office to see if you qualify for unemployment compensation. You are usually able to obtain unemployment compensation if you were downsized, your company merged or if you were laid off.
Unemployment benefits may be less if you were forced to resign and you may not be able to receive benefits at all if you were fired. The amount of monthly benefits you are eligible to receive is usually based on your income, up to a maximum monthly amount.
2. Prepare a Spending Plan
This is the last thing you may want to think about right now, but it's important for you to know whether there will be enough income to pay the bills if you are out of work for a while. Make a list of your income and expenses and note any areas where you may be able to cut back.
This would also be a good time to order your social security statement from the Social Security Administration. This statement will allow you to check on the accuracy of your earnings that your former employers have reported to the Social Security Administration. If you find any errors, you can notify the employer who reported them, as well as the Social Security Administration. You can order this report from the Social Security Administration's Web site.
3. Avoid Credit
Contrary to what some people believe, credit is not a solution for funding household expenses during a period of unemployment.
You should borrow only when you have the income to repay the debt. This is not the time to take out a home equity line of credit to help pay the bills, either; if you can't make a payment, not only will you be unemployed, but you may also be without a place to live.
This is a good time for you to check your credit report, as potential employers may require it before hiring you. Order your credit report and find out what is on it. Make sure it contains accurate, complete information. Under the Fair Credit Reporting Act you can get a free copy of your credit report if you are unemployed and are seeking employment within the next 60 days.
Visit Experian, Equifax and/or TransUnion for information on how to get a single copy report from each credit bureau. Better yet get a consolidated report, including information from all three credit bureaus, at GetOutOfDebt.org.
4. Look to Friends and Family
Consider asking for help from friends and family. Don't expect handouts, however; look to these people for emotional support and comfort. A family who can weather tough times together builds closeness and may be able to help you in your time of need.
5. Dip Into Savings
It is OK to tap into your savings in order to meet your monthly expenses as long as you've got a plan. With proper planning, you should have some savings set aside for an emergency fund. If you don't have any emergency savings, make it a priority when you do find employment, so that you're better prepared for the next potential financial crisis.
6. Sell Assets
You can generate a little extra cash by having a yard sale, taking items to a consignment shop or selling them on an online auction sites like Ebay and Yahoo! Auctions. (And you'll get to clean out items that you don't need anymore!) Consider selling antiques or collectibles to help pay for current household expenses. You might also consider selling your car until you get another job, if you have access to other transportation.
7. Protect Your Future
If you have shorter-term investments (from a retirement plan distribution, for example), consider investing more conservatively. While you are out of work and can't afford to ride out the dips and dives of the stock market, it's probably a good idea to scale back on aggressive growth and small-cap stocks. Increase your reserves in money market accounts and conservative bond funds, at least until you are employed again.
You may also look into investments that pay monthly dividends in cash, to help supplement living expenses.
Some people make the mistake of thinking that being out of work means they should be more aggressive with their investments so they can make more money from them. This might be possible if you have a lot of investment experience, but for the majority of people without a job, taking less risk is a more appropriate investment strategy.
Whatever you do with your investments, be sure to talk with an advisor who can explain the tax consequences of your choices. The last thing you want to do is compound your difficulties by owing the IRS a big chunk of money!
8. Look for Part-time Work
Look for part-time and/or temporary work to help you make some extra cash. Temporary agencies are an especially good place to look because they have contact with employers who are looking for positions.
Even if no jobs are available in your line of work, let them know what other skills you have and what other work you would be willing to do. Who knows? You might make new connections or even find a new job. Plus, some of these jobs may be "temp-to-perm" positions, which could give you an opportunity for a permanent job in as little as 90 days (or sometimes sooner) after starting a temporary assignment.
Don't be too selective in taking a temporary job just because you might not accept it on a permanent basis. If you have financial obligations you need to meet, any temp job pays more than sitting at home. Look at the temp job as an opportunity to get paid to learn about an industry or field you might not have had exposure to before. Trust us, it makes it a lot more fun to go "on that next assignment."
9. Consider Your Hobbies
Do you work on cars on the evenings and weekends? Love to teach Sunday School? Teach your friends to ski? Try looking for jobs where you can use the skills you may have learned from your hobbies. These types of jobs become full-time, enjoyable positions for some people; at least you may earn some extra money to tide you through until you get a position you like.
10. Self-Employment
Consider working for yourself in your chosen field, if it's feasible. Just don't fund your new business (and living expenses) with loans or credit cards. Many small businesses fail within their first year because they are founded with leveraged assets. Your best bet may be to work a temporary or part-time position while you get your new venture off the ground.
11. If You Have a Working Spouse
If your spouse is still working, or you have income from other sources, it might be feasible for you to stay home with the kids, work at home, further your education or change careers.
Before making a big change, consider the total cost involved, including the amount you currently/will spend in transportation costs, childcare, lunches and clothes. Evaluate your insurance needs and look for ways to cut back while protecting your family. Compare the cost of keeping the payments on an extra vehicle to trading it in for a less expensive car.
Also, calculate your estimated taxes for the year and adjust your spouse's withholding allowance accordingly. This may give you extra cash on a regular basis that you normally would not have received until you filed your taxes next year.
12. Early Retirement
If your employer forces you into early retirement, you may feel that you still have some good working years left in you.
If that is the case, you may be able not only to receive retirement benefits from your employer, but you may also find another job that interests you and continue working. Be careful if you are younger than 70 and a half, though, because the amount you earn can decrease the amount of Social Security benefits you are eligible to receive. If you exceed these limits, you will have to repay the Social Security Administration the difference between the amount you received and the amount you were allowed to receive. The Social Security Administration will not monitor your income to prevent this from happening in most instances; this is something you will need to do yourself.
13. Seek Public Assistance
Public assistance programs are not just for people who earn low incomes, they can also help you in a financial crisis. These programs are funded by tax dollars that you probably have paid in the past; now it is your turn to take advantage of them. Call the local Social Services agency to find out what programs are available in your area to help you and your family.
How to Handle Your Expenses
While you are out of work, there will be expenses you will need to cut back on or find some other way to meet. Here are a few ideas:
General Help
Local religious organizations and the Social Services agency in your area are good resources for help of all types. Some religious organizations have benevolence funds set up to help meet short-term needs of people in crisis situations.
Food
This is not only an expense, but also a necessity. Obviously, you can make some sacrifices, but even these cutbacks usually only make a small dent in the food budget. Don't shortchange yours or your family's health. Ask for help. After all, it is your tax dollars that have gone toward supporting some of the following programs.
Programs Administered by the USDA:
Food Stamp Program
National School Lunch, School Breakfast and Special Milk Programs
Special Supplemental Nutrition Program for Women, Infants and Children (WIC)
Child and Adult Care Food Program (CACFP)
Emergency Food Assistance Program
Commodity Supplemental Food Program (CSFP)
Also, check out local food exchanges. You can find out more information about these from local religious organizations or social services.
Another option is SHARE (Self Help and Resource Exchange), a nonprofit organization that offers discounts on food packages in exchange for volunteer service in the community. Many communities across the nation participate in SHARE through churches and corporate sponsors.
Clothing and Household Items
Thrift shops and yard sales are good places to pick up some everyday items at bargain prices. Many items are still in usable, even excellent, condition.
Clothing exchanges are places where you can take clothes your children have outgrown and exchange them for clothes in the right sizes. These exchanges are popular among religious organizations and are especially useful when looking for children's clothing.
Utilities
Ask your local electric and gas company about budget plans, which will allow you to pay a fixed amount on your utilities every month. This will help you to stabilize fluctuating utility costs. If you can't afford even that amount, find out if the utility can help subsidize your bills.
Health Insurance & Medical Expenses
Children's Health Insurance Program (CHIP), administered by the USDA, provides health insurance to low-income families with children who do not qualify for Medicaid and have no health insurance. Click here for more information or to see if your children qualify.
Medical Sharing Programs provide another resource that can help pay for medical expenses. These programs allow members to pay the medical bills of other members. Each month, members are given the name of someone in need who has submitted a medical bill to be paid. (The monthly payment is usually lower than the cost of a health insurance premium.) If you have a need, you submit your bill to the administrator who notifies members to send you checks to meet your need. There are qualifications for membership in most of these programs. Check on the Internet using keywords "medical sharing," or call local religious organizations for specific programs.
Mortgage Payment
Making your mortgage payment should definitely be one of your biggest concerns when you are out of work. Contact your mortgage company immediately if you think you will not be able to make your monthly payment. Your mortgage company will then tell you about your options. Many mortgage companies offer repayment plans which will help you get back on track if you are delinquent or unable to make a payment.
Are you paying for insurance through your mortgage payment? If so, it's possible your payment may be covered if you were terminated by your employer. Talk to your mortgage company to find out.
Car Payments and Other Secured Debt
If you find that you can't make your car payment (or other payments of secured loans, where there is some collateral involved), contact the lenders to find out your options.
Your lender may offer to defer a payment or two and tack those payments on to the end of the loan. The lender may also allow you to refinance your loan with lower payments. You also have the option of selling the collateral to pay off the loan — but make sure that you obtain a payoff figure from your lender first. Also, you will want to verify that the collateral is worth enough to pay off the loan.
Credit Cards and Other Unsecured Debt
Before you fall behind on our credit cards and other unsecured debts, call your creditors. These creditors will scream the loudest when you miss a payment.
Check your credit card statements and contact your credit card companies to check if you have paid for credit insurance that might cover your payments if you have been fired.
We do not recommend credit insurance if you do not have it. It is a huge expense and you are better off stashing money away on a regular basis in an emergency fund.
Insurance Premiums
When you're in a financial bind, you need to look at every possible area for ways to cut costs; your auto, renter's and homeowner's insurance policies should be no exception. If you have a universal life insurance policy, for example, you may be able to suspend premium payments until you are employed again without affecting your coverage to a great extent.
Check with your insurance agent or a financial planner to find out what coverage you can live without and what coverage you should keep in place.
Company Benefits
A job transition usually involves the loss of benefits that you may have completely or partly relied on your employer to provide. It is now time to consider how to continue or replace these benefits.
Health Insurance
If you received health insurance benefits from your former employer's group health insurance plan, you'll have to find a way to get medical insurance. If your previous employer won't continue to provide you with this coverage as part of a severance package, you may be eligible to purchase COBRA benefits. COBRA benefits were enacted under the Consolidated Omnibus Budget Reconciliation Act of 1986. You can use COBRA benefits for up to three years if you pay the full health insurance premium, plus a small administrative cost (if required by your employer). Before applying for COBRA benefits, check to see if you can be covered under the health plan of your spouse's employer, if you are married.
If you are not eligible for COBRA benefits (because you worked in a very small company, for example), shop around for some type of coverage as soon as possible. Generally, if you let a couple of months go by between insurance coverage, you may not be covered for any pre existing condition and it may be harder to find a plan. You may want to look into major medical coverage to see if it will be cheaper than a full-coverage health plan. ("Major medical" may cover illnesses and hospitalization, for example, but not routine doctor visits). A higher deductible and/or co-pay may be another way to lower your premiums.
Life Insurance
If you have lost your job and your employer provided you with a life insurance policy as part of your benefits package, then this would be a good time to reevaluate your family's life insurance needs. Of course, you won't be insuring your current income, which may be nonexistent, but you will be insuring that your family has income if you die, as well as insuring that your family will not have to sell assets to meet their needs. Term insurance is usually cheaper than cash value or universal life. To get the best rate, you can shop for insurance on the Internet or through brokers that work with a number of insurance companies.
Disability Insurance
If you already have a disability policy, pay the premiums to keep it in force. You and your family will need a stream of income if you become disabled and you don't want to have to sell all of your assets just to meet current expenses.
Some people depend on Social Security to provide for their needs if they become disabled. However, the Social Security Administration has a strict definition of disability that makes it difficult to qualify. And even if you are eligible to collect, Social Security usually provides a payment that will be only a fraction of your current or previous income. (According to the Social Security Administration's Web site, "You will be considered disabled if you are unable to do any kind of work for which you are suited and your disability is expected to last for at least a year or to result in death.")
If you don't have disability insurance, but realize you need to get it, you won't be able to qualify while you are unemployed, since you need verifiable income to get disability insurance.
You might try generating income from self-employment while you are looking for a permanent position. You may find that you have talents and skills you can utilize, such as typing, computer repair or painting houses.
You then can try applying for disability insurance through a self-employment network such as the National Association for the Self Employed (nase.org).
If you work with a temporary agency, you may be able to use this employment to apply for disability insurance. Some temporary agencies may offer this as an additional benefit if you work for them for a certain amount of time.
Retirement Plan Funds
If your former employer maintained a 401(k), 403(b), or similar retirement account, you will often have to choose among cashing out the account, moving the funds to an IRA account of your choice (called a "rollover") or keeping your funds where they are.
There are some retirement plans that do not allow you to keep your funds where they are, while others may not allow you to move them. Check with your former employer.
Cashing Out
If you decide to cash out the funds in your retirement plan, you will need to be aware of the tax consequences.
Your employer, plan administrator or retirement plan record keeper is required to withhold 20 percent of your total distribution for federal income taxes. (This doesn't mean that your total tax liability will be 20 percent — it may be more, depending on your tax bracket, and you will have to pay the difference at tax time if you didn't have enough withheld to cover your total tax bill.)
In addition, if you are under the age of 59 and a half, you will be required to pay an additional 10 percent tax penalty for total distribution when you file your taxes. Not only will you be paying taxes on the amount you received, but the 20 percent that was withheld for taxes is taxable as well. (See example 1 below for an explanation.)
If you have borrowed against your retirement plan and still have an outstanding loan, your employer can also require you to repay the balance immediately. If you don't, you will be taxed and penalized on the outstanding balance as if you took a withdrawal from the account.
If you do decide to cash out of a retirement account and then, shortly afterwards, get a new job or income, you can re-deposit the amount into an IRA within 60 days to avoid the 10 percent penalty.
However, the 20 percent your employer withheld for tax when you cashed out is also taxable and you will have to make up that 20 percent out of your own pocket if you want to avoid the 10 percent penalty on that amount. You may be entitled to receive the original 20 percent back in your tax refund, but that depends on your tax situation for that year.
Rolling Over
If you are looking for another option and you don't have to cash out to pay your bills, you can roll your retirement plan funds over to an IRA, if your employer allows this option.
This action will not generate any tax consequences unless you have an outstanding loan against your retirement account. If you do have an outstanding loan, your employer will still be required to withhold the 20 percent for taxes on the loan balance and you will still owe the 10 percent penalty on the loan balance plus the 20 percent withheld for federal taxes. This is because you have already received the amount of the loan and now this balance is being considered as a distribution to you. In a very few cases, your employer may allow you
to keep the loan in the plan as long as you continue to make payments. The penalty is only applicable if you are younger than 59 and a half. (See example 2 below.) In a very few cases, your employer may allow you to keep the loan in the plan as long as you continue to make payments.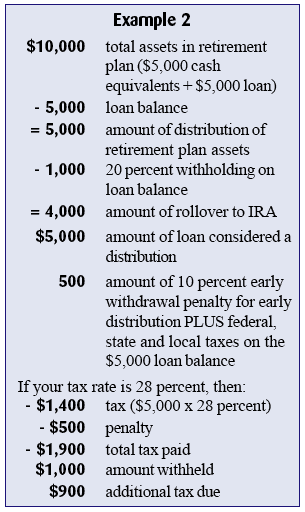 If you do decide to roll over your 401(k) plan to an IRA, call an investment company or work with an advisor to open up a new IRA for these funds.
Do not commingle other contributions or IRA rollovers with these funds! You may be able to roll them over into a future employer's retirement plan if that employer allows it. The funds won't be allowed into any other retirement plan if they contain regular IRA contributions or funds from another type of retirement plan (for example, 401(k) money mixed with 403(b) money).
Staying Put
Your employer may also allow you to continue to keep your retirement plan as it is; no new contributions will be allowed, but you may still be able to obtain a loan in certain plans. Not all employers allow you to remain in the plan and, if your balance is below $5,000, they can force you to leave the plan. This is a forced distribution and is subject to the 20 percent tax withholding, as well as the 10 percent penalty if you are younger than 59 and a half. If your account balance is below $5,000, consider rolling it over before a forced distribution.
Severance Packages
If you have been downsized out of a job or are a merger casualty, you may be entitled to a severance package. Normally this is something that is offered to you before you are finally dismissed. A severance package is a continuation of your salary (and possibly your employee benefits) for a specified period of time, which is intended to help you survive financially until you find a new position. Severance packages can range from several weeks to several months' worth of salary and benefits.
Make sure you understand how your severance package is structured (if different from your current salary) and how it will affect the taxes you owe for the year. If you obtain a job while still receiving a severance package, you may be thrust into a higher income bracket. Contact a financial advisor if you need help in figuring what your tax liability will be.
A severance package payout is not the same as winning the lottery. It is not "fun money." Use this money carefully and make sure you can meet your current and upcoming expenses while you look for new employment.
Looking for Your Next Job
While you are trying to sort out all the financial details of being unemployed, you'll also have to be looking for a job! For your job search to be effective, you'll need a plan of action. Many people looking for work don't take the time to create an organized search and are then disappointed when they can't find a job. Here are some of the things you'll need to do:
1. Prepare Your Résumé
If you don't already have a résumé prepared, get one together, and quickly. You need to think about everything you have accomplished during your career, including your educational background, the jobs you have had, and your work skills.
There are some employers who scan résumés into a database and do "keyword" or "key phrase" searches to find the applicants who meet their requirements. While you are searching the want ads, look at the job descriptions and add the words and terminology that they use when you are preparing your job and skill descriptions. In any case, customize your résumé to meet the needs for which each employer is searching.
Make sure your résumé is up to date, check for spelling errors and keep it clear and to the point.
Take advantage of the Internet job sites like Monster or HotJobs to post your résumé so potential employers can find you. There are great books at the local library to help you prepare a résumé, or your former employer may offer some type of job placement assistance. Whether you do it yourself or get help, ask at least three people you respect to review your résumé to make sure it's error-free and presents you in the best possible light.
2. Aim High
If your job loss is due to a downsizing or a merger of your former employer, try not to settle for anything less than you had. Start out by aiming to get a job that not only will meet your needs, but one that also pays better and has better benefits than your last job.
If you were not happy with your last job, then make job suitability one of the criteria that a prospective employer must meet.
3. Search the Help Wanted Ads
Not only do you have your local newspaper to search, but you have the entire Internet as well.
Many employers are now accepting job applications via the Internet and the number of persons hired via the Internet is on the rise. Do searches not only for "employment" and "jobs," but also search for Web sites that are within your industry or trade. Some of the best kept secrets are jobs that are not advertised in employment ads. Many companies now list job openings, as well as information about the company, on their sites.
4. Look up Former Contacts
If you had high school friends or college roommates that are well established in their careers, call them up and ask them how they like what they are doing and how they obtained their current positions. Mention that you are between jobs and would like to find out more information about job opportunities within their company.
5. Get Educated
If you have some resources to fall back on, consider increasing your skills with a course at a local technical school or college. Whether you are able to obtain a better job or just need brushing up in a special area, this extra education can help you prepare for your job search.
6. Make Sure Everyone Knows You Are Looking for a Job
Not only can you search for employment for yourself, but others can be on the lookout as well. Make sure that people who care about you and your family know that you are looking for employment. They could possibly have some contacts to help you find a job. Most jobs are filled through this kind of networking, so don't be shy!
7. Establish Networks
Networking is especially important during periods of unemployment; the best positions are sometimes not even advertised. Networks can be established in many different ways. Try starting with organizations within your industry or support groups for unemployed persons. Check out local religious organizations and Internet sites to locate support groups. A support group can be a good networking source and can also provide you with the encouragement and emotional support you need during this time.
8. Get Letters of Recommendation
Ask your former supervisor to give you a letter of recommendation. Find out if he or she would also be willing to send a letter of reference to any contacts of theirs. Also, you may want to gather prior performance appraisals and take them with you on interviews.
9. Check out Employment Agencies
If there is a county or state employment agency near you, visit that agency and have it help you search for your next position. These agencies have a lot of helpful resources for the unemployed — and they're usually free!
Corporate recruiters may also be able to place you with a new employer. You may also want to consider hiring an outplacement organization, or a private employment agency, if you can afford it.
10. Check out Job Fairs
Not only is this a chance for you to seek employment opportunities, it can be a good way to make contacts. Employers who set up booths at job fairs are looking for people to hire, and if you make a good impression, you could be just the person for one of the positions they are looking to fill.
11. Make a Job out of Looking
Don't think you no longer have a full-time job —you do. You should be just as determined to "go to work" each day to search for a job as you were when you had a job. Make good use of your time by actively looking for your next place of employment.
Latest posts by Amanda Miller
(see all)