"Dear Steve,
Im 27 years old, hoping to purchase a home $150,000-$185,000 hopefully in june of 2012. Last years gross combined income was about $85,000. my husband is year 6 post bankruptcy, his score is about 650-680, most of my debt is old, i have a credit score of 584 and 602. I am currently in good standing with auto loans and student loans but I have about 8 old, bad accts: 1 was part of my husband's bankruptcy that is scheduled to come off in 2012, a couple of collections agencies that are also scheduled to run off in late 2011 and 2012. I have settled with one company and we have decided to paying off or settle with others that are scheduled to run off in 2012.
My question is, what is the best senerio in order for us to acheieve our goal next year? Should I also settle or pay off debt that will run off this year or will i be wasting my money because they are about to fall off my credit report anyway, and how will my credit report and score look after everything is said and done?
Alejandra"
Dear Alejandra,
The good news is it is possible to turn this around. The bad news is that right now your credit scores are not great.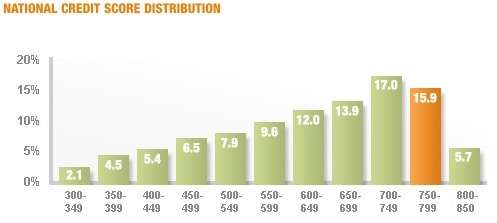 Your scores are in the D range. His scores are in the C range. For the best rates we need to get you up into the 750+ range.
So here is what you should do.
Each of you should pull a current consolidated credit report. A single bureau report does not show you all the information. not all creditors report to all credit bureaus.
On his report, any account that was included in his bankruptcy should reflect that it was discharged in the bankruptcy. Those accounts should fall off 7 years from the date first reported delinquent. If it was a Chapter 7 bankruptcy it will be reported for 10 years. The bankruptcy is not a big deal and not what is holding you back.
On your consolidated credit report I need for you to identify all the open and old collection accounts.
Pay those off as soon as possible. Don't settle them because the debt forgiven will show as a bad debt. Be sure to keep proof of payment in case one of those collection companies fails to update your credit report. make sure all your old accounts have either fallen off or you have paid them before you apply for a mortgage.
After you do all that, or at the same time, you need to focus on getting new credit and using it responsibly. The debt you have is not going to boost your score. A student loan and a car payment do not show responsible unsecured credit use which actually counts more in a credit score.
I've already written a guide on what ti do, just read and both of you follow this guide.
On top of doing all of that, keep in mind that while nearly 100% financing programs still exist for those with good credit, the more money you can put down will help your approval chances.
Between now and the time you find your home next year, open a savings account and save, save, save.
Please post your responses and follow-up messages to me on this in the comments section below.
Sincerly,
You are not alone. I'm here to help. There is no need to suffer in silence. We can get through this. Tomorrow can be better than today. Don't give up.
Latest posts by Steve Rhode
(see all)