A survey by Bankrate.com that was conducted at the beginning of February, 2012, which found people are feeling more confident about their financial standing. That's good news for a rebounding economy. Bad news for debt advice providers.
The most shocking figure for me, in a positive way, was that more than 70 percent report having more in savings than credit card debt. That's a reflection of increased savings and carrying less credit card debt.
One in four said their credit card debt was larger than their savings account or emergency fund. Having no savings was reported by 16 percent.
One in four men said they felt more job security today than compared to a year ago. Most people, about 60 percent said they felt about the same about their job security as they did a year ago.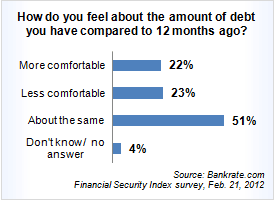 Only 22 percent of respondents said their net worth was lower today than it was a year ago. Based on the economic gloom we've been living with I would have expected that number to be higher.
Other highlights:
33% of Democrats say they are better off than a year ago vs. 18% of Republicans and 23% of independents.

63% of those older than 65 say their financial situation was about the same as it was a year ago vs. 45% of those younger than 65.

30% of those in the West say they feel better off now than a year ago. The same was true for 22% of the rest of the nation.

29% of Republicans say their net worth is lower than a year ago vs. 18% of Democrats.

Further evidence that adults with children are helping to subsidize or support their children is evidenced by the 31 percent of parents that have more credit card debt than savings as compared to those that do not have children.

In addition, in January, consumers cut their credit card debt by 8 percent according to a study by CreditKarma.com. Credit card debt fell eight percent nationally since December to $6,069. – Source

Overall it looks like people are feeling more confident about the future and as confidence increases the demand for debt advice and debt help decreases. It's a double edged sword.

Sincerely,

You are not alone. I'm here to help. There is no need to suffer in silence. We can get through this. Tomorrow can be better than today. Don't give up.
Do you have a question you'd like to ask me for free? Go ahead and click here.

Latest posts by Steve Rhode
(see all)