Date This Problem Happened: January 12, 2012
State You Live in: Florida
Race/Ethnicity: White
Age Range: 36-50
Total Amount of Fee Paid: $5,995
Company Name: Prudent Law Group
Company Address:
4500 CAMPUS DRIVE
NEWPORT BEACH, CAL 92660
Company Telephone Number: 866-748-9506
Website of Company: prudentlawgroup.com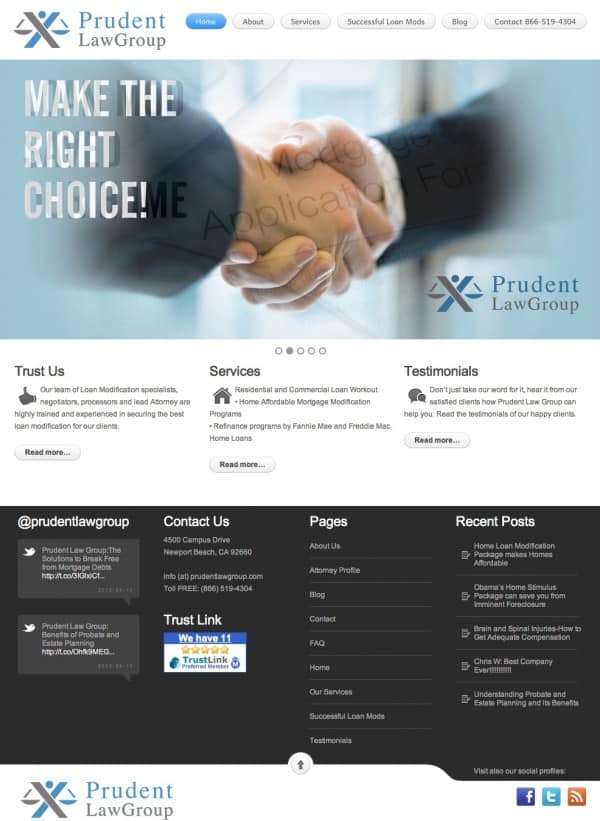 Consumer Statement:
Prudent Law Group sent me letter stating that I may qualify for a loan modification reduction. I called them and they said that I do qualify for the HAMP program and that to start the process I need to send $5,995 as an upfront fee. I then sent them all the information they requested so that they could negotiate with my lender. Mr. Mike Zadeh told me never to speak with the bank if they should call me, that he would handle all their requests for information. After two months I called Prudent and they told me that I did not qualify for the HAMP because I was current on my mortgage. They basically did nothing short of nothing in trying to negotiate with my lender.
Consumer Action Taken:
I told Prudent that nothing short of a full refund would satisfy me and that if they did not do this I would go to the federal authorities and report them for running a loan modification scam. Also, I have tried to contact Pamela Gressier with no luck. I did send her an email about my complaint and told her that unless I get a full refund I would report her to the California Bar Asscoiation. Mr. Zadeh has tried to redirect me to other possible programs none of which will work for me like filing with the US Treasury to get my lender to negotiate. That is unacceptable not only because it is time consuming but because I do not trust these people. THEY BASICALLY TOOK MY MONEY AND DID NOTHING!!
---
If you feel you've been financially hurt by a debt relief company and deserve a refund, read these step-by-step instructions on how to proceed to attempt to get your money back.
If you do get your money back, come back and leave a comment about it. I'd love to praise companies that step-up and do the right thing for people.
Scam reports are submitted by consumers like you. If you would like to file a scam report, please click here.

Latest posts by Steve Rhode
(see all)