A reader just forwarded to me yet another fax that was just sent by United Benefits / United Employee Benefits Group (uebg.org) that is sending out fake spam faxes to work fax numbers to sell some sort of debt relief / debt restructuring service.
This would not be the embarrassingly stupid scheme if it wasn't for the fact that the National Employee Benefits Group and Yoffe's husband, Tim Gibbons, had not just been hit with a $603,000 FCC for similar spam junk faxes. You can read that article, here.
The spam fax makes all sorts of claims that appear to be debt reduction or debt settlement promises.
---
The Fax
FROM: 888.231.8714
OFFICE MEMO
To. ALL EMPLOYEES
SUBJECT: SPECIAL "EMPLOYEE BENEFIT" FOR FINANCIAL RELIEF PROGRAM
DATE: 7/15/2012
cc= UNITED BENEFITS
This memo is to bring about awareness to a special "Benefit" being provided free to all employees who are finding it difficult to manage personal financial hardships. The most important aspect of navigating through financial hardships is understanding all the options which are available. This "Benefit" is designed to educate employees to those options.
Surprisingly, statistics are proving that although most all employed individuals qualify for special relief concessions from their creditors most are too afraid or embarrassed to secure professional assistance to achieve them. Additionally employees point to large upfront retainer costs as being the second leading cause in not securing professional representation in helping to resolve these matters.
With these concerns being recognized the following "Benefits" claim number [ ] is being provided to insure those employees that need help receive it without the need for upfront retainer costs for initial consultations.
100% assistance is guaranteed for all employees wishing to enter "Pre-legal Financial Restructuring" programs. These programs can assist in overcoming both current and or previously defaulted debt. These are areas that United Benefits can help:
Special "0% Interest" through "Restructured" credit card programs
Credit Card payments immediately reduced by as much as 65% (this ls not bankruptcy)
(This program applies specifically to those struggling to make minimum payments or impacts to balances owed)
"Financial Restructuring" is the mandated reform necessary (even before the appllcatlon phase) for those wanting/seeking/needing:

Home Loan Mortgage modifications and/or
Mortgage Balance reductions (This includes Home equity loans and 2nd mortgages )
A special direct toll free hotline has been established connecting those that call with the nation's leading financial specialists. These include access to mortgage bankers, investment bankers, high level collection experts, portfolio managers and credit analysts.
It is important that all employees know that all communications (including the initial inquiry) with United Benefits are covered under Federal Privacy laws which strictly prohibit any information being shared with creditors, employers or anyone without the employees formal written consent. Discretion is not just guaranteed it°s your legal right.
The claim number for this program is [ ] (the claim number is only for benefits qualification under a region and does not in any way identify any employees with a specific employer)
The toll free number is (888) 872-1112 press option 1
Inquiry by email: customercare@uebg.org
Website: www.uebg.org
Special note: Due to high call volumes at various times it is requested that employees who experience hold times exceeding 2 minutes please press #1 and leave a message for a return call or alternatively Email inquiries to customercare@uebg.org (please list area of concern ex., mortgage, credit cards (our both if applicable) alorng with full contact details and an experienced specialists will contactyou immediately.) – Source
---
What makes this particularly deceptive in my book is the fact that those receiving such faxes have not reported any such special relationship between their employer and the different companies sending this and similar faxes.
In March of 2012 we published an extensive examination of the Gibbons / Yoffe enterprise and alleged operations from Fiji and Thailand that sell these or similar debt relief services. You can read that article here.
Despite multiple warnings about this company, and how they appeared to be operating unregistered out of Texas, they apparently continue to send out faxes under shifting names to fool consumers.
One change I did notice is that uebg.org, now called United Benefits on their website, claims to now be located at 101 California Street, Suite 2176, San Francisco, CA 94111. Before they were claiming to be located in Texas.
This is a name change from the last time I visited the site and it was listed as United Employee Benefits Group. A search for a California registered corporation at the address they now list could not locate any such company registered.
The BBB lists United Prelegal Mediation Group, LLC as being located at the same office address in San Francisco. The BBB does state that the company is also known as United Employee Benefits Group.
The BBB lists uebg.org as the web address for United Prelegal Mediation Group, LLC and lists Yoffee as the president of the company. – Source
United Pre-legal Mediation Group, LLC is actually a Nevada company and did register to do business in California under the name United Pre-Legal Mediation Group in 2010. The company actually lists their business address as 8871 W Flamingo Road, Suite 202, Las Vegas, Nevada 89147 and not the address in California they list on their website.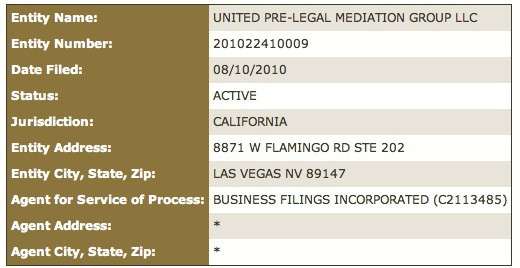 To make this issue even more perplexing is the fact they now claim to be located in California, the same state that shut some of the related players and entities down for the similar sales pitch. See United Employee Benefits Hit With Cease & Desist. But Wait, That's Not All.
The FCC had observed there was a relationship between National Employee Benefits Group, which claimed to be located in California, and Benchmark Mortgage.
According to publicly available information, Tim Gibbons is listed as the president and contact person of National Employee Benefits Group. All references in this NAL to National Employee Benefits Group also encompass the foregoing individual, as well as the corporate entity itself. Moreover, we note that National Employee Benefits Group appears to be related to Benchmark Mortgage, in that Benchmark Mortgage manages and oversees the financial programs and portfolios of the National Employee Benefits Group, and both entities share Mr. Gibbons as a point of contact, as well as the same physical address. – Source
United Benefits also makes a similar claim about a relationship with Benchmark Mortgage.
It is important to note that United Benefits financial programs originated as a financial service to borrowers/clients of Benchmark mortgage (Winton, Ca.). Through unprecedented demand for mortgage restructuring alternatives and the need for national solutions to overcome borrower defaults, United Benefits was elevated as its own free standing national entity in 2008 to meet the growing demands of the national banking crisis.

In 2009, the entire Benchmark Mortgage Branch (Winton CA. ) became the operational management of United Benefits and its financial services program. (Click here to view "our reputation" and "experience" as what we accomplished and represented when we were part of the Benchmark family) – Source
Below is an interesting comparison. On the left is the picture of the United Employee Benefits Group website, uebg.org in August, 2011. On the right is the same statement made on the United Benefits website today. The only thing that appears to have changed is just the name they are claiming to operate under now.
So which is it. The same claim can't be made that in 2009 Benchmark Mortgage became the operational management of United Benefits when the same claim was made before that in 2009 it became United Employee Benefits.
But Benchmark Mortgage, under the leadership of Tim Gibbons now promotes the services of United Benefits. – Source
Our company strictly manages and oversees the financial programs and portfolios of " United Benefits and United Pre-legal Mediation Group". Through our nationwide corporate networks we provide Pre-Legal Financial Mediation (Financial Restructuring and Re-organization) to the nations employed. – Source
Compare that statement to the one the Federal Communication Commission made after their previous visit to benchmarkmortgage.com:
Moreover, we note that National Employee Benefits Group appears to be related to Benchmark Mortgage, in that Benchmark Mortgage manages and oversees the financial programs and portfolios of the National Employee Benefits Group, and both entities share Mr. Gibbons as a point of contact, as well as the same physical address. – Source
I have reached out to Benchmark Mortgage for a comment about their relationship with Gibbons, Yoffe, and United Benefits. According to Beverly Hill of Benchmark Mortgage, "Tim Gibbons is not affiliated with Benchmark Mortgage. United Employee Benefits/Benchmark Mortgage Bank is not affiliated with Benchmark Mortgage."
The statements on the Benchmark Mortgage page linked to by United Benefits are confusing and perplexing as well. The site appears to give consumers the impression that Benchmark mortgage and United Benefits are tied but then makes statements like:
"we being a former mortgage banking branch of Benchmark Mortgage"
"Being a branch of Benchmark Mortgage meant our staff cleared criminal background checks"
"Tim Gibbons was the Benchmark Branch Partner and co-branch manager"
"Special comment from former Branch Partner of Benchmark Mortgage, Mr. Gibbons"
"Even with that being said we were very proud of our (A+) 9 year company standing with the "BBB" while a lending branch of Benchmark Mortgage"
"This authenticates that myself, our staff and our particular branch of Benchmark was licensed"
"Mr. Gibbons, former branch partner/manager Benchmark Mortgage, Winton, Ca. branch" – Source
As you can see, despite the claim to be affiliated with Benchmark mortgage, all those statements are in the past-tense.
But here is where they appear to come clean they have not been associated with Benchmark Mortgage since 2008.
Please note the CA. license link is being provided for information purposes only as genuine proof of our state verified experience and credentials through to 2009 as staff and management (partners) of benchmark mortgage. However, we will be not be renewing these licenses since our business focus is now dedicated to our mortgage "Retention" portfolios not "New" mortgage loan origination portfolios (we terminated our contracted branch with Benchmark corporate in Texas, aka Ark-La-Tex Financial Services, LLC. on November 3rd, 2008). We have committed ourselves and our experience to the resolution of existing loans in trouble and not adding to what has created our national lending crisis. We will not re-apply for origination licensing until foreclosures are under the 1% national threshold.) – Source
That certainly is a lot of layering to promote a four year old terminated relationship as some badge of credibility for consumers to rely on today to feel comfortable about buying in to United Benefit services.
My advice if you get one of these dubious faxes, do your homework and check the company out completely before you send any money or sign any contracts. You can use this guide to check out the company.
Sincerely,

You are not alone. I'm here to help. There is no need to suffer in silence. We can get through this. Tomorrow can be better than today. Don't give up.
Do you have a question you'd like to ask me for free? Go ahead and click here.

Latest posts by Steve Rhode
(see all)