There is no good news about student loans. While everyone has had their eye on credit card debt, it's the stupid student loans that are the exploding problem. Since student loans can't be discharged in bankruptcy, once you are on the hook for the loans it can damn near be a financial death sentence.
The Federal Reserve Bank of New York is reporting some sobering statistics on student loan debt. Actually I think the stats make me want to go out and get drunk, facing them sober is grim.
In just the past seven years student loan debt has risen from $363 billion to nearing a trillion dollars. Student loan debt now exceeds credit card debt carried by consumers. And not to repeat myself, but it's not dischargeable in bankruptcy so consumers are stuck with this debt that will drag down any future economic recovery regardless of who is in office.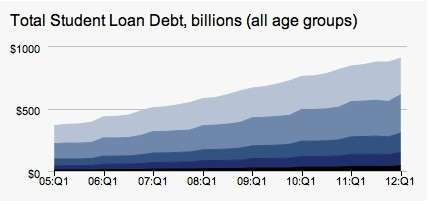 The average student loan balance now stands at $24,300 and is a crushing load for anyone trying to start a career and manage the debt. Compared to this number, college credit card debt is a pittance.
Here is the most disturbing stat. While the amount of student loan debt outstanding has risen from $841 billion to $902 billion the number of student loan borrowers is still steady at 37.1 million.
And student loan delinquency rates are huge at nearly 20 percent when you factor out the loans in deferment.
The numbers are even more grim for those between 30 and 39. Student loan balances are now at an average of $28,906. – Source
The crushing impact of student loan debt can be seen in a recent Pew Research Center survey. They found that about half (48%) report that paying back the loan has made it harder to make ends meet; 25% say it has made it harder to buy a home; 24% say it has had an impact on the kind of career they are pursuing; and 7% say it has delayed their getting married or starting a family. – Source
Sincerely,
You are not alone. I'm here to help. There is no need to suffer in silence. We can get through this. Tomorrow can be better than today. Don't give up.
Do you have a question you'd like to ask me for free? Go ahead and click here.
Latest posts by Steve Rhode
(see all)