"Dear Steve,
First I just wanted to thank you for what you do….I have been helping my parents evaluate debt settlement 'companies' (I now prefer to call them predators) and your site has been extremely helpful. I also wanted to submit some information that I hope can help someone else going through the same process
My parents were recently contacted by Debt Relief Centers of America (based in Miami Gardens, Miami) and were about to start working with them. I did numerous searches to find any customer complaints out there but found very little. In addition, their company website shares no information about their executive team, how long they've been in business, etc. I got on the phone with these people to voice my concerns about their inflated performance claims and felt their communication style was an even bigger red flag. So I redoubled efforts on the internet search. On (Florida State Division of Corporations) a search of their company name pulled up nothing. On this site you also have the ability to search fictitious company names and what I found out is that the name "Debt Relief Centers of America" has a current owner named Madison Monroe & Associates (think you've heard of them). They also have a previous owner named The Lifeguard Financial Group (their internet reputation is among the worst I've seen). Both companies are linked to Rafael Ulloa as President/CEO, with same physical office address.
I saw on your website that these Madison/Monroe and Lifeguard have already been linked to each other and to another company, but sunzip.org was the first place I saw them linked to "Debt Centers of America". I am deeply concerned about other people in debt who are being contacted by this dummy company. Right now it's very difficult to link them back to any fraudulent practices and they arrogantly advertise that they have no customer complaints on file. Please follow up on this and post any relevant info on your website as quickly as possible. If you have any suggestions of where I can report this finding in Florida please let me know, I'd be more than happy to spend whatever time it takes to get this information to the consumers in need.
Sharron"
Dear Sharron,
Thank you for contributing the results of your detective work.
I wanted to take a look and confirm what you found.
Debt Relief Centers of America
Debt Relief Centers of America was first registered on September 13, 2004. The first annual report listed Richard B. Feinberg as the president and director of the company. Feinberg appears to be an attorney with a law firm in Tampa. – Source
According to the last annual report filed on April 30, 2012, Richard B. Feinberg is still the president and director and they list their office address at 901 W. Hillsborough Ave, Tampa, FL 33603. – Source. That address is currently used for the P.R. Smith Law Group.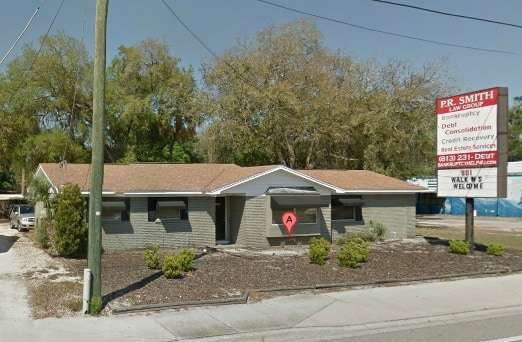 According to the most recent public picture of the location the sign out front offers bankruptcy, debt consolidation, credit recovery, and real estate services. The telephone number is listed as 813-231-3328 and the website is bankruptcyhelp4u.com.
If you look for bankruptcyhelp4u.com it redirects to 1800debtrelief.com which says it is Debt Relief Legal Group, LLC and P.R. Smith Law Group, P.A.
bankruptcyhelp4u.com
bankruptcyhelp4u.com is owned by Patrick Smith of PR Smith Law Group.
1800debtrelief.com
1800debtrelief.com is owned by Debt Relief Legal Group, LLC at 5300 4th St. N., St Petersburg, FL 33704.
Debt Relief Legal Group, LLC is owned by Richard Feinberg and says it is located at 5300 4th St. N, St petersburg, FL 33704. – Source
According to a web search, that address is also used by Essentials, the Salon.
But There is More Than One Debt Relief Centers of America
In what will surely confuse consumers, there is more than one Debt Relief Centers of America registered in Florida. Sharron was correct, Debt Relief Centers of America is a registered fictitious name of Madison Monroe & Associates of 4 W Las Olas Blvd, Suite 201, Fort Lauderdale, FL 33301. – Source
This Debt Relief Centers of America appears to be located at:
1111 Park Centre Boulevard
Suite 206
Miami Gardens, FL 33169
Off (877) 605-3167 ext. 1000
Fax (800) 779-1274
Sales : 877-346-2797
Arbitration: 877-359-6457 – Source
This company also uses the domain name of debtreliefcenterofamerica.com and that domain name is owned by Rafael Ulloa of 4 W Olas Blvd, Suite 203, Ft lauderdale, FL 33301.
This Debt Relief Centers of America appears to primarily offer debt settlement as their primary service.
The last activity on Madison Monroe & Associates was a name change from Madison Monroe & Associates, P.A. to Madison Monroe & Associates, Inc. – Source
The president of Madison Monroe & Associates is Rafael Ulloa. – Source
Nancy Jarquin was the CEO of the company and was removed in 2011. – Source
Rafael Ulloa has been associated with:
1ST PYRAMID FINANCIAL INC.
THE LIFEGUARD FINANCIAL GROUP, INC.
DEBTCARE FINANCIAL, INC.
MADISON MONROE & ASSOCIATES, INC.
Now this may be entirely coincidental and I have no confirmation that this is the same guy buy a web search did uncover a Rafael H. Ulloa of Pembroke Pines, Florida that was arrested last year and is currently on probation.
January 10, 2012: Rafael Ulloa of Madison and Monroe sent in the following statement.

You have listed a mugshot and arrest record of a gentlemen on this article suggesting that he might or may not be me. You guys are walking a very thin line making those types of assumptions, For the record that is not me and I have never met that person in my life before, just because we have similar names although I don't know his exact middle name does not mean we are related or somehow the same person.

Please remove that arrest record as you are providing false information and that guy has nothing to do with My Company which is the subject of your story.
Madison Monroe & Associates also did get a cease & desist letter from the state of Connecticut on August 21, 2012. The State claimed:
Madison, Monroe & Associates P.A. CEASE AND DESIST from violating Section 36a-671(b) of the Connecticut General Statutes, in effect prior to October 1, 2011, and Section 36a-17(d) of the 2012 Supplement to the General Statutes;
A CIVIL PENALTY of One Hundred Thousand Dollars ($100,000) be imposed against Madison, Monroe & Associates P.A., to be remitted to the Department of Banking by cashier's check, certified check or money order, made payable to "Treasurer, State of Connecticut", no later than thirty (30) days from the date this Order is mailed; – Source
The BBB gives Debt Relief Centers of America a D- rating. They also list the principal as the director of sales, Joe Zinerco. – Source
So Sharron, I hope all my research is helpful to you and does support some of your findings.
Would You Like to Be a Detective as Well?
Here are some guides we've written to help people that want to checkout any debt relief company they are considering working with.
You can look at the related articles section of this post to see what has been written about them in the past. The comments on any relevant post may be enlightening as well.
For Your Parents
Sharron, since your parents are searching for a solution for some financial problem I'd suggest you first read How to Get Out of Debt. The Honest and Unvarnished Truth and The Truth About The Success Rates, Failure Rates and Completion Rates of Credit Counseling, Debt Settlement, and Bankruptcy. They will give you a great overview of what we need to deal with to get you moving in the right direction.
Then use the free How to Get Out of Debt Calculator to review your options.
Once you've identified a company you want to work with, then follow my step-by-step guide on how to check out a debt relief company.
Please post your responses and follow-up messages to me on this in the comments section below.
Sincerely,

You are not alone. I'm here to help. There is no need to suffer in silence. We can get through this. Tomorrow can be better than today. Don't give up.
Do you have a question you'd like to ask me for free? Go ahead and click here.

Latest posts by Steve Rhode
(see all)