"Dear Steve,
Hi Steve, do you know anything about a Consumer Advocacy network that consists mainly of attorneys and are assisting in the settlement of unsecured debt?
I was contacted by an individual who claimed to be with the network and told me that a representative from Karger Consulting Group would be contacting me. It all sounds good in that my debt would be paid off in 23 payments should I choose to accept their assistance.
Do you know anything about them?
Kay"
Dear Kay,
There are a number of companies that use the phrase Consumer Advocacy in their name. It's wildly generic. I'd need to know more information about the company, like the full name or web address to make any comment about them.
But from what you describe it sounds like someone is trying to sell you a debt relief service and they sound like a marketer or intermediate sales person.
I did take a look at the Karger Consulting Group website and I can see they are selling a debt settlement program. – Source
The negotiations page on the website makes some statements that concern me. For example, they say:
Based upon what you are able to pay each month into your settlement account, we can determine how many months you will be part of the program, and ultimately be debt free.
Generally, we estimate we can reduce your debt by 40% to 60% of the current total.
And you've already been told that a 23 month program will do the trick for you. But there are some important facts you need to gather.
What is their track record and what percentage of all people enrolled in the program have eliminated all of their debt through debt settlement while in the program?
What percentage of people eliminated all of their debt in the estimated length of time?
What is the specific percentage of savings achieved by people that eliminated all their debts, including program fees?
The Federal Trade Commission provides very specific advice for companies making such performance claims and warns the estimates must be backed with facts. Read Debt Relief Services & the Telemarketing Sales Rule: A Guide for Business.
The Karger Consulting Group debt website also says:
We have seen numerous people file for bankruptcy when their debt problems could have been solved in less than half the time a bankruptcy would stay on their record.
When you settle a debt the amount of debt forgiven shows as a bad debt for seven years on the credit report. In a chapter 7 bankruptcy the debt is fully discharged in about 90 days and the bankruptcy notation will remain for ten years.
So it appears their statement says it will take five years to settle and eliminate your debts but in a chapter 7 bankruptcy it would have taken just 90 days.
The front page of the site says:
Please don't panic, you're working with a law firm. If court becomes a necessity, we will go to court on your behalf and defend your rights!
William Karger Mystery
William H. Karger, Esq. is listed as the founder of the Karger Consulting Group which was formed in 2001. The website points to a Florida telephone number and makes references to Karger being located in Florida. – Source
According to the Florida Bar Association there is no William Karger licensed in Florida to practice law.
Additionally, the State of Florida reports the Karger Consulting Group, formed in 2001, is not registered as a business in Florida after it was voluntarily dissolved in 2011 along with Erik Woodbury as a member. The dissolution document states the company folded because "multiple occurrences of state and federal regulation changes that had created insurmountable business hurdles." – Source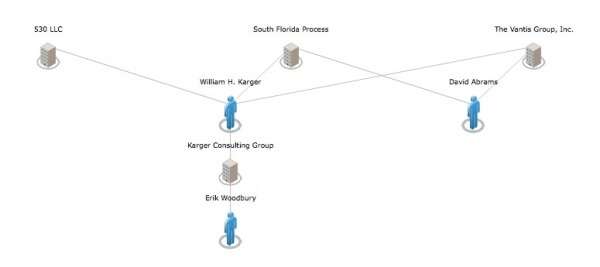 Karger also says he is a member of the bar association in Virginia, Maryland, and Washington, D.C. A search of the DC Bar Association website could not locate him. A search of the Virginia State Bar was able to locate him as an active member and eligible to practice law.
A search of the Maryland State Bar Association was able to locate him as well.
So unless you live in Virginia or Maryland then Mr. Karger could not represent you as a lawyer and I have significant reservations if he is going to fly from Florida to Virginia or Maryland to represent you in court.
Karger Consulting Group
In researching your question I cam across a different website for Karger Consulting Group that appears entirely real estate focussed on seems to promote mass joinder types of actions that have been discredited. This Karger Consulting Group says it is located at 10411 Motor City Drive, Suite 750, Bethesda, Maryland 20817. The State of Maryland reports there is no company registered under that name.
The address is for a virtual office space. – Source
But apparently Karger himself describe Karger Consulting Group in such broad terms it seems hard to believe his focus is debt resolution.
Strategic Small Business Consultant
Assisting small businesses in a vide variety of areas such as: Financial analysis, marketing and business plan preparation, staff augmentation, vendor/supplier contract negotiation, RFP drafting and response, SBA and angel financing, asset purchase and sale, real estate purchase and sale, intellectual property and software licensing, leasing, corporate formation, trademark and copyright registration and prosecution and all legal issues associated therewith.

Also versed in all manners of financial and insurance planning, including but not limited to, business succession estate planning, trusts, life insurance, disability insurance, long term care, college planning, retirement planning and full service business consulting, such as, transaction and vendor contracting.

In addition, we are a full service law firm with offices in Maryland. Our firm concentrates on small business advisory services. – Source
Bottom Line
I invite you to do your own research and see what you can find out using the guides below.
But when it comes to your debt situation, we don't even know what is the best solution for your situation.
I'd suggest you first read How to Get Out of Debt. The Honest and Unvarnished Truth and The Truth About The Success Rates, Failure Rates and Completion Rates of Credit Counseling, Debt Settlement, and Bankruptcy. They will give you a great overview of what we need to deal with to get you moving in the right direction.
Then use the free How to Get Out of Debt Calculator to review your options.
Once you've identified a company you want to work with, then follow my step-by-step guide on what you should look for and expect from a good debt relief company.
Bonus Video Answer
Please post your responses and follow-up messages to me on this in the comments section below.
Sincerely,

You are not alone. I'm here to help. There is no need to suffer in silence. We can get through this. Tomorrow can be better than today. Don't give up.
Do you have a question you'd like to ask me for free? Go ahead and click here.

Latest posts by Steve Rhode
(see all)