"Dear Steve,
I am trying to make income online unsure about opportunity if they are legit.
So is MCA a scam? you wrote an article saying it was but then it appears other people backed up information to prove it was legit so what is the verdict? and do you know anything about ultimate cycler? I have people who have said its legit.
What I don't understand is if there is a huge facebook group of real people and phone conferencing to assist the group, if it were a scam wouldn't the people who were scammed earlier communicate with the people who are about to get scammed through these online groups and call ins?
Colin"
Dear Colin,
You raise a number of good points.
I believe the post you are referring to on this site is Motor Club of America (MCA) Looks Like a Biz Op to Avoid. Not What It Appears to Be.
And I think the previous post raised a number of valid issues that people considering the program should review and consider.
At the very least it is a reason for anyone considering enrolling in Motor Club of America to do some more homework and check the company out further.
You ask if Motor Club of America is a scam. That's always an interesting question since everyone seems to have a different definition of what a scam is. I don't know what yours is but I strongly advise you to use my guide above to check out the company.
My observation is that the current activity surrounding MCA appears to be the flood of people signing up into the program in order to sell the services. Much like a business opportunity or work at home program.
And while there is a flurry of activity online about the company and people are praising how much money they make from it, you've got to ask yourself, where are the real world users who are not representatives?
If you filter out the marketing representative noise, where is the flurry of activity of consumers who are clients in this and not involved to sell it or make money?
Where are the reviews about the services themselves and not the business opportunity?
Even the BBB is confused about what is really going on.
One listing for Motor Club of America gives the company an F rating and lists it as a "pyramid scheme." – Source
Another BBB listing gives the company a C rating and says the company has had 42 complaints. That listing also raises concerns.
Inquirers report to the BBB that the firm offers road service protection, arranges legal services for member truckers, and provides other services described in various social media and YouTube segments.

Various incarnations of the company appear under the names TVC, Motor Club of America, or MCA.

The company's overall program appears to include elements of Multi-Level Marketing in which participants can earn payments as well as taking advantage of the products and services provided by the company.

The company or program participants (or both) appear to market the firm using YouTube videos, including some with titles like "TVC Pro Driver Scam," "MCA Scam," or other combinations of the company names followed by a a term questioning the legitimacy of the program; when the videos are viewed, the segments go on to promote the TVC/MCA program.

The videos generally focus on wealth-building by participating in TVC/MCA programs or demonstrations by participants who have made money through the program. It should be noted that the testimonials posted on such social media represent the success stories of individuals who have volunteered to post such notices, but that any such testimonials on any Multi-Level Marketing site do not necessarily predict the outcome for every participant in the program.

Most MLM programs require work to succeed, and any business opportunity benefits from a participant's interest, training, expertise, and attention. No one can tuly guarantee an individual's success when participating in such a program; a great deal depends upon aptitude, the marketplace, the products offered and other conditions that impact an individual's ability to become successful.

Please also note that some YouTube videos may copy the content of other inspirational or motivational clips from celebrities such as Tyler Perry. This does not mean that Mr. Perry has directly endorsed the program, nor does TVC/MCA promote the video as such; the posting of such a motivational video in association with an MLM does not mean that Mr. Perry has any knowledge of the program whatsoever. It simply means that a celebrity has expressed a view concerning success and that someone associated with TVC or one of its associated businesses agrees with the sentiment enough to represent that clip under the TVC umbrella.

At least one YouTube video identifies itself as being a training video for posting ads for potential participants in the Help Wanted or Jobs sections of Craig's List in various cities. The video details a representative's demonstration of how to post ads to recruit participants, including statements concerning potential earnings. The demonstration shows the representative posting links to an TVC/MCA "capture site" and offers tips on entering several ads through Craig's List that should generate leads. Viewers are then shown how to communicate with respondents to recruit them to the program.

The BBB is currently trying to develop additional information concerning the company and its services, which appear to include elements of multi-level marketing programs that allow members to earn payments by recruiting other participants. The BBB has requested additional information from the company and this report will be updated when the firm provides that data. – Source
Emotion Overrides Reality
Sometimes the emotion and excitement created by marketing representatives involved in recruiting more sales representatives creates a flurry of activity that looks like success.
When faced with so many people showing how much money you can make, often the logical side of our brains takes a vacation. It sounds so good to be true that you need to leap in immediately.
But there is a significant cost to making the wrong choice.
Life is full of only so many hours. When you invest your time and energy into something, you are investing for your future. You are investing time and hard work to build something up. So deciding to invest your time and energy into building something that is a wave rather than a mountain can be a wasted investment.
These "waves" are experienced when the marketing hype creates a feeding frenzy and a lot of sales are made to new representatives to sell the program.
MCA, as far as I'm aware, has not been transparent about how many consumers who are not marketing representatives are buying into the program.
The Federal Trade Commission provides a warning about such companies.
Not all multilevel marketing plans are legitimate. If the money you make is based on your sales to the public, it may be a legitimate multilevel marketing plan. If the money you make is based on the number of people you recruit and your sales to them, it's not. It's a pyramid scheme. Pyramid schemes are illegal, and the vast majority of participants lose money.

If you're considering buying into a multilevel marketing plan, get the details. – Source
Ask your sponsor and other distributors tough questions, and dig for details. Don't consider it nosy or intrusive: you are on a mission to check out a potential business deal that will require your money and your time.
Their responses can help you detect false claims about the amount of money you may make and whether the business is a pyramid scheme. Here are some questions to ask before making any decisions:
What are your annual sales of the product?
How much product did you sell to distributors?
What percentage of your sales were made to distributors?
What were your expenses last year, including money you spent on training and buying products?
How much money did you make last year — that is, your income and bonuses, less your expenses?
How much time did you spend last year on the business?
How long have you been in the business?
How many people have you recruited?
What percentage of the money you've made — income and bonuses less your expenses — came from recruiting other distributors and selling them inventory or other items to get started?
It's important to get a complete picture of how the plan works: not just how much money distributors make, but also how much time and money they spend on the plan, how long it takes before they're earning money, and how big a downline is needed to make money. One sign of a pyramid scheme is if distributors sell more product to other distributors than to the public — or if they make more money from recruiting than they do from selling.
So is Motor Club of America a Scam?
While the FTC Business Opportunity Rule does not specifically apply to multilevel marketing, it does present some commonsense rules and advice you may want to consider.
For more information on the Federal Trade Commission Business Opportunity Rule, click here.
So Where Does This Leave You?
I'm not sure why exactly you want to join MCA but it does not sound like your interest is not in some incredible service they offer. It sounds like you are being attracted to it as a business opportunity.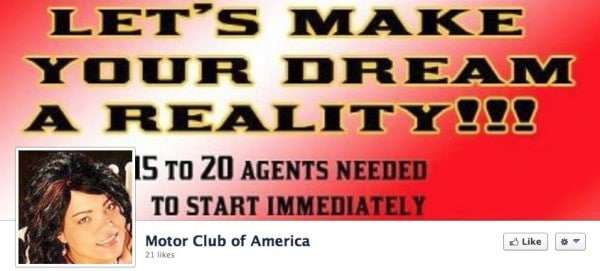 Maybe the key here is for you to ask the person selling you the Motor Club of America business opportunity to identify people they sold the program to that were never pushed the money making opportunity but bought the product because they were only interested in the value of the product itself. Ultimately that's the foundation you build a sustainable business on.
It seems there is never a shortage of "the next big program" built on waves. And if that's the case here then when the next big thing hits, the program will die down and all the time you invested recruiting people will potentially have been wasted as they move on to the next wave.
So what do you think? Why are you joining?
Please post your responses and follow-up messages to me on this in the comments section below.
Latest posts by Steve Rhode
(see all)