Company Name
Student Debt Relief
Our Impression of What the Company Offers to Consumers
Advance fee student loan assistance programs.
Address
151 NE 5th Ave #401
Delray Beach, FL, 33483
Comes back as an apartment. – Source
Additional Contact Information
Phone
(866) 921-8053
Web
info@studentdebtrelief.us
www.studentdebtrelief.us
Company Description
"We offer individuals, seeking to consolidate or lower their monthly student loan payments, the knowledge needed to choose a practical and affordable solution." – Source
Management
Company Information
There is no company registered to do business in Florida under the name Student Debt Relief. The name Student Debt Relief is registered as a fictitious name to Tory Larkins, 1755 17th Street South, St. Petersburg, FL 33712.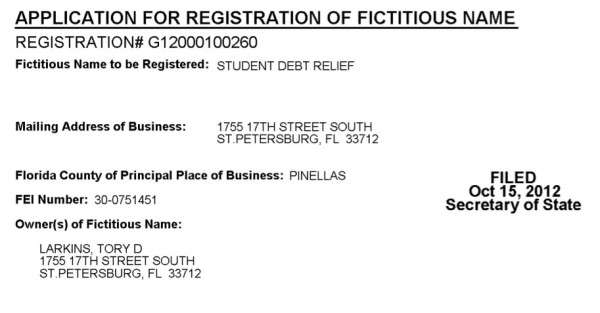 However the domain name is registered by Debt Relief Pros, Inc. in Florida.
The company officers are Demetrios Sourmaidis, Spiros Mitsis, Christopher Wordell. The company was registered on March 18, 2013. – Source
Services
Student loan services.
Relationships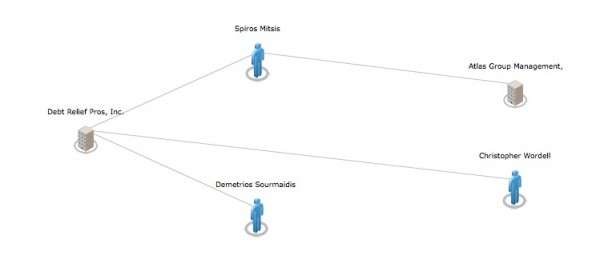 Interesting Points
Using Department of the Treasury logo on their website.
Website
Domain Information
studentdebtrelief.us is registered to:
DEMETRIOS SOURMAIDIS
DEBT RELIEF PROS, INC.
151 NE 5TH AVE
APT 401
DELRAY BEACH, Florida 33483
+1.4016621588
jimrawr@yahoo.com
Our Opinion After Review
We previously wrote a guide on what companies should offer in a fair and consumer friendly student loan service program. Please read How to Run a Clean Student Loan Assistance Program. In addition we provide the following guides to check out debt relief companies:
Program Fees Clearly Stated on Site: No
Client Agreement Clearly Available on Site: No
States Consumers Can Contact Department of Education Directly to Consolidate and Reduce Payments for Free: No
Provides clear link to Department of Education Loan Options: No
Provides Historical Performance Statistics: No
Clearly Identifies Management/Officers on Site: No
Company is Clearly Registered to Business: No
It is our opinion the program reviewed here DOES NOT MEET OUR RECOMMENDED STANDARDS.
Scam, Complaint, Review or Praise

Consumers:

If you've had experience with this company, good or bad, you would like to share, please post your comments in the comments section below.

If you have a client agreement or paperwork you can share which this company gave you, you can do so here.


Owners:

If this is your company, please read the site review policy and feel free to post information in the comments you would like to share about your company.

If you feel something reported in this review is incorrect, please report it here so we can fix the error.
For Those Looking for Student Loan Resources
Before you pay any company for assistance with your student loans, be sure to check out our free student loan assistance links and guides below.

Latest posts by Steve Rhode
(see all)