Recently Michael Bovee and I collaborated on an article about the debt validation/debt dispute services being sold by Debt Defense Services. You can read that article, here.
Right on the heels of that article I received a document from a tipster (send in your tips here) about a similar sounding company, Debt Defense America. It seems these debt dispute services are popping up like weeds these days.
Debt Defense America says they are "committed to easing your financial worries." And they say they do this through their "60 years of collective experience in debt management to provide some of the best debt invalidation services."
Apparently they view their mission as charitable. "Debt Defense America, Inc. is not just a business, it is a means for us to give back to the community." – Source
According to the DDA website the company is located at:
10101 Slater Ave. Suite 200
Fountain Valley, CA. 92708
But here is where the oddities begin. According to the client agreement I'm going to show you that was sent in, while the company claims to be located right near Los Angeles the agreement says any dispute under the agreement should be arbitrated in San Diego, about 90 miles away.
According to public statement, the CEO of Debt Defense America is John Tram and according to a recent DDA press release, Tran took immediate action and terminated the services of Robert Childs when it came to light Mr. Childs had a criminal past.
In a recent event, a person by the name of Robert Childs was appointed as an independent agent of Debt Defense America ("DDA") to provide national marketing and sales training for their respective business in cooperation with DDA. However, it turned out that Mr. Childs did not disclose his past criminal record, including his past conviction of mortgage and debt fraud, with the principals of DDA.

Once this information was determined, CEO John Tran took immediate action and terminated the relationship with Mr. Childs and his agency, including a cease and desist to prevent any misrepresentation of the services DDA provides to its clients. Further, Mr. Tran initiated communication with the Santa Clara District Attorney's office to determine if there was any further assistance needed in their case regarding Mr. Childs.

David Lim, of the Santa Clara District Attorney's office personally reassured Mr. Tran that not only was there no additional help needed, but that "DDA was not implicated in any way with any misdeeds that may have been perpetrated by Mr. Childs." Mr. Lim further noted that "Debt Defense America was never the subject of any investigation since it had not committed any infractions of any nature." – Source
In a April, 2013 story about the arrest of Robert Childs it was stated, "In California, debt elimination services, also known as credit services organizations, must be registered with the California Department of Justice, and may not accept advanced fees for their services until completing all the services they promise to do.
Debt Defense of America is not registered with the California Department of Justice. Consumers are reminded that any credit service organization offering to eliminate or reduce your mortgage or debt can not charge you upfront fees for their services." – Update_ Debt Scammer Charged After Another Scheme Revealed – Central Coast News KION_KCBA_new
Another perplexing statement is DDA claims to have 60 years or more experience in debt management, yet a Google search can't locate much of anything about CEO John Tram in the debt world before December 21, 2012.

Who is John Tram? If anyone knows, please post it in the comments.
However I did find a reference to a John Tram from 2010 who was quoted in an advertisement for debt settlement leads: John Tram – Orange, Ca "These aged debt leads are amazing for the price… I can load these in my predictive all day long." – Source
The domain DebtDefenseAmerica.com was registered on October 7, 2012 and the ownership is hidden.
How Debt Defense America Says The Scheme Works
According to Debt Defense America, here is how their process works:
Step 1

We draft a written demand to your debt collecting agency/third party agent to refrain from activities involving collection with immediate effect. An audit is requested from the collection agency, which should clearly state legal proof of their ability to collect the debt from you.

Step 2

We will send an official demand via a notary public to the collecting agency, which will request them to validate their right to collect debt from you. If the agency fails to do so, an Affidavit of Non Response shall then be sent. If they fail to respond to the affidavit as well, your case should be resolved at this step.

Step 3

In case the debt collecting agency continues to file the claim or files a fresh lawsuit against you, the commercial record (Demand plus the Non Response Affidavit) may be used against their claim. We will then prepare a counter claim to sue them back, using Section 15C§1692g of the FDCPA.

We also help you deal with illegal threats and wrongly hiked rates by third party agents. We also verify the debt they wish to collect from you, so that you don't end up contributing to wrongfully gained commission money.

We will provide you guidance at every step during the invalidation of your debt from experts in the subject, and give you genuine service because your benefit is foremost on our priority list. – Source
But The Foundation is Rocky
It seems the debt relief company DDA is hanging their hat on making debt go away and resolving consumer debt problems with an invalidation only strategy. But invalidation does not make debt go away and does nothing to discharge the debt, as in a bankruptcy filing.
Even if someone wanted to utilize the services of DDA, it sure seems the free letters available from the CFPB could do the same thing. See this post of theirs.
The Debt Defense America Client Agreement
Below you will find the Debt Defense America / Consumer Affairs Processing agreement of services which raises another odd point. The client agreement is for DDA services but it appears to have been generated by Consumer Affairs Processing. Consumer Affairs Processing has appeared on the site before and was an alleged debt settlement affiliate of Legal Helpers Debt Resolution.
What follows is just an observation of the agreement as written. it is not a legal interpretation of the document. If anyone wants a legal interpretation, please contact a local attorney who is licensed in your state.
While the document is labeled as a Legal Engagement, the fine print says not legal representation is to be provided.
The client is agreeing to move any debts previously enrolled in Consumer Affairs Processing Debt Settlement Program to the Debt Defense America Debt Dispute Program.
While the debts were original enrolled to settle them, they are now going to be attempted to be invalidated instead.
DDA will not provide any legal representation.
The consumer will have to pay all fees associated with this program and even though the debt is being transferred from Consumer Affairs Processing to DDA, Consumer Affairs Processing will not pay any of the fees.
DDA will not provide legal representation or dispute any summons or judgment.
DDA refers to their "network of attorney" and they either have one or that's a typo. Irregardless, DDA never revels any attorney in their network. I'm not quite sure what this sentence means, "I/we fully acknowledge that DDA and its network of attorney has provided and may continue to legal services to Consumer Affairs Processing as well as other debt settlement organizations and I/we agree to waive any conflict created by those representations and representation of me/us in the debt dispute process."
And even though the client is agreeing to move the debt and be serviced by DDA, DDA reserves the right to pull the plug. "I/we further understand that if DDA believes there is anything that will prevent them from moving forward on my/our behalf in the debt dispute process DDA may withdraw from representing me/us, but may continue to represent the debt settlement organization." That seems grossly unfair.
It appears Debt Defense America only works with debt that has been placed with third party debt collectors and they do not settle debts.
They claim that "in most cases collections will cease completely," but they don't provide any definitive statements about the effectiveness of their program for eliminating the debt completely. They also say some clients are sued, but they don't provide legal representation. The consumer would then have to pay additional fees to a local attorney.
The list of services to be performed by DDA seems to only surround disputing debts, but as I mentioned before, a consumer can do that for free. See Debt Collection Form Letters to Stop Debt Collectors in 5 Different Situations.
The issue about having a notary to mail the documents seems entirely unnecessary and I don't understand the point of partnering with a network attorney to "provide legal framework necessary to our program."
At the end, DDA will refer the client to a credit repair company but why? Since the debt has not been eliminated, what is the point of engaging in credit repair?
Client Agreement
The client agreement says they will assist with creditors other than debt collection companies when before it appeared they would not. But yet they say the purpose of their service is to "dispute the debt on behalf of Client directly in order to cause third parties to prove their capacity to collect said debt." So they jump back to only dealing with third parties?
The fee is non-refundable.
While DDA takes all sorts of actions against collectors they attempt to waive the Client's ability to take similar action against DDA.
DDA says, "Debt Defense America cannot control the activities of third party creditors, debt collectors, and/or credit reporting agencies, other than with the institution of litigation." But how is that possible since the agreement does not include legal representation services?
Debt Defense America says "Debt Defense America does not provide credit restoration services, credit repair, debt settlement, debt negotiation, or debt consolidation services. Debt Defense America is not a law firm." So they don't provide legal services and their services will not discharge the debt then.
Again with the San Diego location. Odd.
And now they say the client is entitled to representation through their "network of attorneys" if debt collectors continue to call but those services are not included as part of this agreement and the Client will have to pay attorney fees.
The enrolling agent for this DDA agreement is Anna Sanchez and the consumer resides in Minnesota. According to the State of Minnesota there is no company named Debt Defense America registered to do business in the state.
For the services listed the consumer agrees to make a non-refundable advance fee for services of $3,344.57 which represents 25% of the enrolled debt. In addition the consumer will have to pay a $49 monthly maintenance fee.
The only debt enrolled by this consumer is one account for Capital One with a balance of $13,378.28.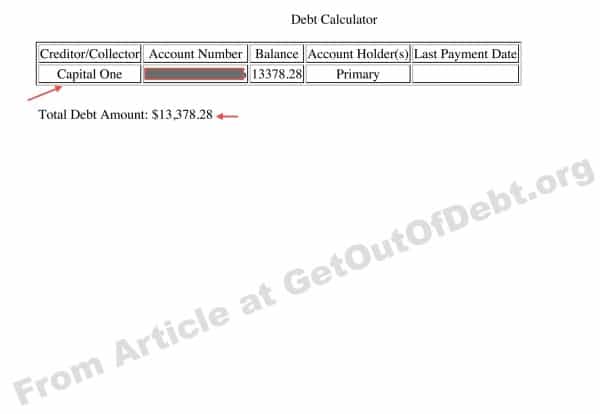 You can read the full consumer agreement here.
I Don't Get It
After reading all the documentation I just don't get why any consumer would enroll in this program. More specifically, the consumer in question here is moving from a debt settlement program, that could eliminate her debt, to a debt dispute program she has to pay another huge fee to that will not eliminate the debt. Looks like a stinker to me.
Michael Bovee Takes a Look as Well and Offers His Opinion
You and your "alleged debt"
Here we are again. No sooner had I accepted the invitation to collaborate on an article with Steve for this site, when another opportunity to do so pops up within a matter of days, and on a closely related topic.
In the prior collaborative article, I referred to what amounts to a bastardized legal credit card debt elimination theory, strung together in a series of loopy letters, that get promoted as a way to eliminate your credit card debt (without paying any portion of it, and not by discharging the debt through bankruptcy) – as the epitome of commissioned sales agents selling "magic beans".
Similar to how a DDS marketer may use your emotion and frustration with unmanageable debt to sell you a series of magic letters, DDA appears to be pushing an argumentative and confrontational "Debt Dispute Program… to invalidate debts". The result of which will lead to people at some point realizing they bought an empty spray can of "DebtBeGone".
I am not going to comment much about how DDA is being used to convert customers that appear to have signed up for a service to settle their debt through Consumer Affairs Processing (CAP). I assume Steve will cover that well enough. I do hope that consumers did not pay CAP for settlement services, only to be pitched a can of DebtBeGone at an additional cost.
According to the DDA description, the program is about: "The objective of this program is to challenge the validity of an alleged debt from a 3rd party collection agency. We request a forensic accounting for the debt going back to the original creditor; it is not to negotiate a settlement…"
Question: What is it with dodge a debt promoters and the term "alleged debt". Did you open a credit card? Use it to purchase goods and services? Make monthly payments while you were able? Was this just an alleged account while you were using it? When did the account get demoted from "my credit card" to just an "alleged debt"? Is the demotion due to the inability to pay? Is it only alleged when the credit card charges off (accounting function where banks mark an unpaid debt as a loss)? Is it only alleged when a debt collector has it?
If you do not recognize a debt someone is trying to collect from you, I could understand calling it alleged. But if you know the debt is yours, it isn't really alleged is it? But a consistent description of your credit card debts I see from dodge a debt promoters is "alleged debt". My point here is – being cautious of debt relief promoters or service providers that refer to your debt as alleged. Leave all of the "allegification" to an experienced consumer law attorney. Hopefully you can resolve your debt before needing one.
Do you need forensic accounting to eliminate your debt?
Debt collection is actually a really simple business. Resolving your debt directly with your creditor, a collection agency, or a debt purchaser is simple too. You simply match your legitimate resolution options with your income and financial resources mapped out over anywhere from a day to five years. Forensic accounting is not simple, nor is it something a debt collector is required to provide. Ask for it all you want, but unless that is something meaningful to request when you are defending against a collection lawsuit (most people would prefer to not be sued), there is no real value to requesting it.
DDA outlines the services that will be performed when consumers purchase their program. It appears mainly to consist of trigging consumer protection rights you have that are simple to implement. But DDA looks to have thrown in anything they could find laying around, including the kitchen sink, into their letter writing debt elimination program.
Dispute and debt validation letters with a touch of kitchen sink.
I reached out to a debt collection executive to inquire how many odd and loopy letters they receive that would fit the description of the DDS program Steve and I covered last week, as well as the type outlined below that are part of the DDA program. This one collector can receive anywhere from 50 to 100 over the top dispute letters a week. Granted, there are plenty of dodge a debt websites that promote example dispute and debt validation letters full of convoluted requests and demands. So those numbers do not necessarily reflect the success of these magic letter, and argumentative debt dispute programs.
You have the legal right to dispute a debt, or request that a debt be validated. These rights are free for you to exercise, and the way you craft your request in a letter – in order to trigger your rights – are simple. Perhaps the purpose of complicating that process is to show some value for what you pay to programs like DDA.
Here are some ways DDA offers (for a fee) to complicate and convolute your consumer rights when dealing with debts in collection. My comments are bolded:
Provide a Client Services Representative to communicate with Clients; – Probably a good idea to have someone dedicated to each client in order to explain the contortions you will be taken through on the way to not eliminating your debt.
Prepare paperwork to be sent to your debt collector that requires they verify, validate and provide proof of authority to collect. The paperwork includes the following:

Notice and Demand For Verification of Debt – Simple, but used in some circumstances increases the likelihood you will be sued.
Cease and Desist Order — Constructive Notice – Simple, but can leave a creditor or debt collector no other alternative but to sue you. The constructive notice would be part of the kitchen sink being thrown in to what is just a simple letter asking a collector to cease contacting you. The simple notice triggers your right. Getting all constructive with it is, well… a construct.
Debt Collector Disclosure Statement, – While I would have to see what is meant by this, similar past DebtBeGone type of program versions of this letter are wholly unnecessary. Anyone receiving this will just chalk you up as a monetary protestor; someone who read an internet post that you did not understand; or as someone who wasted perfectly good money buying an empty can of DebtBeGone.
Notary Certificate of Service – Way too complicated. You do not need to use a notary to trigger your rights to request a debt be validated, send a cease communication letter, or to dispute a debt if it is not yours.
Notice of Non-Response (when no validation or verification is provided by Debt Collector) – Waste of perfectly good paper and postage. You are not perfecting some administrative process to later sue your bank for lending you money, or sue a collector or debt buyer. More kitchen sink stuff.
Affidavit in Support of Certificate of Non-Response – This is getting loopier…
Notice of Fault – … and loopier.
Additional Notary Certificate of Service for sending of Non-Response documents
and Notice To Cure Default, and
Presentment of collection correspondence
Other paperwork as appropriate; – And there you have it… I have run out of kitchen sink to throw at this.

Partner with an attorney within our network who works with DDA to provide legal frameworks necessary to our program; – I am not all that sure what this means. Are they partnering with attorneys, or are you? Why would you partner with an attorney? Is it to further try to help you understand how exercising a set of simple rights has been contorted and convoluted into something wholly unnecessary?
Provide a notary public to mail and record the communications sent to debt collectors; – Why? What possible reason would there be to throw a perfectly functioning and innocent bathroom sink into this process?
Refer the Client to a credit restoration company for credit repair services at no additional cost to Client. – Really? So after spraying a high priced, but empty can of DebtBeGone, the debt is not really gone. It is legitimately reporting on your credit report as having not been paid? Those poor sinks….
Letters to resolve debt woven in with administrative procedures and porcelain (sinks) – What could go wrong?
In the example DDA documents Steve provided, the only debt that is at issue is a Capital One account with a balance over 13k. Every creditor has their own policies for collection, and who they may assign, or sell a debt to. Capital One, at least today, leans heavily toward using litigation to collect debt. In fact, often just one whiff of DebtBeGone, and Capital One will place an account with an attorney with authorization to sue. Settlement trends with Capital One, which was apparently the debt relief approach people signed up with CAP for in the beginning, can be 50% (not always, but targetable). The person whose DDA agreement we are discussing here would pay $3,400 for her empty can of DebtBeGone. Paying $3,400 for the privilege of increasing the risk of being sued, followed by what may be additional costs to retain an attorney, while benefiting sink manufacturers, will not benefit the consumer.
If the cost of DebtBeGone were pooled together with the funds that I estimate would be an attorneys fees if sued; the debt could be settled; chapter 7 bankruptcy costs covered with 4k to spare; or about 280 dollars a month could establish a 60 month repayment plan.
There are current trends with creditors, debt collectors, and even debt buyers, where an account this size could potentially be resolved for the roughly the same amount this person would pay to DDA for DebtBeGone. You can actually work directly with your lender, the collection agency your account is with, or what have become very flexible debt buyers. There is really no need to pay anyone for direct assistance. Which makes buying in to argumentative debt elimination programs a complete waste of your limited resources.
If for some reason you are prone to these types of programs/sales pitches, please consider donating to the Save-A-Sink Foundation so it can be put to better use.
Michael Bovee founded CRN, a unique company offering debt negotiation education and services, in 2004. He recently published CRN's free online debt relief program as a tool to assist you with making informed decisions about dealing with problem debt, while keeping an eye on your future credit needs and goals. Bovee has been contributing articles and free reader feedback on this site for several years.

Michael is a debt industry professional who has volunteered his time to help answer reader questions.
Sincerely,

You are not alone. I'm here to help. There is no need to suffer in silence. We can get through this. Tomorrow can be better than today. Don't give up.
Do you have a question you'd like to ask me for free? Go ahead and click here.

Latest posts by Steve Rhode
(see all)