A debt industry insider and awesome tipster (send in your tips here) expressed some concern about continued affiliate recruiting emails from World Law Debt who claim to be "leaders in the debt solutions industry." – Source
World Law Debt is facing serious legal actions in Oregon, Illinois, and North Carolina. In Oregon alone they are facing $10 million in damages and full restitution of every consumer. Global Client Solutions has been producing documents that are being used in the prosecution to identify consumers. – Source
After looking through a recent affiliate recruiting email and the World law Debt handout and affiliate recruiting website I'm curious if affiliate might have a claim for being recruited to sell the World Law Debt program without being fully informed of the serious current issues.
Clearly states, regulators and some consumers are not happy with the services rendered and those services seem to be different than those promised to affiliates.
For example, the World Law Debt recruiting handout says: – Source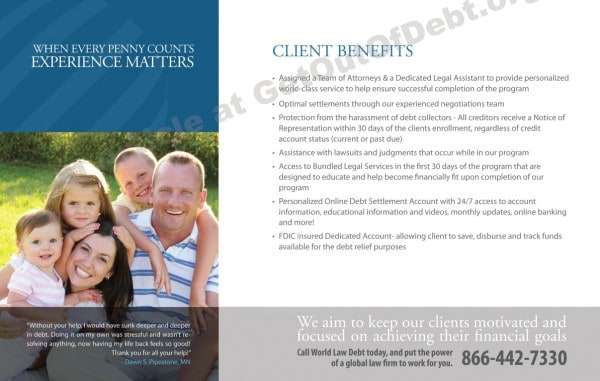 You can contrast that with the following news report.
KHOU in Texas reports:
Manning said the money is staggering. Four-hundred-twenty-five people gave money to World Law Debt, totaling more than $1.5 million. Only about $275,000 went to settlements, and more than $960,000 was company profit.

KGW's Unit 8 tracked down a former World Law Debt employee in Austin Texas.

The employee, who asked to not be named, said dishonesty was a part of his job.

"(It) definitely felt unethical. Obviously I was kind of part of it," the employee said. "I'm lying. I'm basically lying to the person on the phone, telling them we can still make a plan. We can figure something out knowing in my head that ultimately they're probably going to get sued by one of their creditors."

Late Thursday, Unit 8 was contacted by a representative or World Law Debt in Austin. He threatened an injunction filed in Federal Court to prevent KGW from airing this story.

So, KGW checked the background of the man who called, who identified himself as Randy Lepley. It turns out he is not an attorney. – Source
That seems to be a long way away from the affiliate testimonials World Law Debt is offering.
Testimonial 1
Samantha gets 500 thumbs up from Debt Relief Legally and I seriously feel like giving her a hug!!!!! I love the email I just received below. The call with Ryan Speakman was in fact today at 12 noon so I wasn't completely losing my mind. But as you can see below, they have another call tomorrow to get the banking info from him. She got him to do the ACH drafts!!!! OMG I love World Law Debt!!!!

Testimonial 2
Can you please tell Samantha and your staff that we are extremely pleased with their work so far. I am seriously so happy I could cry. Ha! I didn't get any phone calls or emails about someone telling my client something they didn't like (like "we will not work on your file at all for at least 6-12 months" and that has happened). I am so very happy I took the steps I needed to when I saw more trouble ahead and just switched to working with you guys direct. – Source
See past articles with Debt Relief Legally, click here.
Or this affiliate testimonial offered in the email sent out recently.
Affiliate Testimonial
Thank you World Law Debt for all the benefits you have offered my company. Not only have you provided my enrolled clients with great customer service, but you have also provided my company with all the tools necessary. The World Law Affiliate Services Team has taken my company to another level. Thank you once again for all you have done to make my business the success it is today.
What was curious about that email was the address listed in the bottom. It said:
World Law Debt
15 Enterprise, Suite 340
Aliso Viejo, CA 92656 – Source
Curiously, all of these issues still surround the yet unanswered support to defend the statement "World Law Debt is an international Full Service Law Firm with offices in 20 countries. With over 1000 attorneys in the United States alone." – Source
In this previous article I was unable to confirm that fact.
Are Affiliates Being Misled
I don't think there is any doubt some states have been unhappy with the practices and performance of World Law Debt. Yet World Law Debt continues to recruit new affiliates to sell their program and make money from consumers.
The disturbing question is if affiliates are agreeing to sell the program based on potentially unfair, deceptive, and abusive misrepresentations from World Law debt recruiters.
If you are a World Law Debt affiliate and you have concerns you'd like to share, you can contact me here.
Sincerely,
You are not alone. I'm here to help. There is no need to suffer in silence. We can get through this. Tomorrow can be better than today. Don't give up.
Do you have a question you'd like to ask me for free? Go ahead and click here.
I can always use your help. If you have a tip or information you want to share, you can get it to me confidentially if you click here.
Latest posts by Steve Rhode
(see all)