The flurry of student loan assistance programs exploding is the latest debt relief pitch rolling out. I've covered these here, here, here, and here.
An amazing reader sent in a new debt relief mailer through my I Buy Junk Mail program.
The consumer lives in Canada but the mailer came from the same notorious postal permit 1297 in Sacramento, California. The same postal permit used in many other debt relief mailers I've covered.
This mailer is targeted towards Canada residents who have some level of student loan debt.
As you can see, the self-mailer sent to Canadians appears to be an official looking document.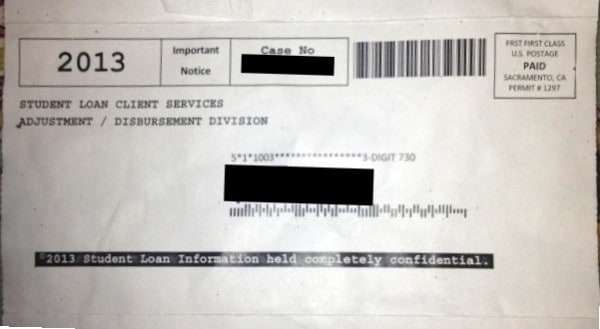 The inside of the mailer says it is Notice# SLBPQN-01-A a Student Loan Benefits Program – Pre-Qualification Notice.
It says the consumers student loan debt can be significantly reduced so instead of repaying $71,400 the proposed plan says they will be able to repay $7,500.
The mailer also states:
No payments for 90 days after enrollment.
No Negative effect on your credit score.
100% loan forgiveness on some student loans.
No credit qualification required.
The mailer also hosts a big BBB Accredited Business logo but coincidently fails to identify the business behind the mailer.
Consumer Said
The consumer who received this mailer shared the following statement:
"I noticed info on this company hadn't been updated since 2011 so I guess they have been lying low but they're at it again. Before I start I just want to say thank God for your site as after using three search engines and a million different search term configurations this is the only place I found out the truth about this company. I knew there was something fishy but they have worked very hard at closing all their old web addresses, anonymizing their new website whosis info and getting all new phone numbers and a whole new scam.
I received in the mail a very official looking notice from "Student Loan Client Services" when I opened it it had my name, my loan amount, the state I lived in along with a chart of my average monthly loan payment next to what their company could bring it down to for me as well as offering a subsidized interest rate, and my old payoff amount next to what that amount could be if I used their service.
There is a huge BBB logo on the inside along with a final notice date to take advantage of this and one of those fake checks at the bottom made out to me with "This is not a check" printed across it.
I didn't even stop to consider it might be a scam and called their 1-888-763-2757 number. It was answered by a machine telling me to hold for the next available operator to help me process my student loan reduction. I held for quite awhile and finally had a voice come back on saying "we are experiencing a high call volume or you have called after our work hours. If you have called after our normal work hours leave a message and your case number found on your letter and your phone number and we'll call you back. I hung up because I had called in the evening and thought I'd call tomorrow.
I called again at 1pm and got the same please hold message then held for awhile then got the "experiencing high call volume" message again (which normally asks you to keep holding but it always goes to the voice mail and hangs up) so that was my first weird moment but I left a message. Earlier that day I had received a call from an 888 number but didn't answer assuming it was a sales call but they left a message. Out of curiosity I listened to it after leaving the message and sure enough it was "Patty" with the "Benefit Center" returning my call about student loan forgiveness and please call her back. I did and although it was a different number (888-733-0149) it had the same exact hold music and messages as the other number. This was my second clue as I hadn't left a message before to be called back so apparently they just go through their caller ID and call every number back which is spooky.
OH! I forgot after asking you to leave a message the recorded voice says if you have any questions go to www.finalnoticeinfo.com
I went there still not super suspicious and when I saw how generic it was, how you had to fill out personal info to get to the next page and how nowhere is there a company name listed anywhere on the site or mailer I got suspicious. I googled all their phone numbers and not a single one came up in any search. Now what business doesn't want to be quickly and easily found on the internet? I did a whosis on the website and that was all anonymous and a million searches on Google, Bing and Yahoo. Finally I found your site and new it was correct because the image you have posted of the lady next to "Don't you deserve a fresh start?" is the same exact image used at finalnoticeinfo.com.
I wanted to let you know about this because you are the only site that has figured out their fraud and now they are targeting already struggling recent graduates who will be easy pickins in hopes of having their student loans reduced or forgiven.
Thank you for what you do and feel free to email me if you need any more information or have questions.
Thanks again"
Who is Behind This Deceptive Mailer?
The consumer referred to the website finalnoticeinfo.com which had the screen below. As you can see it appears the company is identifying their mailing as coming from the U.S. and the reference number example looks like one given to a CA resident.
The company says they programs are offered through U.S. "licensed and bonded non-profit 501(c)3" charities, among others.
The domain FinanlNoticeInfo.com ownership is now hidden but as of October 23, 2012 the domain was owned by:
Domain Name: FINALNOTICEINFO.COM
Created on: 27-Apr-12
Expires on: 27-Apr-14
Registrant:
American Financial Benefits Center
925 Lakeville St.
175
Petaluma, California 94952
United States
Administrative Contact:
Brandon Frere bfrere@hotmail.com
(707) 758-0662
The address is for a UPS Mailbox Store. – Source
It might just be completely coincidental but the consumer said the representative who called back identified themselves as calling back from "Benefit Center" and the company associated with the domain name in the past was American Financial Benefits Center.
American Financial Benefits Center is a BBB Accredited Business with an A- rating. – Source
According to Corporationwiki the company is an active California company.
According to the State of California the company is located at:
311 PROFESSIONAL CENTER DRIVE
SUITE #200
ROHNERT PARK CA 94928
A website (afbcenter.com) for AFB Center lists the same address. and the last public ownership listed was the same as that associated with the mailer.
Conclusion
Residents of Canada should proceed with caution if they receive similar offers promising student loan assistance programs. The government of Canada offers student loan assistance options directly without having to pay for such help. See this government website and learn more about the government repayment assistance of forgiveness programs.
Canadian Student Loan Assistance Programs

Repayment Assistance Plan
The Repayment Assistance Plan helps you pay back what you can reasonably afford.

Repayment Assistance Plan for Borrowers with a Permanent Disability (RAP-PD)
The RAP-PD helps borrowers with a Definition of permanent disability pay back what they can reasonably afford.

Severe Permanent Disability Benefit
If you have a Definition of severe permanent disability, you may be eligible to have your loans forgiven through the Severe Permanent Disability Benefit program.

Revision of Terms: Reduce Your Payment
Under the Revision of Terms measure, you can ask to have your student loan payments decreased or increased your student loan payments if you are having difficulty repaying your student loan debt or wish to pay off your loan debt more quickly.

Canada Student Loan Rehabilitation
Is your Canada Student Loan in collection? Getting your student loan back on track is easier than you think. If you have missed payments on your student loan for more than 270 days and your loan is now in collection, help is available.

Canada Student Loan Forgiveness for Family Doctors and Nurses
If you are working as a family doctor, resident in family medicine, nurse or nurse practitioner in a designated rural or remote community, you may be eligible to have a portion of your Canada Student Loan forgiven.
Sincerely,

You are not alone. I'm here to help. There is no need to suffer in silence. We can get through this. Tomorrow can be better than today. Don't give up.
Do you have a question you'd like to ask me for free? Go ahead and click here.
This offer was able to be reviewed because a kind reader sent it in via my I Buy Junk Mail program.

If you receive a credit or debt relief offer in the mail, do some good and let me pay you for it. Click here.
Want to See More Mailers?
Want to see more mailers I've reviewed as part of this program? Click Here.

Latest posts by Steve Rhode
(see all)