A friend recently got a call from someone posing as an IRS agent. The "agent" gave a badge number and said she owed money. There's only one problem, it was all a scam.
The Federal Trade Commission is reporting an exploding number of complaints are pouring in about calls from fake IRS agents that want you to send them money. This scam is as devious as the fake debt collector scam where people get calls saying they will be arrested if they don't pay on an old debt.
The fake IRS agents often ask people to wire money or load money on a pre-paid debit card which they will drain. The phone calls often appear to come from the Washington, D.C. area and the scammers might even have a partial Social Security number they acquired someplace else. If they do have a partial Social Security Number, I would not be surprised if this is just a derivation of the fake debt collector scam where information was scooped up from online payday loan sites.
The only thing in common with the fake debt collector and fake IRS agent scams is people assume the person calling is being honest and is a real enforcement agent, and they are scared by the call.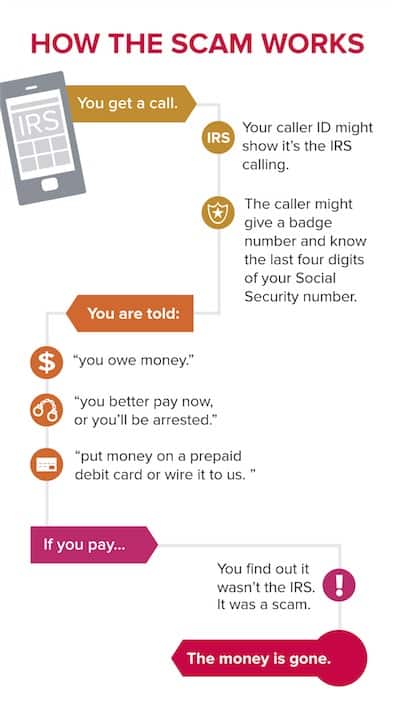 It is important to know if you owe the IRS money they will not first contact you by phone or email. They will send you a letter.
If you get a call out of the blue asking you for money, don't panic.
Instead, do the following things:
If you get a call like this, hang up. And let your friends know to do the same.
If you have a credit or debt question you'd like to ask just use the online form. I'm happy to help you totally for free.

Latest posts by Steve Rhode
(see all)