An amazing reader Shawn sent in another new debt relief mailer through my I Buy Junk Mail program.
Shaw sent in another mailer received from Crestmont Funding. This one is different than the one I reviewed in this article. That other article has more information on Crestmont Funding than this one does.
The new debt consolidation loan mailer is signed again by Phillip Fox and talks about reducing "high-interest credit card debt and crushing monthly payments."
The mailer claims the interest rate on this debt consolidation loan is "as low as 3.75%" but there is little to no information in the mailer sent to me to disclose the terms of the loan.
Even using the mailer financing table, you still can't calculate what the interest rate will be because the example provided does not tell you the length of the loan.
On wandering over to Crestmontfunding.com I was a bit surprised to read their service described as s credit counseling service, "Then a credit counselor suggests a solution: a debt consolidation loan that pools all your bills into one, with a single affordable monthly payment." – Source
It seems there is no easy way to discover, even on their website, what the terms really are of the loan promoted in the mailer. If someone can find the link to the loan terms, please post it in the comments below.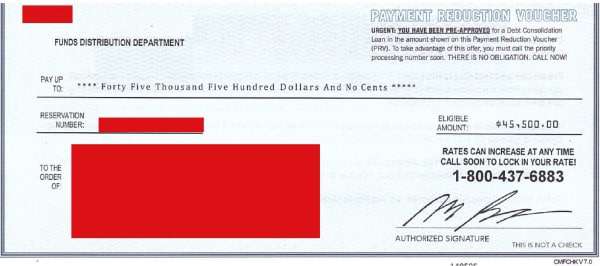 The fake check enclosed with the mailer says the person receiving this has been "pre-approved for a debt consolidation loan." The interest rate used in the example in the mailer is 3.75%. So I'd love to hear from anyone who actually got a debt consolidation loan from Crestmont Funding to see what the actual loan terms were. If you did get a loan, post the terms in the comments section below.

Get Out of Debt Guy – Twitter, G+, Facebook
This offer was able to be reviewed because a kind reader sent it in via my I Buy Junk Mail program.

If you receive a credit or debt relief offer in the mail, do some good and let me pay you for it. Click here.
Want to See More Mailers?
Want to see more mailers I've reviewed as part of this program? Click Here.

Latest posts by Steve Rhode
(see all)