I think debt relief companies often get the wrong impression about why I write articles about debt relief lawsuits. It's not to call out the company named but to help other companies see what strategies are being used to challenge debt relief companies.
In this suit the Plaintiff used an interesting approach and target the very method by which mailing lists were generated. An interesting strategy. The case was presented by Paul Kuzmickas and Matt Alden with Luftman, Heck & Associates.
Of course, the final disposition of the case will need to be be determined by a settlement or the court. Until then, here are the challenges made and facts alleged.
Kipp is a resident of Ohio and received marketing material from Debt Arbitrators, 350 N. Sait Paul Street, Dallas, TX. Debt Relief Advocates, 5068 W. Plano Parkway, Suite 300, Plano, Texas was also involved in this relationship.
The Plaintiff alleges both companies regularly solicit consumers for debt settlement services.
And Here is Where It Gets Interesting
"In order to target their marketing, Debt Arbitrators, LLC and Debt Relief Advocates, LLC obtain lists of consumers, including a list with Kipp's information, who maintain high credit card balances and other factors that indicate financial distress. Upon information and belief, the list at issue originated with a consumer reporting agency.
The defendants knew or recklessly ignored the fact that they were obtaining data which originated with a consumer reporting agency.
Upon information and belief, Debt Arbitrators, LLC and Debt Relief Advocates, LLC either directly, or through other marketing agents, obtained information on Kipp's credit worthiness, credit standing, credit capacity, character, general reputation, personal characteristics, or mode of living from a "consumer reporting agency" as defined by the Fair Credit Reporting Act, 15 U.S.C. §1681a(f).
Upon information and belief, the defendants used the impermissibly obtained information to market debt settlement services to Kipp.
The information is therefore a "consumer report" as defined by the Fair Credit Reporting Act, 15 U.S.C. §1681a(d).
The defendants compiled the consumer reports in a joint venture to advertise, promote and operate a business of soliciting clients for their debt settlement and credit counseling services or for the services of other companies.
Obtaining and using a consumer report for marketing is an impermissible purpose in violation of the Fair Credit Reporting Act, 15 U.S.C. § 1681b(f)." – Source
What is not clear from the case, to me, is how the information was obtained to market to consumers. Was it generated from a credit report or from a purchased marketing list from a credit bureau? That seems to make a huge difference.
According to the Fair Credit Reporting Act "Subject to subsection (c) of this section, any consumer reporting agency may furnish a consumer report under the following circumstances and no other:"
Section 15 U.S.C. § 1681b(f) says, : "(F) otherwise has a legitimate business need for the information—
(i) in connection with a business transaction that is initiated by the consumer; or
(ii) to review an account to determine whether the consumer continues to meet the terms of the account."
The argument put forth by the Plaintiff is that the information obtained, however, was used in a way that it made the information defined as coming from a "consumer reporting agency."
"(f) The term "consumer reporting agency" means any person which, for monetary fees, dues, or on a cooperative nonprofit basis, regularly engages in whole or in part in the practice of assembling or evaluating consumer credit information or other information on consumers for the purpose of furnishing consumer reports to third parties, and which uses any means or facility of interstate commerce for the purpose of preparing or furnishing consumer reports." – Source
So that is an interesting approach. It seems the allegation is that by furnishing the debt relief companies some information based on the consumers financial reporting the companies received a "consumer report" and were then able to make some determination on the qualification of the consumer for the program.
The complaint alleges "Debt Relief Advocates, LLC and Debt Arbitrators, LLC are each a "supplier" as defined by the Oh. Rev. Code § 1345.01(C) because the defendants were engaged in the business of debt adjusting, budget counseling, debt management, or debt pooling services, or holding oneself out, by words of similar import, as providing services to debtors in the management of their debt to a consumer in the State of Ohio for purposes that were primarily for personal, family or household use."
The suit goes on to allege the failure of the debt relief companies to register to do business in Ohio created more problems. Actually the registration issue is one I've written about over and over again for years.
"d. the defendants made false, unfair, deceptive, or misleading statements to induce a consumer to pay for their purported services, by sending the mailers in Kipp Exhibit 1, pages 3-5, which did the following:
i. falsely claimed Kipp owed balances of $15,000.00 falsely claims settlement amounts of $8,550.00 and $9,300.00.
ii. falsely implied that defendants can legally perform debt adjustment services in Ohio;
iii. made false or misleading statements to induce a purchaser to pay for services in violation of R.C. § 1345.02(A).
iv. representing that the subject of the consumer transaction has sponsorship, approval, performance characteristics, accessories, uses or benefits that it does not.
v. knowing of the inability of the consumer to receive a substantial benefit from the subject of the consumer transaction.
vi. used a sales presentation which makes the material facts of the offer misleading or conveys or permits an erroneous impression as to the services offered for sale.
vii. indicating that Kipp's debt would be reduced to less than what she owed when Defendants had no knowledge that Kipp's debts could be renegotiated.
viii. indicating that an "open enrollment" period existed
ix. indicating that Kipp must call by a specific deadline in order to "activate your program immediately."
x. indicating reference numbers "511A-155698," "511C-155698," and "BOJ-3950" existed when no such reference number existed.
xi. indicating Kipp had a personalized debt mediation program as described in Kipp Exhibit 1 pages 1-2 that she needed to "activate";"
Exhibits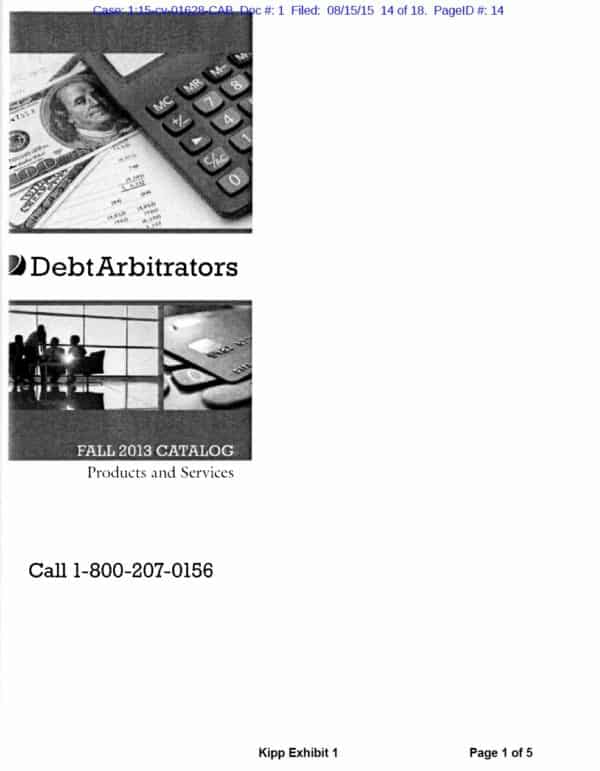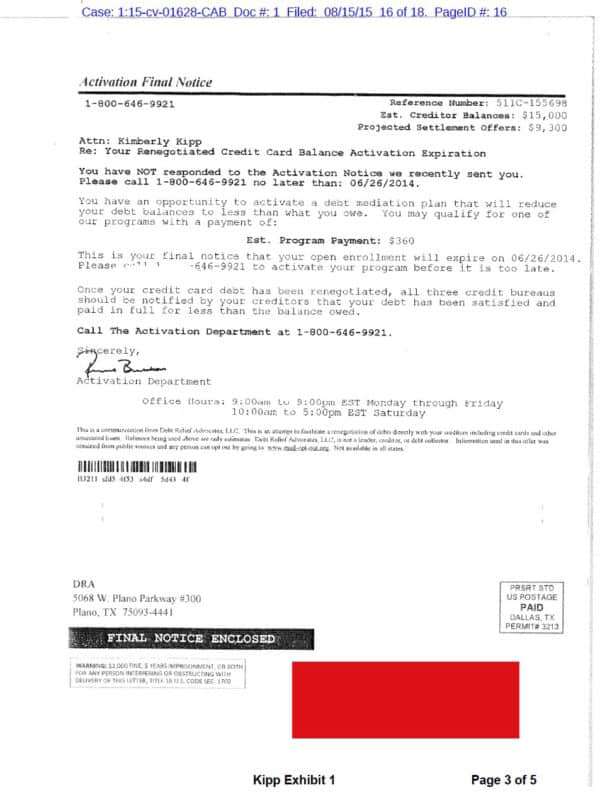 Sincerely,
You are not alone. I'm here to help. There is no need to suffer in silence. We can get through this. Tomorrow can be better than today. Don't give up.
Do you have a question you'd like to ask me for free? Go ahead and click here.
If you have a credit or debt question you'd like to ask just use the online form. I'm happy to help you totally for free.
Latest posts by Steve Rhode
(see all)