I recently wrote about Omni Management Partners as the result of a comment made on the site. Subsequently I received a copy of the client agreement.
What follows is just my opinion about what I read in the agreement. I am not a lawyer and can't offer any legal opinion about this agreement. What you will read below is simply my observations from reading the agreement sent to me. Nothing more. If you want a legal opinion about this agreement before you sign it, you should consult with a lawyer who is licensed in the state you live in.
The client agreement I received from a consumer was 60 pages long. Yes, you read that right, 60 pages. I find it hard to believe that many, if any, people would read all 60 pages and understand what was being sold and promised and by whom. And it did appear a couple of pages were duplicated in the agreement.
I am absolutely not trying to pick on the company Omni Management Partners, who appears to be selling this thing that they go on to say is not a service because they are not a service provider.
Trying to decipher these client agreements is important, I think, for both the company and the consumer. For the company it is important because a fresh set of eyes can ask questions or point out issues that are accidentally inconsistent, vague, or unintentional. These issues can develop over time as an agreement is tweaked and tuned. It also helps sales representatives to better understand what they might be selling and what might need more explanation. For a consumer it is important to help them be more informed about what they are being asked to sign since typically these agreements say that no matter what you've been told by a representative or read on the website or email, it is whatever is in the agreement that you are buying.
The total agreement the consumer was asked to sign included agreements from Omni Management Partners, Reliant Account Management (RAM), US Legal Club, and Breeze Financial Solutions. At least three of the companies share the same virtual mailing address.
Several or all of the agreements ask the consumer to relieve the companies of liability, waive their rights to class action lawsuits, and demand arbitration for disputes.
What you will see below are some of the pages from the client agreement and my observations about those pages. The entire agreement is simply too big to publish here. I'm still shocked this was a 60 page client agreement. I think that is a new record in the size of debt relief agreements I've reviewed.
It took me hours to go through and make sure I read and cross-checked every line. There were issues here that I didn't even include in my review below or it would have wound up 7,000 words long. What you will find below are items I felt were the most important to point out.
So Let's Begin
Omni Management Partners, LLC says they are located at 150 E. Palmetto Park Rd., Suite 800, Boca Raton, FL 33432. This address is for a virtual office space. – Source
Omni Management Partners (OMP) states they have not promised or guaranteed any specific results. They state they are not a law firm and do not provide any legal services. Interestingly, they do say their attorneys and not attorneys-at-law or law firms. I don't understand that distinction. Can you be an attorney but not an attorney-at-law? OMP also says they are not a credit repair agency, credit counseling service, debt management service, or debt relief service provider. They also say they will not pay your creditors or collectors. And as we will discover, it appears there are no payments made on or behalf of the clients to their creditors.
Best I can figure out the OMP thing (not sure what to call it since they say they don't provide a service) is a debt validation effort or a tee up to get the client sued. Seriously, as you go you will see how confusing this gets.
Keep in mind, the OMP agreement says they are not lawyers and don't provide legal services or representation. But this is the message their website sends out.
The front page of their website at omnimanagementpartners.com seems to be written like something a lawyer or legal representative might say. It says they will "evaluate your case," "could prevent debt collectors from contacting you again," and help you determine if you are a victim of the bank.
Their website says one of the ways they combat collector calls by representing you with an attorney. "When you are represented by an attorney, the debt collector must deal directly with the attorney, meaning you can avoid the overwhelming and harassing attempts to contact you in order to collect debt." – Source
But since the agreement specifically says Omni Management Partners does not provide any legal representation then how would a client be represented by an attorney of theirs? And if not represented by their attorney then why purchase their thing?
The agreement describes their service the business of risk management. But the website describes OMP by saying, "Omni Management Partners, OMP, provides various services to Americans nationwide. Our speciality is debt and consumer rights. We know the difference between alleged debt and a valid debt. We also know how to verify if that debt is alleged or legitimate. Knowing the difference between those two types of debt can save your thousands. Our goal is to educate and protect our clients." But then the client agreement goes on about them assuming the liability for the consumer debt, something that is not mentioned on the website, or at least I could not find it.
As part of this agreement is a separate agreement with Reliant Account Management to collect money from the consumer. RAM is located at PO Box 337, East Irvine, CA 92650. RAM is charging a monthly fee of $5.
It is a bit confusing to me that while OMP says they "OMP does not collect money from you to pay a creditor or collector" the RAM agreement says "Customer authorizes RAM to collect and deposit payments customer has agreed to make with Omni Management Partners, LLC, and to initiate transfers from Customer's account indicated below at the depository financial institution named below, and to deposit and hold Customer's funds in a trust account established and serviced by RAM."
So if money is transferred from the consumer to a trust account at RAM on behalf of Omni Management Partners, what is that money to be used for if not to pay collectors or creditors? Later we will learn it seems to all go towards fees.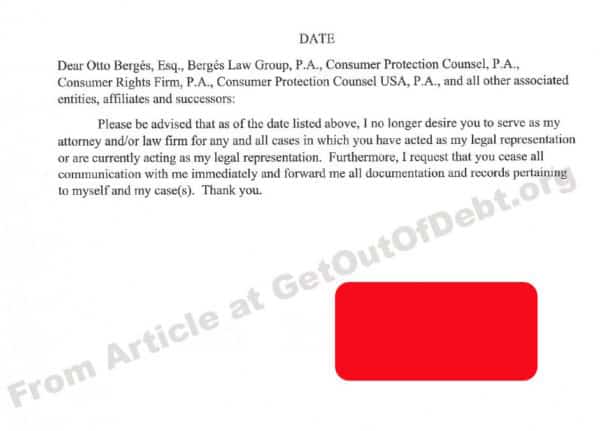 In the past there have been instances of one company trying to takeover the clients of someone else. But in this agreement is a very interesting page which encourages or allows the consumer to terminate the services of Otto Berges, Berges Law Group, Consumer Protection Counsel, Consumer Rights Firm, and Consumer Protection Counsel USA. It would be interesting to know more about the relationship between OMP and those companies to better understand why they are helping consumers to terminate their agreement with those companies to enroll for OMP services.
Now one option is it is a friendly takeover of clients but then their is this line in the document which demands that those companies and attorney cease communications. It says, "I request that you cease all communication with me immediately." It might just be me but that seems a bit hostile if this is an account acquisition.
Next, we have the start of the agreement in the OMP package for US Legal Club, which is located at the same address as OMP, 150 E. Palmetto Park Rd., Suite 800, Boca Raton, FL 33432.
So let's see what the consumer is getting when they join US Legal Club. Well the first thing we know is they are not getting legal advice from US Legal Club and that the club is not a law firm. It appears what the consumer is getting is access to "a nationwide network of affordable attorneys."
The agreement says the consumer will pay a $300 fixed fee for attorney representation if they are involved in litigation. The page also says US Legal Club "does not guarantee the quality or quantity of legal services provided by its participating attorneys. But on the next page it says the attorneys are pre-qualified for inclusion in US Legal Club. So it's not clear what they would be pre-qualified in if not quality.
When it comes to how attorneys are pre-qualified the website, uslegalclub.com, says:
"Attorney Selection Process:

When members enroll in the US Legal Club plan, they will choose from a list of attorneys provided by a representative to represent them in a specific area of alleged debt defense or consumer protection law that is in their geographical location and speaks their preferred language. Members can use as many attorneys as they like, in any area of the country, without limitation.

US Legal Club performs extensive screenings and background checks on each attorney that it recruits to be a part of the plan. Attorneys recruited must have a BV or better rating to join the club. Additionally, they must be in good standing with their state(s) bars, maintain a physical office in the state in which they are domiciled, and provide US Legal Club a certificate of good standing to practice in their state bar and proof of malpractice insurance.

Since US Legal Club provides members with attorneys who have experience in an extremely precise area of law, US Legal Club takes special care to establish that each of its attorneys is experienced in the practice of consumer protection and alleged debt defense and has had proven success in representing clients in these areas of law."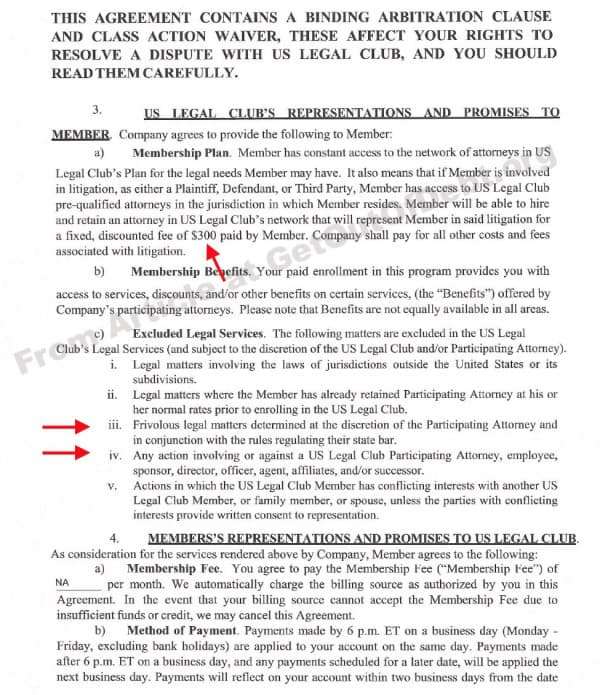 The US Legal Club agreement talks about a fixed fee if the consumer is sued but I could not find any description about what the extent of that representation is. Does that mean the attorney will battle out a protracted case in court through appeals or even represent the consumer in court? I'm just not sure and the agreement didn't help me clarify those questions.
However, what we do know is some issues are not included, like frivolous legal matters, whatever those are, and any action against seemingly anyone associated with US Legal Club.
In order to help clarify if the $300 charge was the only expense for legal represenation, I went to the US Legal Club website and the site says:
"Q. – Can plan attorney ask me for a retainer?
A. Yes they can. Upon completion of a free consultation, you and your attorney may decide to proceed with further legal action. This could require a substantial amount of hours being spent on your case by your plan attorney. If such a situation arises, your plan attorney may ask for a retainer based on the estimated number of hours he or she thinks the case will take. As a plan member, you will only pay a flat fixed fee of $300 for an attorney to represent you in more complex litigation." – Source
I'm still not clear on where that leaves consumers. Maybe it is trying to imply that a retainer may be required for services that cost less than $300. I'm not sure and that's a question people should clarify.
The agreement says there is no charge for membership in US Legal Club. CorporationWiki says the current manager of US Legal Club is Craig Smith and Jeremy Marcus was a past manager of the LLC. – Source
At the time of this article the BBB did not provide a rating for US Legal Club. – Source
As we move through this 60 page client agreement the next section is for services from Breeze Financial. Breeze Financial Solutions says they are a nonprofit Florida company that provides "credit dispute management services and credit score consulting." It does not appear Breeze Financial Solutions is an IRS 501(c)(3) nonprofit, according to the IRS exempt organizations search utility for Boca Raton, Florida.
According to CorporationWiki, Craig Smith is the current director and Jack Marcus is the past director. – Source
It appears the services Breeze Financial is providing is to assist consumers in disputing items on credit reports and credit report reviews.
The fee for the services of Breeze Financial Solutions is $298 per month for approximately 18 months. If it is paid in full that would be $5,364.
What I find perplexing is that the agreement says services are provided before fees are charged yet a fee is charged in equal installments each month. How can services be equally delivered each month when they are an odd number of accounts the consumer has?
Breeze Financial also says "neither you nor any credit repair company or credit repair organization has the right to have accurate, current, and verifiable information removed from your credit report." I'm happy to see that language in the agreement to hopefully inform people that not all negative items can be removed.
The also say that for more than $5,000 "Breeze cannot guarantee any specific outcome for services provided, and Breeze cannot guarantee that disputed items will be corrected or removed." They also say "fees are generally non-refundable." But what is interesting is that unlike the Omni Management Partners agreement, the Breeze Financial Solutions part does not state how funds will be collected from the Client. The RAM agreement to collect funds does not name Breeze Financial as a party so either Omni Management Partners is collecting money on behalf of Breeze from the consumer or Breeze has a payment process not included in this agreement. If OMP is collecting funds on behalf of Breeze Financial would that then make them a credit repair organization? Not sure.
At the time of this article, the BBB did not list any rating of Breeze Financial. – Source
A BBB rating or no rating is not a sole indication of anything but just another item to check as part of a total examination or review.
I wrote these free guides people can use to take a look at any debt help company they are thinking of using. This is the sort of process I use.
It's not till nearly page 40 that we get to the Omni Management Partners agreement. The agreement says OMP "is in the business of risk management." I have no clue exactly what that means as far as helping the consumer with a debt issue or all the other things claimed on their website.
But they say OMP "assumes all or a portion of Client's liabilities as to the valid debts in exchange for a payment from Client." That is curiously interesting. Tell me more.
The OMP agreement goes on, as you can see above, to say OMP will assume the liability for unsecured debts. I am entirely unclear how this would happen without the participation and acceptance of this arrangement by the current debt owner.
The agreement defines a debt they would assume liability for as a valid debt. A valid debt is described by saying it is "The accurate and actual dollar amount or balance, after reducing deductions and offsets a creditor or collector may owe to a borrower, that a borrower owes to said creditor or collector when said creditor or collector has fully performed its obligations pursuant to the validly executed contract [s]and has fully complied with all applicable laws and statutes."
Call me crazy but I neither know what that means nor do I understand how a debt would meet all of those terms.
While the page above says OMP may assume all liability for a debt, in a few pages further ahead they say they only assume 5% of the liability. Still, I have no idea how that is even possible.
They also say again they are not a debt relief service, do not offer credit correction or credit repair, they are not a credit counseling service, do not pay collectors or creditors, and they are not a service provider. Well if they are not a service provider does that mean they are not providing a service?
On the next page the OMP agreement attempts to further define what the service offered is. The document says, "Company represents that it is in the business of risk management. Client assigns its right arising out of alleged debts to Company and Company assumes all or a portion of Client's liabilities as to the valid debts listed in Exhibit A in exchange for a payment from Client." It goes on to say, "the goal of which is to reduce liabilities, and to protect both Company and Client."
While the company has been saying they assume the consumer debt liability and then they said they assume part or all of the liability, it's not until page 41 that the assumption is further qualified and the company says, "Company agrees to assume responsibility and liability for an amount not to exceed 5% of the Client's valid debts listed in Exhibit A. Company's assumption of liability for 5% of Client's debt is contingent upon Client's full and complete fulfillment of each and every Client obligation as defined in this Agreement." Do they mean all 60 pages of the single agreement sent to the consumer? Who would ever be able to comply with every single things laid out in this agreement? But wait till you get to near the end of this review and see the list of ongoing items the Client is asked to provide on a regular basis.
The agreement goes on to say that if the Company was to win a lawsuit against a creditor, "Client hereby assigns 100% of any benefits, damages, or money award that Client and/or Company may win in any lawsuit or dispute resolution entered into on behalf of Client and/or Company, including any class action lawsuit that may arise regardless if that lawsuit is initiated by Client and/or Company related to the debts listed in Exhibit A. This assignment includes statutory and actual damages."
So if by chance some consumer was to win some big award or some benefit in a class action lawsuit, it would all go to the Company? That's the way I read it. How does that benefit the consumer and it does not appear it would offset the fee owed.
This client agreement is for less than four debts that total about $35,000 and the fee charged is about 17% of the debt listed on Exhibit A.
The consumer agrees to pay monthly for about three years.
On this next page the Company says the consumer has to have a program in place like the US Legal Club or they can use another provider as long as they have similar pricing. But the pricing listed on the US Legal Club agreement lists no price and says NA for pricing. How would the consumer find a similarly priced company to hire?
If the Client pays any creditor included, any money, it will not reduce the amount of fees owed to OMP. So it seems if a Client were to reduce the debt owed, independently from OMP then the entire fee would still be owed OMP.
Limited Warranty Meat and Potatoes
While the agreement provides no guarantee it does have a warranty, albeit "limited." So limited in fact it appears almost nonexistent.
The Limited Warranty section says, "Company does not promise or guarantee any specific results or outcome of any lawsuit or case filed against Client. However, if Company has fully performed it obligations as to the debts listed in Exhibit A and if a judgment of an amount pertaining to any such debt(s) remain due and legally collectible against a Client, then Company agrees to pay a percentage of that judgment."
So let's get this straight. The Company does not guarantee any service but if they do what they say they will do and the Client gets a judgment against them then the Company will do something. Can't wait to see what this will be. But I'm struck by why the consumer would not just file bankruptcy for a fraction of what the fees in this agreement are, stop all collection efforts immediately, and have their debt discharged in about 90 days in a Chapter 7 bankruptcy, as most people file.
So let's go on with the warranty section. "The percentage varies based on Company underwriting. This warranty is contingent upon Client completely performing all of his/her obligations under this Agreement. The failure to meet Company conditions may result in Client's waiver of this Limited Warranty. Company agrees to pay 5% for this Client. In the event a judgment is entered against Client, Company reserves the right to consult with the creditor or collector to attempt resolution of the debt with creditor or collector prior to creditor or collector collecting on such judgment." But how can they do that since they say they are not a debt relief company?
A referenced footnote in this section says, "Client agrees that he or she waives this Limited Warranty as a result of failing to meet Company required conditions of the Limited Warranty. Company's required conditions of this Limited Warranty are based on the sole discretion of Company." [Emphasis added] So how would any consumer ever get protection under the Limited Warranty if the Company can change the conditions whenever they want?
So a footnote on the next page, puzzles me. Again, OMP says many times they are not a debt relief company but in the footnote they say they may facilitate a settlement on Client's behalf. Sounds like a debt settlement company to me.
It seems that no matter what the consumer was told by a sales representative on the phone, they read on the website or they were told in an email – none of that matters. The only agreement and services to be provided are what is in the agreement, even if that is different than what was sold on the phone.
I have yet to see any refund policy if the client cancels and instead the agreement says their is only a limited time to cancel.
I think this next page blew my mind.
Again, of all the things the agreement says the company does not do, the power of attorney form must have been leftover from some debt settlement program because it says the consumer is appointing Omni Management Partners to do the following:
"Agent is appointed with full power and authority to represent me in negotiating the reduction, settlement, and payment of accounts owed to creditors."
The power of attorney also authorizes Omni Management Partners to get their fees from the trust account the consumer makes payments into. And while the consumer is "hiring the Omni Management Properties, LLC for services," that is neither the name of the company nor does it align with the fact they say they are not a service provider.
So as part of this agreement let's look at all the things the Client is supposed to do to be eligible for any of those benefits described above.
Client agrees to maintain and forward the following documents to Company:

Written call log ("Call Log") of all verbal creditor and/or collector contact, noting the date, time, duration of contact, full name of person Client spoke with, and a short summary of each call. Client shall maintain regular contact with, and provide Company with a Call Log every month.
All Creditor/collector correspondence Client receives via mail, fax, or email, including, but without limitation to: statements, letters of interest change, collections attempts, etc.
All legal documentation, including, but without limitation to: attorney correspondences on behalf of creditors/collectors, offers of settlement, summonses and complaints. In the event a creditor or collector sues Client, Client agrees to notify Company within three (3) business days, and provide Company with a copy of the lawsuit, as well as any and all documents received in connection with the lawsuit filed against Client. Client further agrees to secure legal representation through outside counsel or to become a member of, and maintain membership with US Legal Club or another legal club, to represent them in said lawsuit. Client agrees and acknowledges that Company will not provide legal counsel or representation in any lawsuit filed against Client.
Voice messages and recordings, and text messages from creditors/collectors/or attorneys representing creditors or collectors.
All other documentation, that Client deems necessary and appropriate for Company to review and maintain that pertain to Client's debts and/or alleged debts."
Maybe someone in the world is diligent enough to be able to do all those things but I'm not sure most people would know how to capture voice recordings and forward voicemails. The comprehensive list seems almost impossible to comply with.
Summary
It has taken me hours to make it through all 60 pages of this agreement. I've read hundreds of debt relief agreements over the years and I think these 60 pages must be in the top ten most confusing. I can't imagine an average consumer being urged to e-sign this document without a through explanation of what it all means.
And the OMP part of the agreement is still a mystery about what in the world they are selling. I don't know how they can assume any liability for any debt, how they say they are not a servicer provider or a debt relief company yet say they may help to settle the debt, and how the warranty seems almost without any merit and I could find no refund policy.
I'm not telling a consumer to not work with OMP or sign the agreement. What I am suggesting is some commonsense advice that if anyone is being asked to sign such an agreement and they have not read the entire document or does not understand the agreement, it might be a good idea to print the whole thing out and read it or find a local attorney in your state help to review this for you.
If you are a consumer who is considering using this company and you've printed out the agreement and have questions, don't be afraid to call your sales representative or email them to provide you a better description and help you to understand what you might be confused about. Just keep in mind, nothing they will say will matter, only what is within this agreement counts.
Sincerely,

You are not alone. I'm here to help. There is no need to suffer in silence. We can get through this. Tomorrow can be better than today. Don't give up.
Do you have a question you'd like to ask me for free? Go ahead and click here.
If you have a credit or debt question you'd like to ask just use the online form. I'm happy to help you totally for free.

Latest posts by Steve Rhode
(see all)