Someone just asked me about Americor Funding loan offer and the strangest thing happened. Now just yesterday I wrote about another company named GreenLink Financial that appeared to be a lending company that had a relationship with a debt settlement solution.
When I did a search to see if Americor Funding, INc. was registered to do business in California, they are located in Irvine, take a look at line 16 on the registration form. – Source
It says "Describe the Type of Business of the Corporation." And the answer is Debt Management.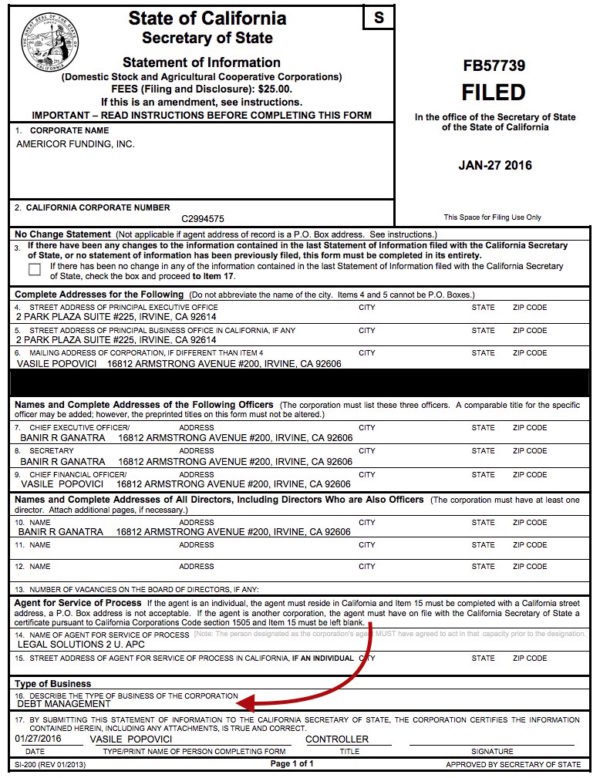 According to CorporationWiki, Americor Funding is related to Americor Financial, an apparent settlement company. They appear have the same guy as president, a Banir Ganatra.

On their website, Americor Funding says they are located at 2211 Michelson Dr, Suite 370, Irvine, CA 92612. That is the same address used by Americor Financial. – Source
According to the BBB website, at least one person posted a complaint that appears to indicate this might be a loan offer push to a debt relief solution. Martizgla said, "They sent a pre-approved personal loan at 3.99% to pay off high interest credit cards, but what they offer when you call and waste your precious time is a debt consolidation program, I wish I could give them a negative number in their rating. Their intention was never to give a loan, Is a total fishing scam. DONT BE FOOLED!" – Source
Another person, JW, said, "Received an letter in the mail stating I was pre-approved for a consolidation loan at 3.99% which sounded enticing to me. After the run-around for 3 business day, and a scheduled consultation with a supposed underwriter, they tried to sell me the idea a debt restructuring program. This was a total fishing scam in my opinion and a complete waste of time."
The company responded and said, "Underwriting reviews a list of items for qualification. A persons credit score doesn't give you a complete picture of a someone's ability to obtain a loan. So we also do an extensive review of their financial situation through a budget analysis. We worked very hard in those three days on Mr. ******** file to get him approved. Unfortunately, he did not meet our underwriting guidelines at this time. We simply informed him of an option to help get Mr. ****** back on track. We only provide options to clients that will help them gain control of their finances and help better their financial situation."
So it does seem Americor Funding has or will mention "options" other than the loan.
According to the Americor Funding website they are a licensed California lender. Their license was effective 4-22-2016 and originally licensed 3-3-2015. – Source
If anyone has any insight on the company or information they would like to share, please post it in the comments below. I could dig deeper but this was just a quick look.
Sincerely,
You are not alone. I'm here to help. There is no need to suffer in silence. We can get through this. Tomorrow can be better than today. Don't give up.
Do you have a question you'd like to ask me for free? Go ahead and click here.
Latest posts by Steve Rhode
(see all)