Recently the FTC and State of Florida swooped in and shut down the operation of Jeremy Marcus, Craig Smith and Yisbet Segrea. The S word (scam) is the word used by by the government officials.
As part of this action against the debt relief enterprise orchestrated by the Marcus crew there are two things that are evident. The first is it must have been exhausting trying to keep all the moving parts up in the air. Second, it was a massive network of human energy designed to provide a less than optimal result for consumers who fell for the 321 Loans sales pitch.
In fact I bet we will point back at this as a Day 0 moment for the beginning of the fall of the fake loan sales pitch into debt settlement.
When the government officials swept in a Receiver was appointed to try and preserve assets and review the operations.
The official Receiver's report reads like a movie script. I'll hit the highlights below but feel free to grab your favorite beverage and read it yourself.
As of the date of the Receiver report, the Defendants were represented by Greenspoon Marder but as of May 24, 2017, the team (Deborah Baker-Egozi, Garry W. O'Donnell, Franklin S. Homer, and Robby H. Birnbaum) managed to extract themselves from this mess. – Source
According to court documents, the Defendants (Marcus, Smith, Segrea et al) "have directed that the Firm cease working on this matter and stated that they were obtaining new counsel."
The Receiver was appointed on May 9, 2017 "and directed him to assume full control of the Receivership Entities and their affiliates, subsidiaries, divisions, and sales operations."
On May 10, 2017 at 8 AM a team of appointed people and law enforcement descended on the Defendant's office complex at 1410 SW 3rd St, Pompano Beach, FL and took possession of the 50,000 square foot facility.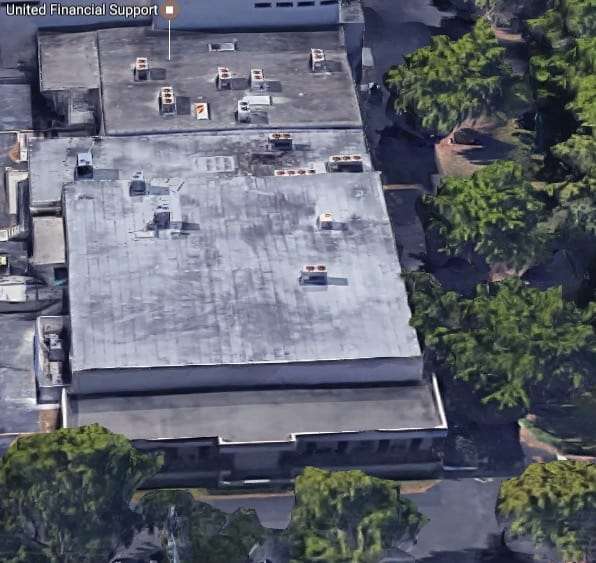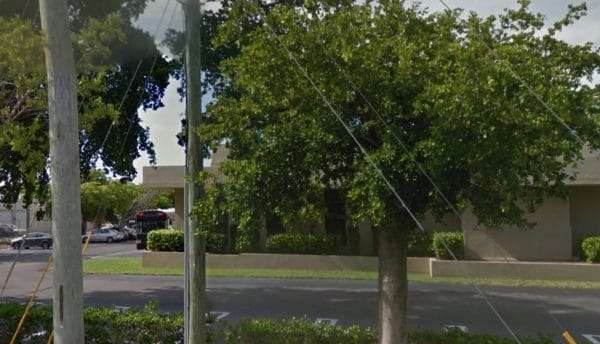 "Upon entry into the Pompano Complex, the Plaintiffs' forensic teams disabled the internet and servers to the entire building. It was then that the Receiver discovered that the server containing the Receivership Defendants' Customer Relationship Management ("CRM") program and data had been relocated to Panama. In fact, much of the Receivership Defendants' operations moved to Panama in 2015, including the entire "customer service department" in a shipping container costing $26,000.00."
"The Defendants, through a newly created Panama entity named Discount Marketing USA S.A., began operating in Panama and servicing existing U.S. customers. The Receiver identified that the Defendants' Panama operations are overseen by Defendant Yisbet Segrea, who spends most of her time in Panama and was there the week that the Receiver executed the TRO. To date, Defendant Yisbet Segrea has not fully cooperated with the Receiver, despite having been served with the Order."
"In effectuating the seizure of the Pompano Complex, the Receiver and his professionals reviewed a significant amount of the documents on the premises and interviewed personnel and management. During the course of this initial due diligence, the Receiver learned that at least 55 other businesses and business trusts (collectively, the "Newly Discovered Entities") utilized the Pompano Complex and shared common management and employees (the Receivership Defendants, the Relief Defendants and the Newly Discovered Entities shall collectively be referred to herein as the "Common Enterprise Entities"). A list of the Common Enterprise Entities is attached hereto as Exhibit "B.""
The newly discovered entities are:
Client Support Team, LLC
Cockburn & Associate LLC
White Light Media, Inc.
Discount Marketing II, LLC
Glasswell Capital, LLC
First Rate Holdings, LLC
HLFP, LLC
HP Properties Group, Inc.
HP Media, Inc.
JLM85 Management, LLC
NOTT8PB, LLC
Omni Financial Management Inc.
Omni Management Partners LLC
Opaque LLC
Shielded Network LLC
Viking Management Services, LLC
Pro Star, LLC
Summit Management, LLC
Blue42, LLC
Timing is Everything, Inc.
Helping America Borrow, Inc.
FFN Business Trust
321Loans Business Trust
Instahelp America Business Trust
BFS Business Trust
Helping America Borrow Business Trust
Associated Administrative Service Business Trust
ACS Business Trust
Active Debt Solutions Business Trust
First Rate Holdings Business Trust
HLFP Business Trust
17866 Lake Azure Way Boca Business Trust
US Legal Club Business Trust
Guardian LG Business Trust
Halfpay International Business Trust
JLMLP Pompano Business Trust
Paralegal Support Group Trust
Omni Management Partners Trust
JLM85 Management Business Trust
Glasswell Capital Business Trust
Cockburn & Associates Business Trust
Opaque LLC Trust
Discount Marketing II Trust
MD Marketing
HP Property Group Business Trust
HP Media Business Trust
Blue42 LLC Business Trust
Some of these entities had already been linked to the operation by attorneys DeLadurantey and Van Horn. In the suit filed on January 20, 2017 DeLadurantey and Van Horn had also made some additional links as well.
The Receiver goes on to say:
"While there may have been in excess of 80 businesses operating out of the Pompano Complex, there appears to be a complete commingling of monies. Payroll for the Common Enterprise Entities' various employees appears to have been paid out of at least three different entities at different times without any explanation. Specifically, the Receiver located paystubs from Payday Payroll, the Defendants' payroll processing company. The paystubs were drawn on the bank account of HP Media, LLC, yet another of the Common Enterprise Entities not currently a Defendant in this action. The Receiver learned from employees that the Defendants regularly changed which entity would pay the payroll for employees and that employees would receive multiple W-2's at the end of each year from the various companies that paid the enterprise payroll."
Upon entering the building a sketch was made of the offices.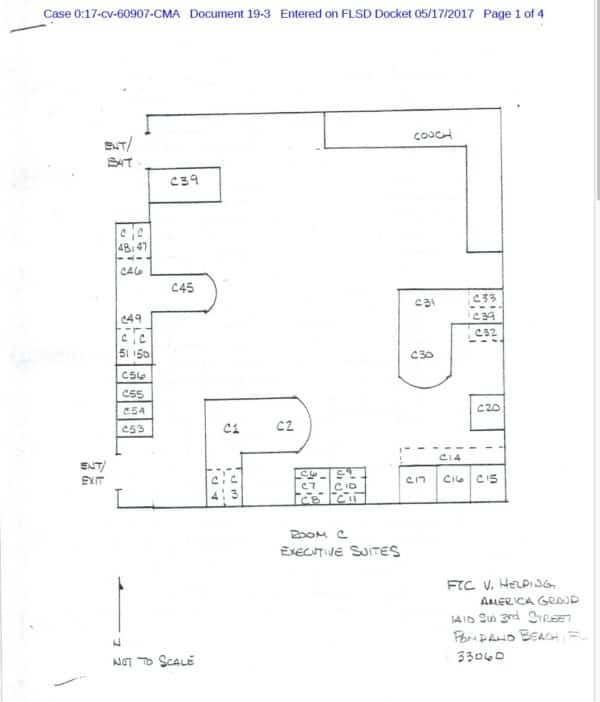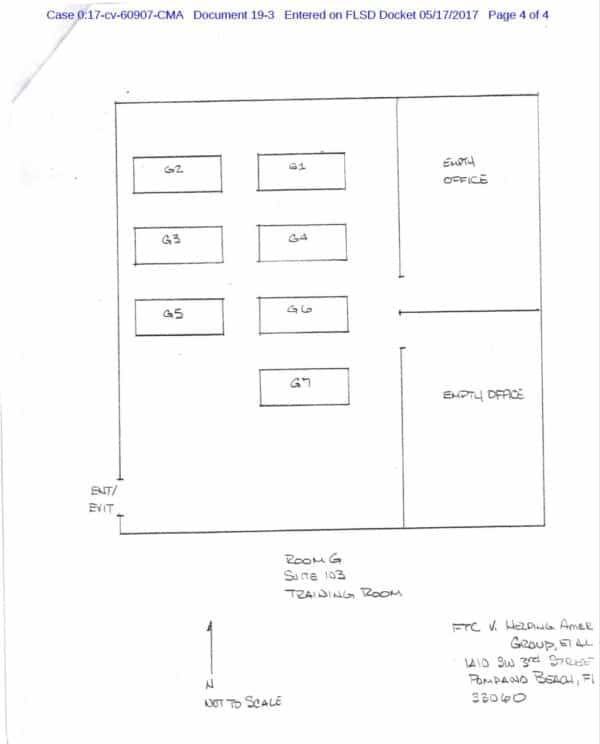 "In addition, the Receiver observed two painted school buses and a Ford 250 4×4 pickup truck at the Pompano Complex." An insider told me previously, "while they drive around in expensive cars and buy ugly black "party buses" that were supposed to be to transport employees, but have since been painted black and are used for Craig Smith, Jeremy Marcus, Yisbet Segrea, and Michael Silva to use as their personal party buses to go to the Keys once a month." I'm not sure if that's accurate but I did spot a black bus behind the building in the street view.
Panama
The same former insider told me the following which I have not confirmed but compare it to what the Receiver states.
Insider Says: "Now that their entire documents department has been moved to Panama where they pay the employees $1.50 an hour, they do not send out dispute letters anymore by mail. The employees there do not speak English, so you can imagine how that is going to turn out for them. Of course Jeremy Marcus does not care, he is saving money and hiding assets all at once so it is a win win win for him.
They now fax the dispute letters, to random fax numbers they find online, or they call creditors and ask for a fax number, so these dispute letters may or may not get to their destination. This is to save the money on stamps and envelopes and move the majority of the company to Panama where there is no extradition for white collar crimes.
Of course the consumers have no idea they are paying some person in Panama do fax a dispute letter, when the consume is often paying $500 a month, and yet Helping America Group cannot even afford to use a stamp to properly dispute the accounts.
They also moved the payment department, and soon sales, to Panama. There they believe they can hide from all the process servers and the attorney general, and they can also just shut down and close the doors one day, leaving the rent and employees unpaid, and start over again somewhere else. They did the same thing in Costa Rica a few years back, closed down and paid no one. You know Panama is where Jeremy Marcus will be when the sh*t hits the fan. He will probably leave Craig Smith holding the bag."
Receiver Says: "In October 2015, after the Enterprise was raided by a Florida state agency, Jeremy Marcus, created a new entity, Discount Marketing USA, S.A. ("Discount Marketing") and executed on behalf of Discount Marketing, a 3-year lease for business property located in Panama City, Panama. The Receiver understands that Defendants Jeremy Marcus and Craig Smith own a significant interest in Discount Marketing.
The CRM server for Common Enterprise Entities' customers, as well as the customer service department of the Enterprise, were moved to Panama City in a 40 foot container costing $26,000. Based on employee interviews and documents reviewed, the Receiver believes that the business of Discount Marketing. includes selling the same debt relief programs that are the subject of this case and serving Receivership Defendant/Common Enterprise Entity customers.
Files found at the Pompano Complex indicate that Jeremy Marcus provided financials of 321 Loans, Inc., in order to satisfy the financial requirements required by the Panama landlord, Global Realty Advisors, S.A. In addition, he used references of entities that had done business with the Common Enterprise Entities.
To further evidence that the entities that comprise the Common Enterprise Entities are interrelated, Paralegal Support Group, LLC, another Receivership defendant, utilized several different law firms in Panama that provided services ranging from immigration to incorporation and opening of bank accounts for Discount Marketing USA, S.A. at MultiBank, a Panamanian Bank. As of the date of this Report, despite having been served with the Order, Discount Marketing USA, S.A. and its management, including Defendant Yisbet Segrea, have refused to cooperate with the Receiver or his professionals unless Mr. Marcus is also present on the call.
The Receiver has heard estimates that there are 20, 40 or 60 employees in Panama, but has been unable to confirm the correct number. Certain employees informed the Receiver that many employees in Panama were recently laid off and that the Panama operation recently moved to a smaller office suite. The Receiver has reviewed information indicating that the Panama operation incurred expenses to change floors in the building where it operates, but has not confirmed this information.
Further, the server for the "Sugar" CRM system, the Common Enterprise Entities' customer information system, is currently located in Panama and can be compromised at any time unless the Receiver is given possession and permitted to image all data and maintain control over the software."
Reliant Account Management – RAM
"Further, the Common Enterprise Entities utilized Reliant Account Management for its ACH processing. RAM has a Client Login which allows remote access to the Common Enterprise Entities' ACH funding accounts. The Receiver obtained the username and password and has reviewed certain of the files contained therein, but has not yet performed a complete analysis of the ACH transactions. Given the interrelationship of the Common Enterprise Entities, the Receiver believes that it is critical to perform a forensic analysis of how money is collected from consumers and where RAM sends such money after it is automatically drawn from consumer bank accounts.
As described above, RAM has retained counsel and has been cooperative with the Receiver. On the evening of May 15, 2017, RAM's counsel provided the Receiver with a Dropbox link for a variety of account information. The Receiver has not yet reviewed such data."
"RAM, the Common Enterprise Entities' ACH processing company is providing the Receiver's contact information to consumers with questions why their ACH withdrawals have not processed since entry of the TRO and asset freeze. The Receiver has set up a dedicated e-mail address (ram@gjb-law.com) to field those inquiries and has returned all phone calls and e-mails."
"RAM has confirmed that they are holding $114,613.98: $27,013.93 that would have been transferred to Associated Administrative Services LLC (named as a dba of Instahelp America, Inc., but not on its own as a Receivership Defendant or Relief Defendant), $87,600.05 that would have been transferred to White Light Media, LLC (not a Receivership Defendant or Relief Defendant). Neither Associated Administrative Services LLC nor White Light Media, LLC are named Defendants in this action, however, they are part of the Common Enterprise Entities and the Receiver will be seeking to expand the Receivership over such entities. Both such entities collected consumer monies, but it is unclear which entity the consumer entered into an Agreement with, however Defendants' counsel informed the Receiver that White Light Media "was a disbursement account for RAM to deposit funds. They paid out the other entities."
Key Employee Interviews
The Receiver's team interviewed employees to gain an understanding of their job functions and how the Defendants conduct business. Employees interviewed by the Receiver's team include:
a. Jeremy Lee Marcus, Chief Executive Officer
b. Craig Davis Smith, Chief Operations Officer
c. Mike Silva, Violations Review
d. Michelle Rolle, Paralegal
e. Zena Sabell, Paralegal
f. Paul Herman, Esq. – Consumer Advocates Law Group, PLLC
g. Jeremy Menns, Human Resources
h. Anthony Loch, IT Professional
i. Omar Glenn, CRM Administrator (located in Panama)
j. Elvis Collado, Vicidial Phone Systems Administrator
Amanda Finley
"On Friday, May 12, 2017, Amanda Finley, Jeremy Marcus' wife, advised that she had obtained a certified check for $282,356 closing out the TBE account held in hers and Marcus' names at Citibank even though the TRO was served on her husband Defendant Jeremy Marcus at home on May 10, 2017. She represents that she obtained the check prior to learning of the Court's Order. The certified check is dated May 11, 2017 and the receipt shows a time of 1:38 p.m. Ms. Finley advised that she attempted to repatriate the funds to the account at 5:30p.m. on May 11, but that the bank had closed at 5:00p.m. She further advised that she again attempted to repatriate the funds prior to her disclosure to Receiver's counsel, but was informed that the bank rejected her attempts owing to the Court's Order. Ms. Finley turned the check, which she had endorsed, and the related bank receipts over to Receiver's counsel immediately after disclosure. The check and the receipts are currently maintained in a locked safe at the Receiver's office."
"During the Receiver's review of documents at the warehouse was a release dated October 21, 2016 located on Marcus' laptop computer. That release calls for the payment of $5,917.39 to Amanda Finley (Marcus' wife and a former law clerk to the Honorable Raymond B. Ray) and her attorney Otto Berges. The release purports to release Universal Services of America and Preston Melvin in relation to an accident that occurred on July 30, 2016. The release attached hereto and incorporated as Exhibit "H", has a notorial section at the conclusion of the form. The juriat for the notorial form indicates that Ms. Finley appeared in person. However the document does not bear the stamp of a Notary Public, but rather bears the "Ordered" stamp of Raymond B. Ray, United States Bankruptcy Judge with what is, upon information and belief, his electronic signature stamp. The stamp also bears the official stamp of the Court."
Update June 14, 2017

Amanda Finlyy filed a court document and helped to clear up the Receiver's misinterpretation of the document referenced above. Finely stated the signature and stamp are authentic and appear legitimately and with permission.
"Amanda Finley Marcus, Defendant Jeremy Marcus' wife was served with the TRO via email on May 10, 2017 at 8:29 a.m. The following day, on May 11, 2017, Ms. Finley went to a Citibank branch and according to the receipt at 1:38 p.m. closed out a TBE account she had with her husband by Cashier's Check in the amount of $282,356. She claimed to have no knowledge of the TRO and stated that she closed out the account because she was "mad" at her husband, Jeremy Marcus. She thereafter made two attempts to redeposit the check without success. Notably, despite being in regular contact with Receiver's counsel regarding a pending real estate closing, Ms. Finley did not disclose her activity regarding the check until after her second failed attempt to redeposit the check."
Jack Marcus
On Monday, May 15, 2017, Jack Marcus, Jeremy Marcus' father, closed out Relief Defendant Halfpay International, LLC's account at TD Bank via cashier's check in the amount of $255,000.00 (even though TD Bank had been served by both the Plaintiffs and the Receiver). The cashier's check was dated May 15, 2017 and the enclosed receipt was time stamped at 12:33 p.m. The cashier's check and receipt is currently maintained in a locked safe at the Receiver's office."
"The Relief Defendants and many of the Common Enterprise Entities have significant real estate holdings. The real estate is held in the name of a special purpose LLC, or in a business trust which is the managing member and holder of the membership interests in each special purpose LLC. The Receiver may seek to expand the receivership over each special purpose LLC holding real estate and its corresponding Business Trust at the appropriate time. Jack Marcus, Jeremy's father, is the Trustee of all of the Business Trusts and Jeremy is the sole beneficiary. Initial due diligence suggests that the real estate was quit claim deeded back and forth between the special purpose LLC's and the Business Trusts."
"Further, under similar circumstances, Jack Marcus, Defendant Jeremy Marcus' father, withdrew $255,000 from Relief Defendant Halfpay International, LLC's account at TD Bank, despite TD Bank being served with the TRO and Asset Freeze. The Receiver does not know the specific circumstances as to why Jack Marcus decided to ultimately turn the cashier's check over to the Receiver, but this second violation of the asset freeze further evidences the danger of a dissipation of assets."
Paul Herman and Consumer Advocates Law Group – "Why Paul?"
Paul Herman is a name I know in the debt relief industry. He's been around the block and last I talked to him he was rehabbing homes. But apparently he found another gig. The receiver said:
"The Consumer Advocates Law Group PLLC maintains an office in Suite 102 at the Pompano Complex. This law firm has common employees with the Common Enterprise Entities and purports to provide legal services to customers of the Common Enterprise Entities. Previously, legal matters were handled through the Berges Law Group, and then the Kerr Law Group, P.A. and currently, Paul Herman ("Herman").
According to Zena Sabell ("Sabell"), a non-lawyer, when clients are sued, they are required to pay an additional amount for legal representation ($300-$1,000). Clients who are sued for $2,500 or less (currently 900 people/claims) are handled by "case management" consisting of 3 people in Panama. No answer is filed because Defendants don't want to pay filing fee costs, much less cost of counsel. Per Sabell, these consumers are being mistreated.
Clients who are sued with claims in excess of $2,500 (for the additional fee) are provided with a defense. There are approximately 800 of such cases currently pending, and, according to Sabell, they are for the most part all being defended by Sabell and her paralegal assistant, Michelle Rolle ("Rolle"). Information concerning these suits is tracked in the Client Relationship Management ("CRM") Program / CRM Website: crm.myclientservices.com which is used to track clients, amounts paid, pending litigation, and document management. Sabell advises that she and her assistant track all lawsuits, draft the pleadings and motions, and send them to attorneys in the states where the lawsuit is pending for a signature when necessary.
When a client is signed up, CRM generates a form letter to creditors that is sent on behalf of the client asking creditors to validate debt, the amount owed, and a cease and desist request.
When a client gets sued, they either call the main client services number or go online to report a suit. If the client was part of 321, Help America or Instahelp, the Defendants would negotiate a one-time payment with whatever the client paid in principal (i.e., excluding interest payments). Sabell had access to view how much they paid via AutoPal. Sabell had authority to make settlements without discussing same with clients. If the client didn't have
enough principal for a one-time payment, Sabell would call the client and explain that they would have to come out of pocket to make payments directly to the creditor based upon what the client could afford on a monthly basis. Most clients couldn't afford a one-time payment.
If clients had any questions regarding the legal process they were told to call the Customer Service Department (which calls were routed to Panama).
Additionally, Sabell, not Herman, appears to be in charge of overseeing the "legal department" and out of state lawyers. On some of the documents Sabell sends to Court, she signs as Zena Sabell, J.D. Sabell also appears to have the use of the letterhead of at least one out of state law firm and has sent correspondence on that letterhead."
Rolle indicated that Defendant Jeremy Marcus told her that he was her "boss' boss" and thus her boss. Rolle explained that it is her understanding that she works in the legal department for entities owned by Jeremy Marcus. She emphasized that she was not really aware of what services the different departments/companies owned by Jeremy Marcus provided. Rolle and Sabell expressed uncertainty in regard to what the interplay was between their department and companies owned by Jeremy Marcus, but agreed that there was some overlap.
Rolle stated that clients would sometimes complain to her and Sabell regarding the services provided by the Defendants. In those instances, Rolle and Sabell would refer such clients to "client services" in Panama. Rolle stated that she believes that there are about 30-40 employees working in Panama.
According to Rolle (and Sabell), there are 1,700 total active cases with about 995 being handled by the Panama office. Thus, there are 705 active lawsuits where the Defendants are providing a legal defense and the Receiver has taken steps to ensure that these defenses preliminarily continue.
Paul Herman, is presently occupying a desk in Suite 102. Herman is a Florida licensed attorney who recently regained his Florida Bar license after having served a suspension for failing to supervise his staff, allowing a fraudulent order to be created and distributed and allowing a client to mistake or believe one of his employees was an attorney. As a result of Herman's bar suspension, his staff (including Sabell and Michael Silva) went to work for Jeremy Marcus. Herman also joined the group after winding down his office and was employed by Jeremy Marcus to provide legal services (purportedly as a consultant). Among other things, the e-mails and documents reviewed on premises reflect that Herman was providing legal advice to Jeremy Marcus during his bar suspension.
Herman's firm, Consumer Advocates, is a contract lawyer with US Legal. Herman appears to operate a law firm out of the Defendants' premises called Consumer Advocates Law Group, in that he appears to defend some of the Defendants' clients sued in Florida and was brought on by Defendants Jeremy Marcus and Craig Smith during his suspension and public reprimand from the Florida Bar (May 14, 2015 – February 6, 2017). Herman says Yisbet Segrea is the supervisor for US Legal Club. Herman also reports to Defendants Yisbet Segrea and Craig Smith, both non lawyers.
Additionally, payments to Herman and to the other attorneys throughout the U.S. that appear in court on behalf of Defendants' clients, flow through his wholly owned Consumer Advocates Law Group firm (the same was previously done through the Berges and Kerr law firms). However, these funds all originate from Defendants and in most cases come from US Legal.
Herman's company, Consumer Advocates pays Sabell and Rolle as part-time employees. He does not know if they are paid by any other entity and he does not know if they do work for any of Jeremy Marcus' or Craig Smith's companies. He pays them for part-time work but they do not invoice him or keep track of their time and what they are working on. Herman also advised the Receiver he had a lease for space in the US Legal Club suite for $1,000.00 per month but pressed for details he admitted that there was no written lease and could not confirm the specific space leased or the terms of the lease. He does not even know if he has emails or communications regarding the "lease."
It is Herman's understanding that US Legal Club is a service for "pre-paid" legal services. Herman claims to not have seen a contract between US Legal Club and a customer and does not know the specifics. He says he has no involvement in signing up the client.
Defendants set up a network of lawyers program in order to handle litigation cases across the country as cheaply as possible. A number of Local Counsel Agreements were found on premises by and between the Kerr Law Group and out of state counsel to perform legal services across the country when suits were filed against clients. Sue Travis would handle advertisement and review of resumes submitted for retention of outside counsel. A file cabinet by Ms. Travis' cubicle contained a number of files with copies of agreements between the Kerr Law Group, P.A. and local counsel.
Generally, local counsel was paid a $350 flat rate for case assignment and filing of a motion to dismiss or answer and affirmative defenses, as well as, discovery. In addition, they were paid $100 for filing of completed responses, $50 for initial review and amendment of pro se answer, and $75 for pre-litigation letter concerning FDCPA and TCPA violations. Per agreement, contract lawyers agreed to joint responsibility with the Firm over work product.
The monitoring and development of the Attorney Contract List was developed by Sue Travis (bookkeeper) through March 2017 when she quit. Advertisement was used to interview and retain out of state counsel. Michael Silva was hired to analyze attorney costs, streamline and reduce costs (Mr. Silva formerly worked with Paul Herman).
At the Pompano Complex, a folder labeled "Atty to be Paid", contains a list of names and amounts due to local counsel for services rendered. Payments to local counsel made from the AutoPal account at Chase or individual checks were issued from the Kerr Law Group or Consumer Advocates Law Group PLLC. Pursuant to the interview with Herman, monies used to pay attorneys and paralegals were transferred from US Legal Club. Sabell was required to send Jeremy Marcus daily reports of amounts paid to out of state lawyers in the US Legal Club. Receiver is still reviewing pending litigation and will determine whether or not it is appropriate to appear or participate."
More Articles to Come
There is a very interesting portion of the Receiver report that alleges consumers were getting royally screwed when legal awards were obtained on their behalf. Stay tuned for more.

Latest posts by Steve Rhode
(see all)