Consumer Statement:
National Secure Processing (dba Student Loan Service Managers) contacted me in May 2014 using information supplied by the US Department of Education. National Secure Processing / SLS Managers told me that they worked hand-in-hand with Department of Education, and that their special relationship with DoE enabled them to dramatically reduce the amount of my monthly student loan payments.
Specifically, SLS Managers told me that, based on income, they could reduce my payments to a very manageable $74 per month, and that my loans would be forviven completely after 120 on-time payments. Worried about meeting my student loan payments of a starting teacher's salary, I took the bait and signed their contract.
Beginning in May, 2014, National Secure Processing / SLS Managers began withdrawing $74 on the 19th of each month from my checking account. Naively, I assumed those funds were being applied to my loan balance. Some 43 months later, I was shocked to discover that SLS Managers had merely filed on my behalf for forbearance after forbearance, and that the company had pocketed every cent withdrawn from my account. Much to my dismay, I also discovered that SLS Managers did not enroll me, as promised, in any federal loan forgiveness program, and that with compounded interest, my loan balance had soared to six figures!
It bears note that I tried canceling my contract with National Secure Processing / SLS in late 2015, however, the company refused to provide reasonable notice of contract cancellation dates, and did not acknowledge written correspondence. Similarly, NSP / SLS ignored correspondence from the Wisconsin Department of Financial Institutions and the federal Consumer Finance Protection Bureau expressing my desire to terminate the contract.
I have since learned that National Secure Processing / SLS Managers was one of several fraudulent debt relief agencies targeted in October 2017 by the Federal Trade Commission, and the attorneys general of 11 states, plus the District of Columbia. After being forced to make restitution, pay forfeitures and cease operations in Washington, Oregon and North Carolina, the company ceased operations in December 2017. Incredibly, they assigned my contract to another mysterious entity called Mission Hills Federal, which is still attempting to enforce the contract!
Consumer Action Taken:
Since 2015, I have contacted the company directly by phone and mail on several occasions. After receiving no satisfaction, I filed formal complaints with the Wisconsin Department of Agriculture, Trade & Consumer Protection, the Wisconsin Department of Financial Institutions, the Consumer Financial Protection Bureau and the Federal Trade Commission. In January 2018, the matter remains unresolved.
Date This Problem Happened: May 15, 2015
State You Live in: Wisconsin
Race/Ethnicity: White
Age Range: 51-65
Total Amount of Fee Paid: $240
Company Name: National Secure Processing – Student Loan Service Managers
Company Address:
23172 Plaza Pointe Drive #130
Laugna Hills, CA 92653
Company Telephone Number:
Website of Company: SLSmanagers.com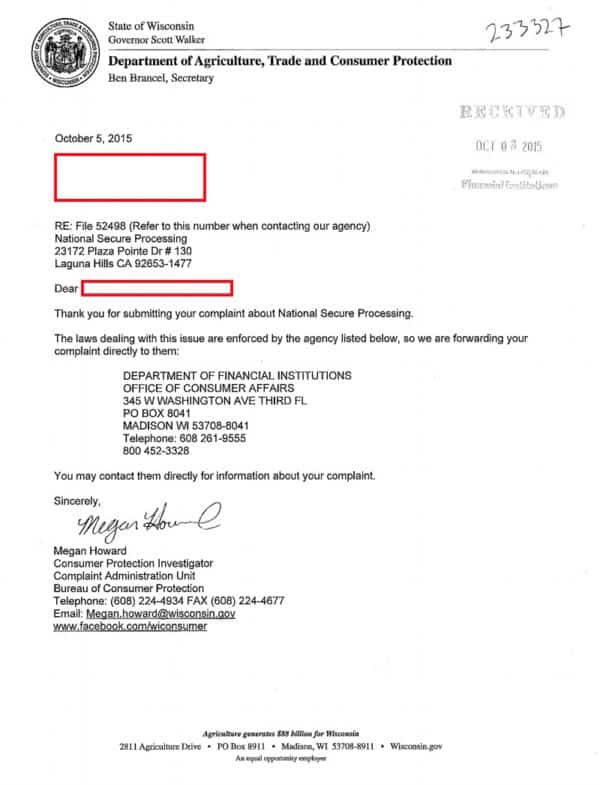 ---
If you feel you've been financially hurt by a debt relief company and deserve a refund, read these step-by-step instructions on how to proceed to attempt to get your money back.
If you do get your money back, come back and leave a comment about it. I'd love to praise companies that step-up and do the right thing for people.
Scam reports are submitted by consumers like you. If you would like to file a scam report, please click here.