The preliminary report of the court-appointed receiver was made public in the case involving a number of student loan assistance companies including American Financial Support Services.
To refresh your memory on the case, read this.
In recent days, people named in the case have filed documents saying they should not have been included or had nothing to do with the issue the FTC went after.
Defendants American Financial Support Services, US Financial Freedom Center, and Jay Singh said participation was limited and opposed the asset freeze by the court. The document says, "Further, as to Defendant SINGH, the Complaint alleges that he "holds himself out as the president, chief operating officer, and director of AFSS and USFFC .. .has formulated, directed, controlled, had authority to control, or participated in the acts and practices of AFSS and USFFC, including the acts and practices set forth in this Complaint. For example, Mr. Singh has opened a payment account using a Corporate Defendant's email address, is the point of contact for USFFC's website registration, and has responded to consumer complaints lodged with the BBB." (Complaint at para. 20) These allegations are conclusory and boilerplate and show no participation in the alleged violations of section 5 of the FTCA. There are no additional specific allegations of Singh's wrongdoing alleged in the Complaint."
Singh says, "I did not participate in the alleged scheme of deceptive and fraudulent business practices." He also says, "I did not have authority to control the alleged acts of others in the alleged scheme of deceptive and fraudulent business practices." Finally, he says, "I was not involved in the sales operation."
Defendants Carey Howe, Ruddy Palacios, and Shunmin Hsu ("Arete Individuals") felt the FTC action was unwarranted. They said, "The FTC's (a) heavy-handed shutdown of a legitimate business employing 150 people and serving ongoing consumer needs; and (b) freezing of both corporate and individual assets, without notice, based on flawed evidence and shaky legal support was improper and should not be extended. The FTC's voluminous under seal ex parte Application1 seeks three forms of extraordinary relief against moving parties Carey Howe, Shunmin Hsu, and Ruddy Palacios (collectively, the "Arete Individuals"), Arete, and the other named defendants, namely, (1) an injunction, (2) an asset freeze, and (3) a receiver, all under Section 13(b).3 In doing so, the FTC falsely claims that such drastic relief was appropriate."
The Arete Individuals say the FTC action was unnecessary since "the Arete Individuals decided to withdraw from the student loan advisory business. Howe Decl. ¶ 5. Arete announced this change to its employees and ceased marketing its student loan debt consulting business shortly thereafter by: (1) completely shutting down its student loan consulting business website; (2) ceasing to solicit those services; (3) cutting ties with affiliates who directed student loan customers to it; and(4) laying off or retraining employees to focus on the consumer debt side of the business. Id. The only student loan debt customers remaining are those who were signed up prior to the winding down of that business."
The Defendants say "Arete was essentially seized by the FTC based on faulty evidence, it had an "A" rating from the Better Business Bureau and overwhelmingly positive reviews."
Receiver Report Discloses an Alternate Reality
The hundreds of pages the Receiver has produced contain a description of what was found and what the current states of affairs were when the offices were raided.
Rather than give you all of the details, I'm just going to highlight items I found personally interesting. I invite you to read the documents below if you want a deeper dive.
Corporate Defendants in this action are "defined to mean American Financial Support Services, Inc; Arete Financial Group, also d/b/a Arete Financial Freedom; Arete Financial Group LLC; CBC Conglomerate LLC, also d/b/a1file.org; Diamond Choice Inc, also d/b/a Interest Rate Solutions; J&L Enterprise LLC, also d/b/a Premier Solutions Servicing; La Casa Bonita Investments, Inc., f/k/a La Casa Bonita Investments LLC, also d/b/a Education Loan Network, also d/b/a Edunet; US Financial Freedom Center, Inc."
Got Information on This Situation? Send in your tips here.
The Receiver "took control and exclusive custody of four identified locations from which Receivership Entities operate their business, commencing at approximately 11:30 a.m. on November 6, 2019 and supported by law enforcement officers."
"Through the immediate access process, we were able to glean the basic metrics of Defendants' businesses and confirm that student loan debt relief operations were ingrained with practices prohibited by the TRO (advance fees and deceptive representations)."
1261 East Dyer Road, Suites 100, 200, and 250 Santa Ana, CA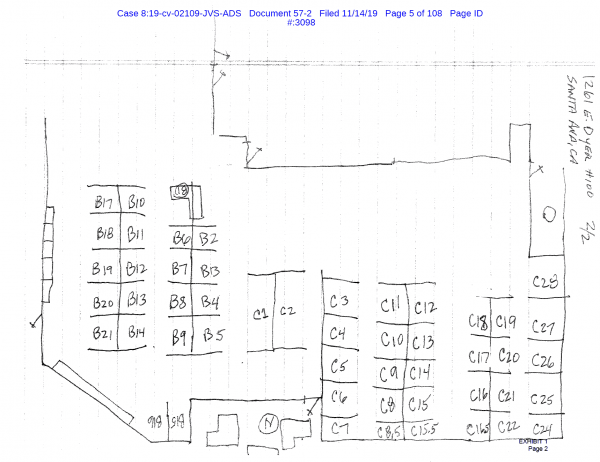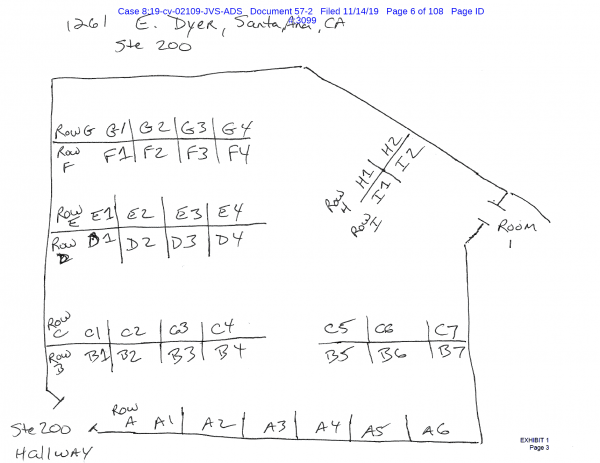 "This Dyer Road site (three separate suites in a two-story office building) is ground zero for Defendants' businesses. It is the primary location of Arete Financial. Four of the six Individual Defendants have offices here and were present in Suite 100 at the time of immediate access – Defendants Shunmin "Mike" Hsu ("Hsu"), Ruddy Palacios ("Palacios"), Carey Howe ("Howe"), and Oliver Pomazi a/k/a Loc Phu ("Phu"). Unfortunately, Phu did not identify himself and slipped out of the office under cover of the large number of employees onsite. ["Although he slipped out afterwards, Mr. Phu was in the employee group when I explained the TRO and appointment of a receiver – as such, he was aware of the existence of the Court's order almost immediately. Defendants Hsu and Howe were initially not anxious to identify themselves either – Hsu attempted to walk out of the office and Howe mixed in with the employees without identifying himself. They were later cooperative, if not always forthright. For example, Palacios, Hsu and Howe were directly asked about Phu, and they falsely claimed he had not been involved in the business for 18 months. At the time they made this false statement, they were in an office shared by Howe and Phu and only steps from Phu's desk."
We learned via a review of tax returns and a draft Operating Agreement located onsite that Arete is owned and controlled by five people, each with a 20% interest – Individual Defendants Hsu, Palacios, Howe, and Phu, and Syed Gilani. Except for Hsu, all the owners hold their interests in the names of third party fronts: Palacios through Defendant Diamond Choice Inc.; Howe through a relative named Caroline Howe; Syed Gilani through Judith Noh whom we believe is a relative; and Phu through his own a/k/a Oliver Pomazi."
Of items seized in the raid the following items were of interest:

100 – Cannabis products, prescription drugs and shrooms
1 – Gun
1- Money counter
"We found prescription bottles full of pills, mushrooms, a white powder ball, and a gilded money counter at Hsu's desk. When asked about the desk, Hsu falsely claimed it was Gilani's and went on to say they all "share" the offices. Based on the other documents and items in the desk, it is Hsu's desk, not Gilani's."
"We have also confirmed that Individual Defendants have in the aggregate pulled millions of dollars out of the operation and that each drives an exotic car leased and paid for by the business (including a Lamborghini SUV, Rolls Royce SUV, Mercedes Benz G-wagon, and a BMW 750i)."
"Almost immediately at our arrival, Palacios, Howe, and Hsu claimed that Arete had stopped new enrollments for student loan debt relief services in roughly July of 2019. They acknowledged one exception – they continue to charge monthly recertification fees for existing student loan debt relief customers which they readily concede are unlawful advance fees. Palacios justified continued collection of these recertification fees as necessary to prevent massive customer confusion and complaints. We later determined that some of the recertifications processing was run in Suite 250 at the Dyer Road site through Receivership Entity Premier Solutions Servicing ("Premier"), a d/b/a of J&L Enterprise, controlled by Individual Defendant Loc Phu."
"Our onsite review has included an investigation of the claim that, except for annual recertification processing, Arete was "out of the student loan business." Our review tells the story that throughout the summer of 2019, Defendants made a deliberate push to separate Arete from the student loan debt relief business, all in an apparent effort to protect Arete."
"Despite efforts to distance Arete from the student loan debt relief business, as of the date of our immediate access, Arete was very much in the student loan debt relief business, directly and indirectly:
Receivership Entities are processing unlawful advance monthly recertification fees from existing customers which are pure cash flow to Arete with no immediate benefit to customers.
At the Bolsa Avenue site, where the sign on the door says "Arete Financial," Defendant 1File was processing student loan business generated by an Indian call room under contract with two entities owned by Individual Defendant Jay Singh – American Financial Support Services, Inc. ("American Financial") and US Financial Freedom Center, Inc. ("US Financial"). Approved refunds were paid by Arete. Employees were paid by 1File.
Student Loan Pro, which is selling and processing student loan services from the Sky Park site (where the signage says Premier Solutions Servicing), is owned and controlled by Arete co-owner Syed Gilani who conceals his role through a relative. Student Loan Pro has received substantial funding from Arete, and its business model tracks the models of Arete and Premier."
"While the Receiver's team was implementing the TRO, the processing manager sent a text message to Individual Defendant Hsu that the cops were there."
5772 Bolsa Avenue, Suite 220, Huntington Beach, CA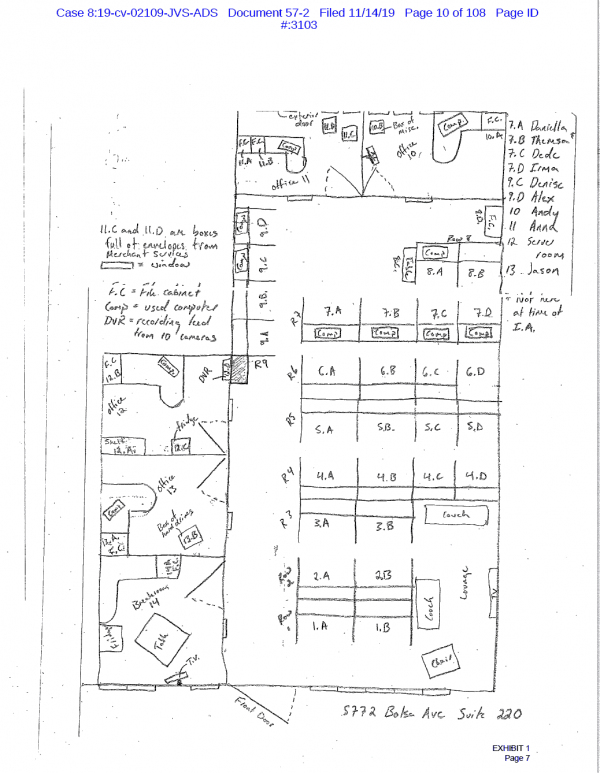 "Defendant 1File operates at this site as a processor of student loan debt relief services, including for customers generated by sales teams connected to American Financial and US Financial, both owned by Individual Defendant Jay Singh who operates from the Walnut Creek, California site."
"At our arrival, five processors and the floor manager (Andy Poon) were present. All said they worked for Defendant La Casa Bonita or 1File (which they described as the same entity). Processors said they were paid by 1File. As to ownership, Mr. Poon said he believed Mike Hsu owned 1File, but that he had also been told by Carey Howe that he owned part of 1File. Poon also said Mike Hsu had provided him a credit card in the name of his entity MJ Wealth Solutions, a Relief Defendant, to treat 1File employees to lunch."
"We identified thousands of documents confirming that the operations here relate to processing student loan debt relief services for customers secured by American Financial and US Financial. Processors used login and financial information obtained by the sales team (and stored in 1File's DebtPayPro system) to apply for student loan adjustments through the federal government's studentloans.gov website."
"American Financial and US Financial new customer packages required customers to consent to disclosure of their information to 1File and to the charging of fees by 1File. These fees were charged in advance – the new customer package notes that the initial service fee will be refunded if a modification is not secured, confirming that the fee is paid ahead of any result."
18001 Sky Park Circle Suites L-M, Irvine, CA
"The business here is a student loan debt relief services business – sales and processing – operating as Student Loan Pro under the guidance of Syed Gilani. The Processing Manager advised us that Student Loan Pro has approximately 2,300 customers."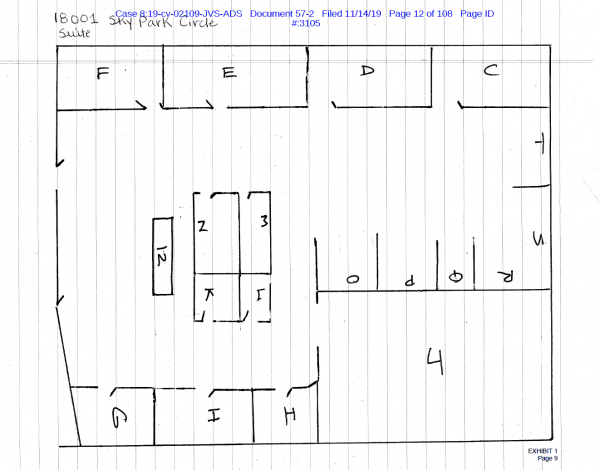 "In sales, five employees responded to inbound consumer calls and initiated some outbound calls, but only when provided consumers' names to contact. They understood that leads were generated by radio ads, but they were not informed as to the overall marketing program or the bigger business model. Sales materials, including the current script (Exhibit 18), contain deceptive statements, or minimal guidance, leading to customer confusion."
A sales white board posted on the wall instructed employees to tell customers "NOT to contact their servicer, WE will take care of it."
500 Ygnacio Valley Road, Suite 430, Walnut Creek CA
"This site is the office location of Individual Defendant Jay Singh and his companies American Financial and US Financial. Signage identifies the tenant as Settlement Corporation of America, but the primary physical operations appear to relate to yet a fourth company, National Consumer Law Group, which operates as a debt relief company."
"Defendant Singh runs the student loan debt relief business of American Financial and US Financial by contracting with offshore Indian call rooms to secure customers for student loan relief. Once the customer is secured, they are referred to 1File for processing."
"1File personnel provided compliance guidance to US Financial, including how to control the "[re]occurring issues with the agent's lies to the clients," (Exhibit 23) advising sales employees not to enroll a client who worked in law enforcement ("Do you really want that liability?") (Exhibit 24) and identifying problems with claiming a family size of 5 or more for borrowers whose tax filing status was single (Exhibit 25)."
"Our review of Defendants' student loan debt relief operations at each site has confirmed the collection of unlawful advance fees and deceptive sales representations prohibited by the TRO."
"Funds from WorldPay have been deposited into 1File's La Casa Bonita bank account and into Arete's bank account ending x9321. It appears that WorldPay is the merchant processor used for the student loan debt relief payments. Funds from Debt Pay Gateway, which appear to be funds collected from debt settlement customers, have been deposited into Arete's bank account ending x9334, much of which are subsequently transferred to Arete's bank account ending x9321. It appears that funds derived from debt settlement services ultimately reside in the same bank account as funds derived from student loan debt relief services."
Some Interesting Exhibits
Reviews
Still in Student Loan Relief June 26, 2019
Payment Automation Network Alleged Fraud
An escrow company, Payment Automation Network, is named as the third party that will receive clients funds. Just one problem, "The Receiver's representatives contacted Payment Automation Network ("PAN") and confirmed that PAN had never done business with American Financial or US Financial. American Financial and US Financial falsely told customers (in new client packages) that PAN would be the third-party account holder."
The Receiver report says, "Arete managers Carey Howe and Ruddy Palacios participated in plagiarizing the client trust agreements of PAN in November 2017 (see Exhibit 16), after Howe entered into a trial period with PAN. After this apparent theft of PAN's intellectual property (including its logo), the plagiarized contract was inserted not just into Arete's new client packages, but also those of American Financial and US Financial, with similar typographical errors. Each of these entities approached the PAN agreement in the same manner – they did not use PAN as a trust account provider, but to help deceive customers and/or others regarding their trustworthiness and compliance."
Full Documents Here
The documents I quoted from above can be found below in their entirety.
Latest posts by Steve Rhode
(see all)