I was forwarded several documents by a tipster (send in your tips here) regarding the settlement services offered by Robert S. Gitmeid & Associates at 11 Broadway, Suite 1677, New York, New York 10004.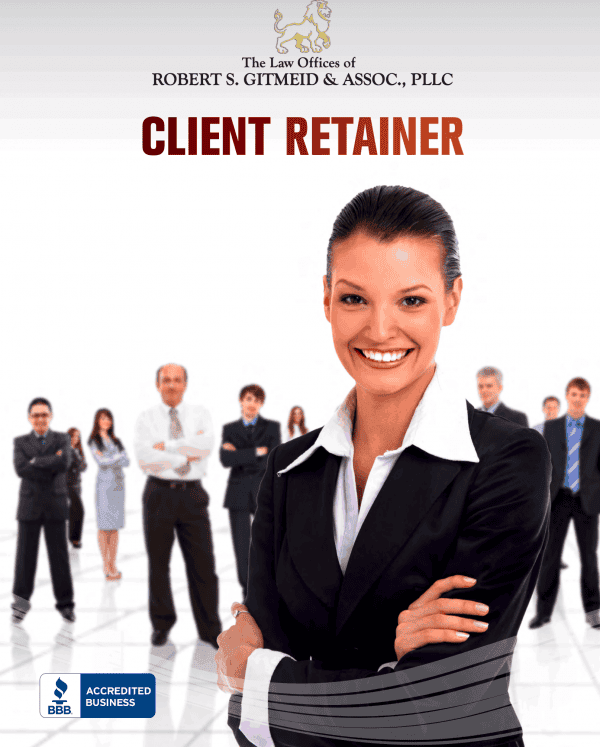 It is a very nicely designed document.
What caught my eye was the client's budget. But let's start with the services the agreement says the consumer is purchasing.
"The scope of the services provided to you by RGA under this Client Retainer Agreement shall be limited to assisting you to negotiate and settle your unsecured debt with your creditors to the best of RGA's ability and within applicable rules of professional conduct that regulate attorney practices. You understand that the scope of the services contemplated by this Client Retainer Agreement DOES NOT include legal representation in any law suit, whether such action is instituted by a creditor, collection agency, or any other party. Although the services provided by RGA aim to negotiate down your outstanding unsecured debts, RGA cannot prevent a creditor from initiating legal action against you. In the event that a creditor commences legal action against you, you agree to immediately notify RGA of such action. Furthermore, RGA will not represent you in any such lawsuit absent a separate, mutually executed retainer agreement that outlines the scope of such representation. Of course, RGA will continue to negotiate with such creditor on your behalf, as outlined in this Client Retainer Agreement."
You will notice that one of the services not included is any sort of financial advice or fiduciary responsibility to look out for the best interest of the consumer.
The client retainer is very clear what the consumer is purchasing.
In this agreement, they are purchasing the services of an Illinois attorney, Julie Crabbe, in conjunction with Robert S. Gitmeid who is admitted to practice law in New Jersey, New York, and Florida.
Those services are not guaranteed, may use some sort of outside support staff, and include services from Global Client Solutions.
This is certainly an observation and not an accusation of a scam. While the attorneys are being hired for a specific service, part of the client agreement is a budget.
What I found missing was any sort of expense for retirement savings or emergency fund savings. In this case, the consumer is said to have only $9 a month left over for unexpected expenses and/or savings.
It is very possible that you can talk to 100 people and get 100 different opinions but I think the odds of a consumer making it through all estimated 42 months of the program without a financial surprise, is not favorable.
In case you might feel this is safe because the consumer has an adequate emergency fund saved already, the document says otherwise.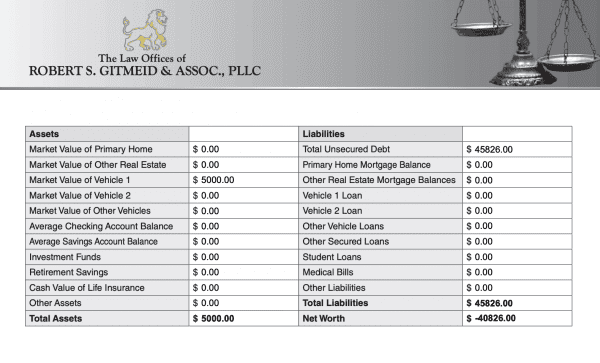 Let me show you some numbers that might put my observations into context.
While I don't know the date of birth of this person in the client agreement since it is blacked out, let's say they are 40-years-old.
This Program Will Potentially Cost $596,000 in Lost Retirement
FYI: The cost of lost retirement funds is the value of the money and return over the 3.5 year repayment period given the forecast rate of return.
You can use my calculator here.
I have no idea if the consumer was advised what the cost of lost retirement would be if they saved the money. I doubt they were because that was not the service being sold.
A Chapter 7 bankruptcy can discharge your debt in about 90 days and cost less than $2,000. This would let the consumer get started on retirement savings ASAP. That would result in a nearly $600,000 nest egg when retirement rolls around.
Ironically, the client retainer agreement even says the firm deals with bankruptcy, "RGA is a Debt Relief Law Firm as defined by the United States Bankruptcy Code and we assist people in filing for bankruptcy relief."
Retirement savings are the most alarming crisis I am concerned about when it comes to debt. It will strike people when they are least able to care for themselves and we have no idea if any sort of social safety net will exist in 30-years.
It is important for people to understand that when they hire most debt relief companies what they are getting is a sales pitch for the services being sold and not financial advice that may be in the interest of the consumer.
Be a smart consumer. Please.

Latest posts by Steve Rhode
(see all)